Today's photo takes us to 1978 to commemorate tomorrow's Harvey Milk Day, which celebrates the life of one of San Francisco's most revered politicians. This photo features two city figures who really pushed the envelope, making inroads for others in minority groups to break into top-level positions in the city.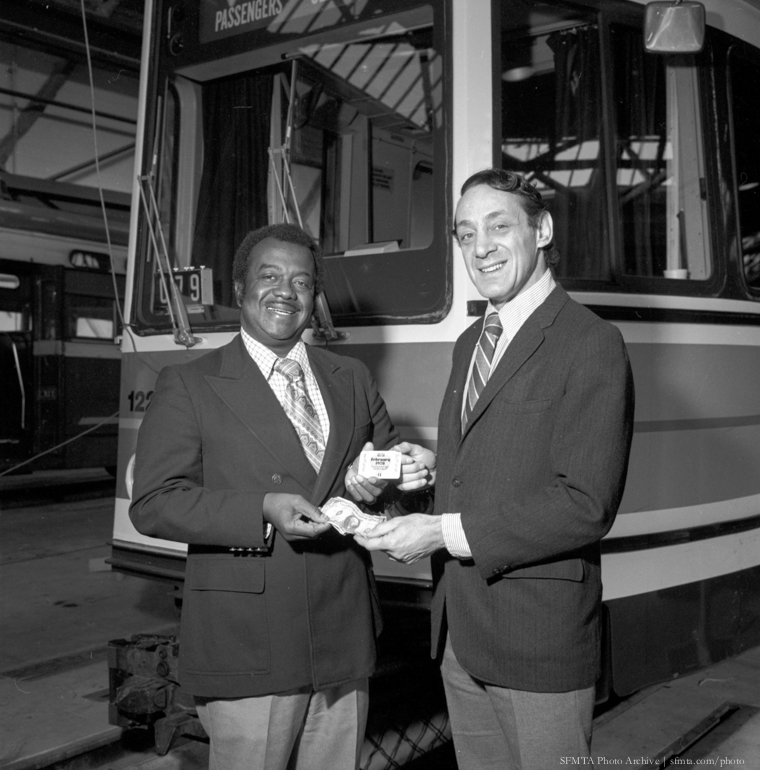 Muni General Manager Curtis Green Selling Supervisor Harvey Milk a Fast Pass | February 2, 1978 | M2480_2
This shot, taken to promote Muni's "Fast Pass," shows Supervisor Milk with Curtis E. Green, General Manager of the Municipal Railway. Like Milk, Mr. Green was a figure who pushed through discriminatory barriers into a high-level city position by becoming the first African American appointed to Muni's top position. With his 1974 appointment, Green also became the first African American to serve as top executive for a major city transportation agency nationwide.
These two men literally changed the face of our city's government, opening doors held closed by prejudices and making way for others to follow. Milk's legacy as the first openly gay supervisor (and first elected official in California) has helped to reduce discrimination against LGBTQ individuals and helped welcome more LGBTQ politicians into top government positions. Green's efforts to work his way up the ranks from bus operator to General Manager helped to level the playing field for people of all races to seek and obtain high-level city government jobs, despite the challenges to doing so. 
In 2008, we dedicated historic streetcar No. 1051 to Milk, who was a tireless advocate for Muni. Unfortunately, the streetcar is currently in the shop for a little TLC.
On May 22, celebrate Milk's legacy and the many others like him who fought against the established systems of discrimination to make our world a more inclusive place.