Haunted Weekend: Treasure Island Flea Market & Ghirardelli Square Halloween Fun
Wednesday, October 25, 2017
Reminder: Weekend M Ocean View Bus Substitutions for Construction 
For four weekends in October and November beginning this Saturday, the M Ocean View rail service will be substituted by bus shuttles for construction of pedestrian safety and transit improvements. There will be no M trains in the subway during these times. For details, check out our service alert page.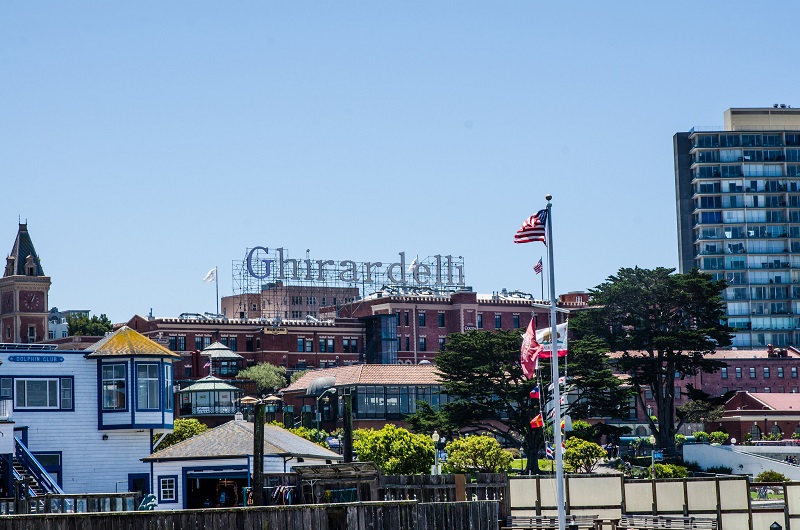 Ghirardelli Square's iconic sign as seen from the Bay. Photo: Ashwin Kumar/Flickr
Halloween Fun at Ghirardelli Square
Saturday, 12 to 4 pm
Fisherman's Wharf
Celebrate Halloween at Ghirardelli Square this Saturday where there will be plenty of free kids' activites including trick-or-treating from store to store, face painting, balloon art and more.
How to Get There on Muni: The F Market and Wharves Line, the 19 Polk, 30 Stockton, 47 Van Ness, and 49 Van Ness/Mission will take ghouls and ghosts close to the event.
Muni Service Note: The F Line, 19, 30, 47 and 49 routes may see minor delays due to possible increased ridership.
Treasure Island Flea Market
Saturday and Sunday, 10 am to 4 pm
Treasure Island
Put on your best Halloween costume and take a trip over to Treasure Island for this month's Treasure Island Flea. The island will be haunted all weekend long with over 400 local artists and designers, a kids zone with games for all ages, three full bars (adult zones?) featuring local wine, craft beers and seasonal cocktails, food trucks, live music and much more. Don't miss out on all the spooky fun.
How to Get There on Muni: The 25 Treasure Island Route will take riders to and from the event.
Muni Service Note: The 25 may see some crowding and minor delays due to possible increased ridership.
Halloween Party and Matinee: Despicable Me!
Sunday, 2 to 6 pm
Civic Center (Bill Graham Civic Auditorium)
Another Planet Entertainment and the SFPD are happy to present a free matinee showing of Pixar's Despicable Me! at the Bill Graham Civic Auditorium this Sunday beginning at 2 p.m. The event is open to all ages and will also provide games, prizes, food and face painting.
How to Get There on Muni: Riders can take any Muni Metro line, the F Market and Wharves Line, as well as the 5 Fulton, 6 Haight/Parnassus, 7 Haight/Noriega, 9 San Bruno, 14 Mission, 19 Polk, or 21 Hayes routes to the Civic Center.
Muni Service Note: Muni Metro, the F Market, 5, 6, 7, 9, 14, 19, and 21 may see minor delays due to possible increased ridership.
Reminder: J Church Stop Changes at Balboa Park
Due to construction for the Balboa Park Station Area and Plaza Improvement Project, the J Church Line will continue to serve alternate stops on San Jose Avenue until the fall. For details, please visit our Green Light Rail Center Track Replacement Project page.
"On Tap" gives you a heads up about the big events in town and what Muni routes and lines will get you to the party. Look for this feature to be posted usually on Wednesdays for a look ahead to the weekend. Check out our Weekend Traffic & Transit Advisory for more details.