Have Feedback on the COVID-19 Muni Temporary Service Plan?
Note: The date for reporting this equity analysis to the MTA Board has been moved to
May 18
In March 2020, due to unprecedented constraints on resources brought on by the COVID-19 pandemic, the SFMTA had to make significant transit service reductions. As of January 2021, the agency has been able to restore service to a level where 91% of San Franciscans are within a quarter mile of a transit stop. This is reflected in the SFMTA's current COVID-19 Temporary Service Plan.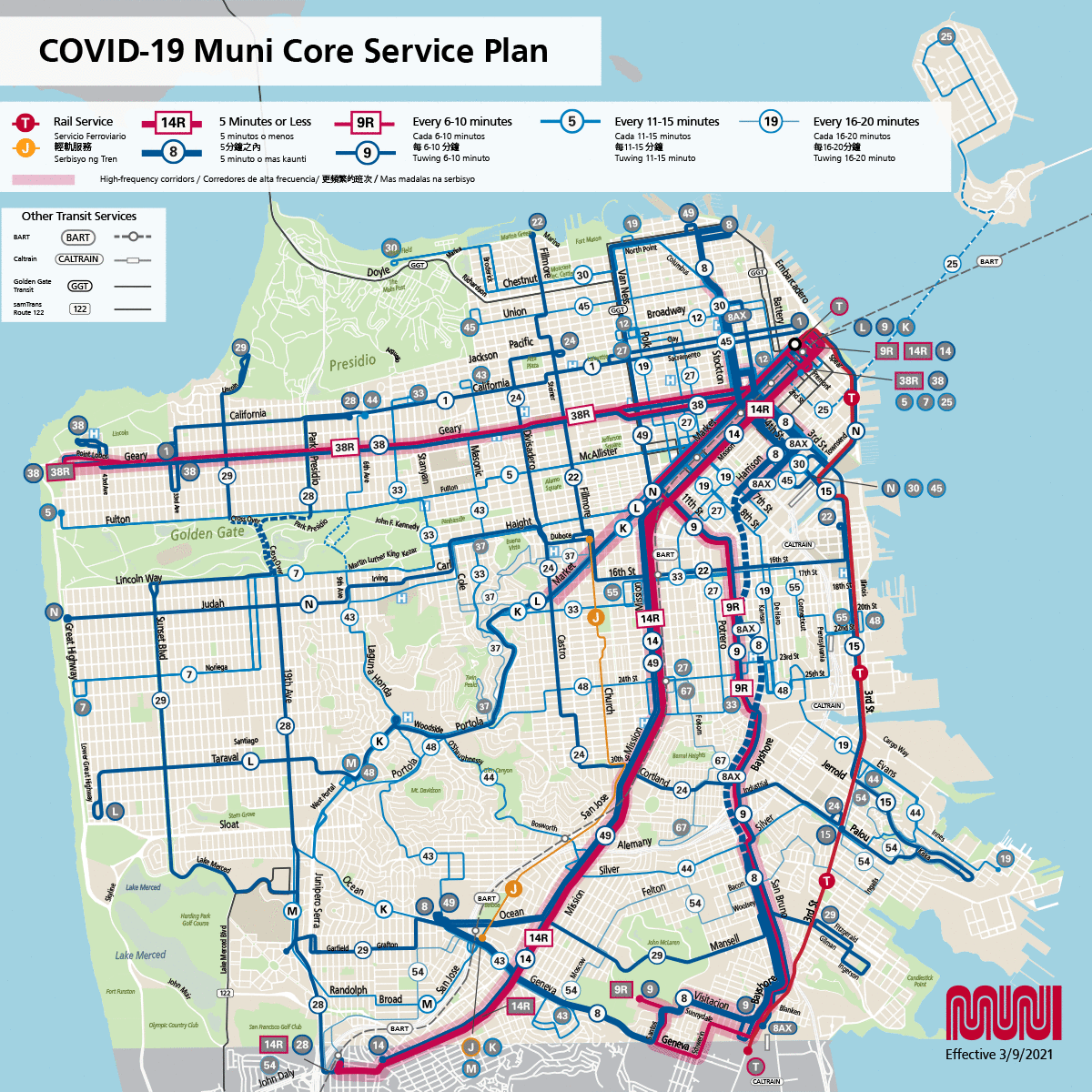 '
COVID-19 Temporary Service Plan Map
The SFMTA is committed to ensuring that our programs and services are compliant with Title VI of the Civil Rights Act of 1964 and therefore do not have a discriminatory impact based on race, color or national origin. As part of this work, we conducted a Title VI service equity analysis to evaluate the current COVID-19 Temporary Service Plan. The results of this analysis will be presented to the MTA Board of Directors on May 18th.
The public is invited to attend and provide comments on the current service plan at the online MTA Board of Directors (MTAB) meeting where the results of the service equity analysis will be presented on May 18 at 1 p.m. To provide comments during the meeting, specific dial-in instructions are located on the SFMTA calendar item for that date.
For more information about Muni's current service, visit the COVID-19 Temporary Service Plan website. You can also email feedback to TellMuni@SFMTA.com or call 415-646-2350.
Finally, we look forward to continuing to hear from our riders on our current service as we work towards a post-COVID-19 service plan.