A Historical Year: 2015 Highlights from the Photo Archive
Thursday, December 17, 2015
For our last Throwback Thursday post of the year, we decided to take a look back at five of our favorite blog posts this year. So step on board and get your clicking finger ready, 'cause we've got a bunch of great photos to see and links to visit!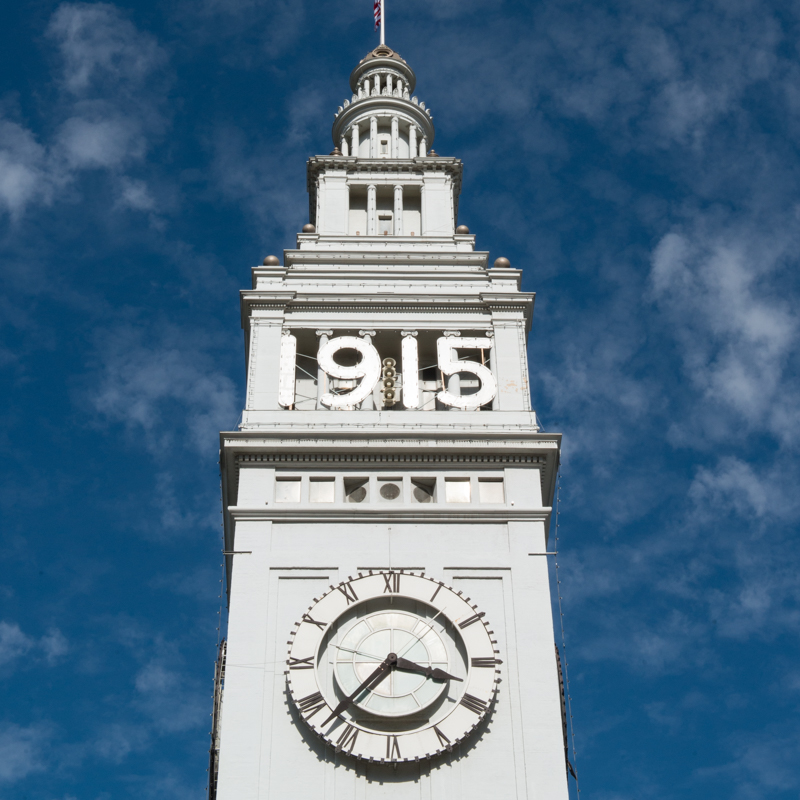 The Ferry Building with 1915 PPIE Signage | September 26, 2015
#1 Topping the list is our February post about the 100th anniversary of the 1915 Panama Pacific International Exposition and its impact on the expansion of the Municipal Railway. To celebrate this anniversary, we helped put together a Photo Exhibit of PPIE images, which is now open an extra two weeks, closing January 5th at the Harvey Milk Photo Center. Check out the beautiful prints from us, the SF Public Library, and Moulin Studios before they're gone!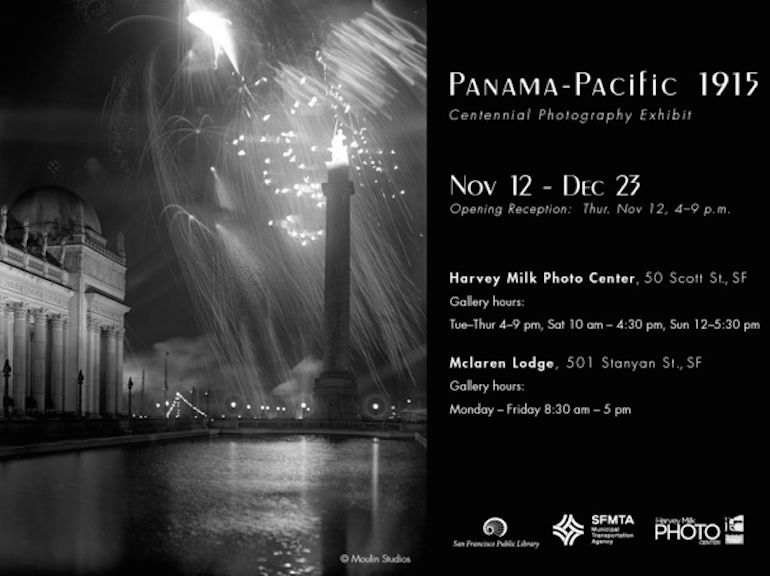 Not our photo but a great postcard!  See the joint show we contributed images to at the Harvey Milk Photo Center before it closes, now extended to Jan. 5, 2016!
#2 Next in line is our coverage of the Muni Heritage Weekend and the fun pop-up photo exhibit we put on inside vintage Muni buses. Lots of people turned out to ride rarely seen historic streetcars and buses and take part in our first ever #MuniHeritage photo contest, where people submitted photos of their own via social media for a chance to win a historic photo poster.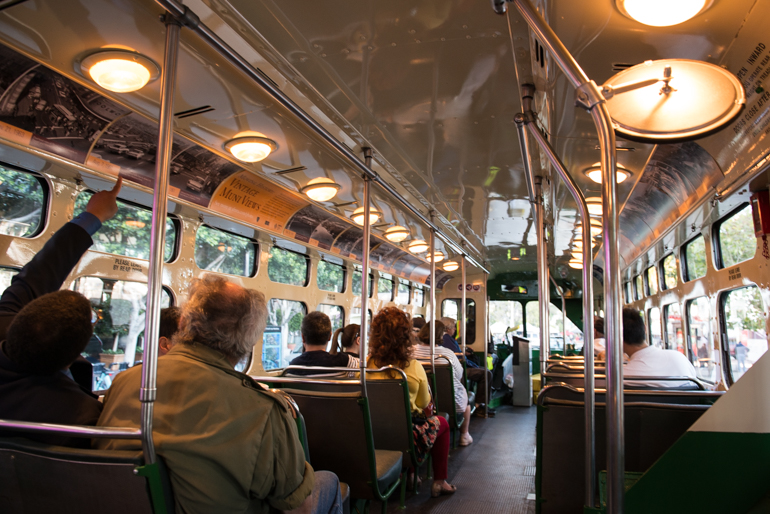 Passengers Check out the "Vintage Muni Views" Pop-Up Photo Exhibit Aboard 1940s Trolley Coach 776 | September 26, 2015
#3 This year marked a big milestone for the F Line with its 20th birthday taking place on September 1, 2015. One of Muni's most popular historic lines, the colorful F Line is a lottery wheel of historic streetcars from Muni's original equipment to cars from cities around the world. You never know which one will roll up next!  (Unless you track them on NextMuni, that is...)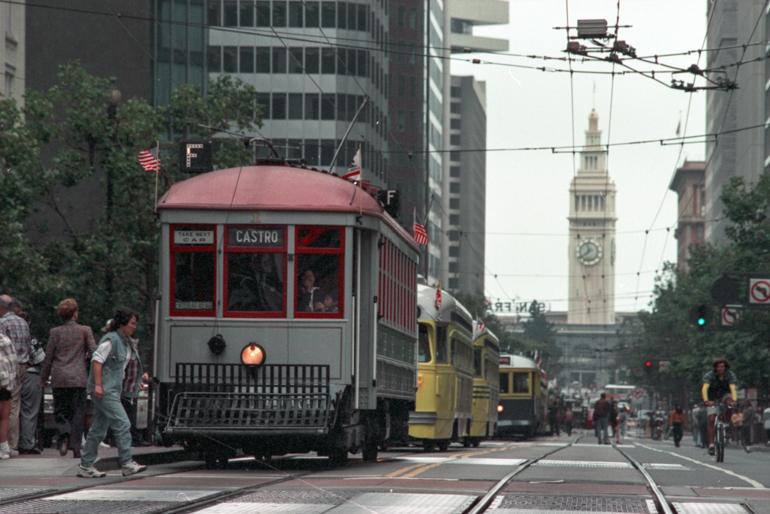 Streetcars lined up on Market Street for Opening Day of F Market Line | September 1, 1995
#4 The most exciting launch we celebrated was that of the E Embarcadero Line, which opened weekend service on a new historic streetcar line along the beautiful Embarcadero from the Ballpark to the Wharf. Go Muni, and thank you for all the help, Market Street Railway!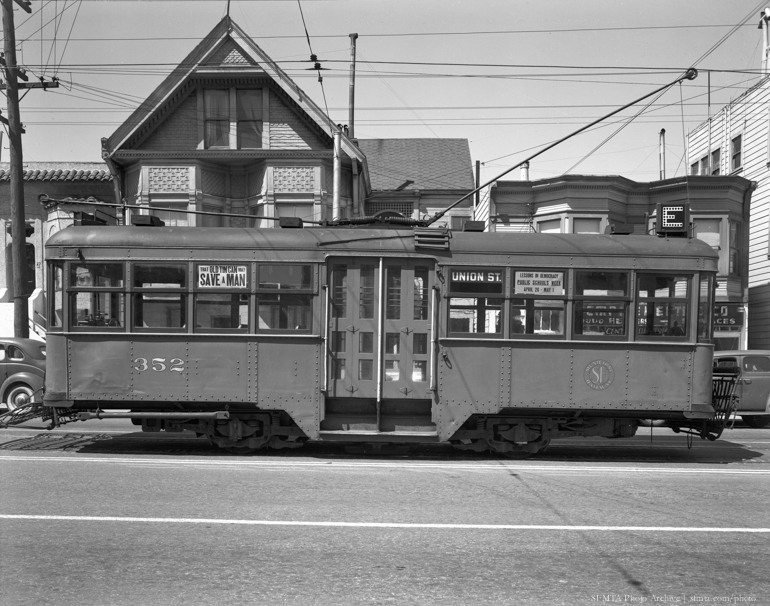 Not That E-Line: E-Union Street Car #352 from the Original E | May 4, 1942
#5 Last but not least, a little pat on our own backs in the form of a post from about our scanning and cold storage project.  While not quite as visually exciting as some of the other posts, the mile marker we reached in August to scan, rehouse and freeze over 1,000 fragile negatives — jump starting our frozen storage project — means that these irreplacable images will survive for even longer, and we can now share them with the public more easily through our online SFMTA Photo Archive galleries. Hooray for preservation!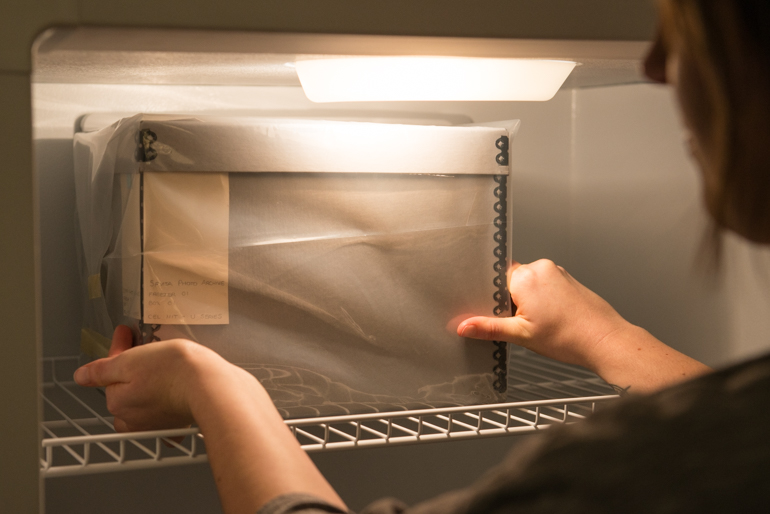 A SFMTA Photo Archivist places the first box full of historic negatives into frozen storage | March 6, 2015
Happy Holidays to all you readers and see you in 2016 for another year packed with more historic photo discoveries! Follow us on Flickr, Twitter, HistoryPin, and Instagram for way more photos from the SFMTA Photo Archive.