The 'Hub' at Market and Valencia: Forever Changed by the 1906 Earthquake
One-hundred and eleven years ago, in the cool pre-dawn of April 18th, 1906, a massive earthquake rocked San Francisco, forever changing the landscape and future development of our fair, foggy city.
Among the buildings that never quite recovered from the quake and fires was a handsome brick cable car powerhouse that had stood as a landmark since 1883 at the corner of Market and Valencia streets, which was long known as "The Hub." The Market and Valencia Powerhouse, owned and operated by the private United Railroads Company, was a key cable car facility, providing propulsion power and a variety of repair services.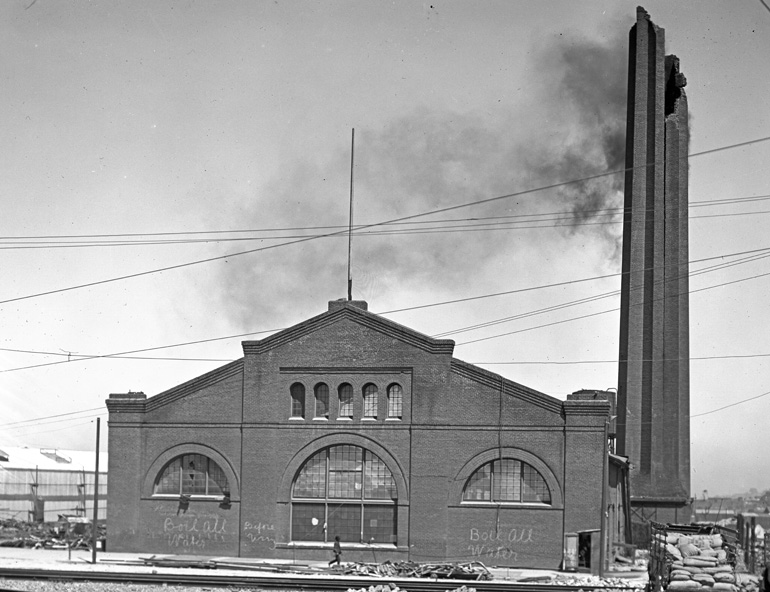 A view of the Market and Valencia Powerhouse in June of 1906, two months after the earthquake and subsequent fires, which left residents without basic amenities like potable water. "Boil all water" can be seen scrawled on the side of the building as an impromptu public service notice.
As San Francisco scrambled to get back on its feet after the disaster, most of its cable car lines were converted to electric streetcar lines, and the powerhouse was no longer needed to move cable cars along Market Street. Instead, the facility occupying the block bounded by Market, Valencia, McCoppin and Gough streets became the site of a manufacturing plant for hot, tarry bitumen, a material used in pavement.

Although it served as a manufacturing plant through the 1930s, the facility at Market and Valencia was never fully repaired. In this 1910 image, the earthquake-damaged brick walls are still visible.
As San Francisco became more densely populated, this prime piece of Market Street real estate became too valuable to use for asphalt production. By 1955, the last vestiges of the plant had been cleared away and replaced with a motel, storefronts and an office building.
Today, little evidence remains of the large pavement manufacturing plant or the cable cars that once ran on Market Street. The area around The Hub has continued to evolve, and was reshaped again in 1989 by the Loma Prieta earthquake, which damaged the former Central Freeway and led it to be partially reconstructed. In the last few years, McCoppin and nearby streets have undergone streetscape improvements, including a plaza built in the cul-de-sac that was created next to the freeway ramp, which now lands at Market and Octavia Boulevard.
Check out more 1906 earthquake photos in our online photo archive and follow us on Instagram and Twitter to see even more scenes from the past.