Independence Day Festivities: Fireworks and Jazz
News & Notes:
By now you've probably heard, but as a reminder, effective today there has been an increase in fares, fees, and fines. Be sure to check the SFMTA's webpage for specific details.
Muni will operate on a regular weekday schedule this Friday, July 3 while service on Saturday, July 4 will operate on a Sunday schedule. For details click here.
The SFMTA will enforce parking meters and seven day sweeping citywide on Saturday, while residential parking permits, daytime street sweeping, and commuter tow-away will not be enforced. Parking meters on Port of San Francisco property (Fisherman's Wharf and The Embarcadero) will be enforced.
Fillmore Jazz Festival
Saturday and Sunday, 10 a.m. to 6 p.m.
Fillmore District
What better way to celebrate Independence Day than by enjoying America's gift to the music world, jazz. The Fillmore Jazz Festival, now in its 31st year, has become the largest jazz festival on the West Coast. Spread out over 12 blocks, this festival recalls the neighborhood's deep and rich musical roots. In addition to multiple music stages featuring various forms of jazz, there will also be fine art and gourmet food booths.
Due to street closures and increased pedestrian traffic, it is recommended that you use public transit. The 1 California, 2 Clement, 3 Jackson, 10 Townsend, 22 Fillmore, 24 Divisadero, 31 Balboa, 38 Geary, and 38R Geary Rapid routes will get you close to all the music.
Muni service note: the 3 Jackson, 22 Fillmore, and 24 Divisadero will have re-routes.
4th of July Fireworks
Saturday, 9:30 p.m.
The Embarcadero
Celebrating the nation's 239th birthday along one of its most famous waterfronts will be an unforgettable experience. As many as 200,000 people are expected to descend upon The Embarcadero for one of the finest and most visually stunning fireworks displays anywhere in the country. If you do attend, plan your travel route ahead of time and of course, remember to dress warm.
Due to street closures and an influx of pedestrian traffic, utilize the Muni Metro subway to Embarcadero Station. Muni will provide extra service on the 25 Treasure Island and 28 19th Avenue routes as well as in the Metro subway between West Portal and Embarcadero stations. Muni will also provide pre and post event shuttle service. 
Muni service note: the 8 Bayshore, 19 Polk, 30 Stockton, 39 Coit, 47 Van Ness, 49 Van Ness/Mission, and 76X Marin Headlands will have re-routes. F Market streetcars will operate along Market Street only. All cable car service will transition to bus shuttle substitution prior to the fireworks display. For complete re-route and shuttle service details click here.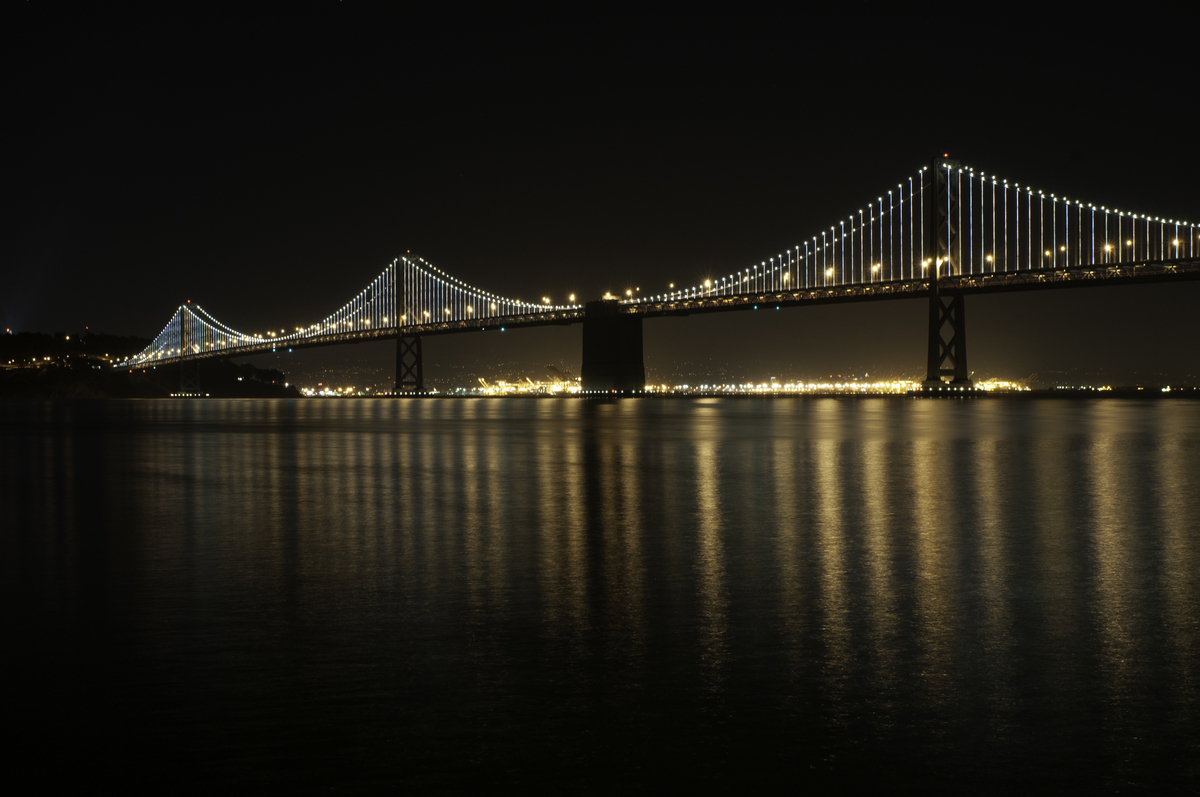 Western span of the Bay Bridge on November 1, 2013. SFMTA Photo Archive
"On Tap" gives you a heads up about the big events in town and what Muni routes and lines will get you to the party. Look for this feature to be posted usually on Wednesdays for a look ahead to the weekend.