Interactive Map Shows the Past, Present and Future of SF's Streetcars
Thursday, August 18, 2016
Your best chance to travel back to the San Francisco of yesteryear may be a recently-debuted interactive online experience called Where the Streetcars Used to Go.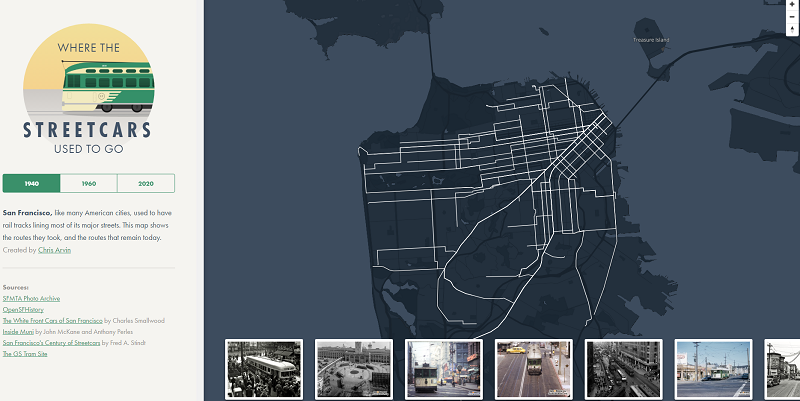 A screenshot of the website Where the Streetcars Used to Go, which features an interactive map with photos of San Francisco's historic streetcar routes.
The website, created by designer, historian and web coder Chris Arvin, features a map that lets you explore what San Francisco's streetcar system looked like in 1940 and 1960, and what it will look like in 2020. As you click, the website features images of each route from the SFMTA Photo Archive collection and our friends at Open SF History.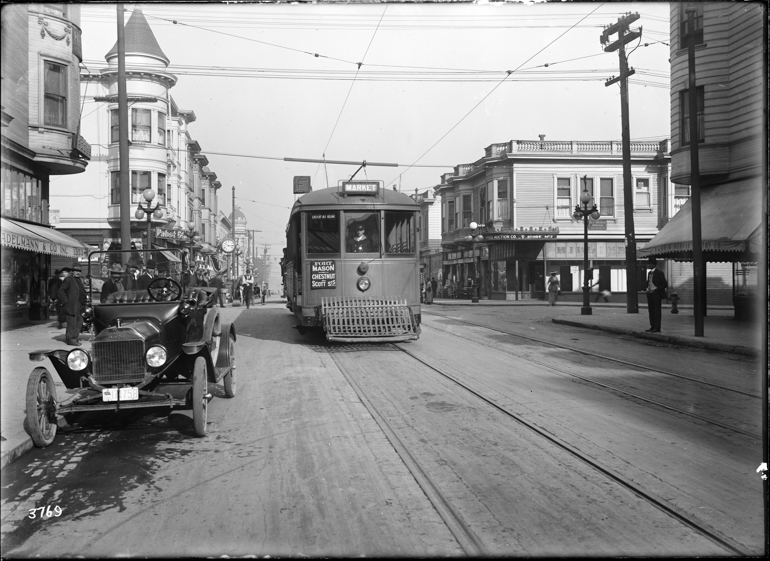 Muni's F Stockton streetcar on Stockton at Vallejo Street in late 1916.
The map prompted an article on Sunday from the San Francisco Examiner's Joe Fitzgerald Rodriguez called "Mapping Muni History," featuring a fuller story on the changes to San Francisco's streetcar routes in the mid-20th century. Last month, the historic streetcar advocates at Market Street Railway also provided insight on the changing patterns of SF's transit system on the Market Street Railway blog.
As the Examiner and Market Street Railway pointed out, many of the lost streetcar routes actually survive today in the form of Muni's zero-emission trolley bus lines.

A trolley bus on the 30 Stockton, which serves the route of the original F Line streetcar line, exits the Stockton Tunnel at Sacramento Street.
Learn more about Muni's defunct streetcar lines – and why the ones we have today still run – in our blog post, "How Muni's Streetcar Lines Got Their Letters."
To explore Muni streetcar photos past and present, check out the SFMTA Photo Archive online and follow us on Twitter and Instagram.