Introducing the SFMTA Interactive Projects Map
We recently launched a new feature on the SFMTA website: the Interactive Projects Map, the newest way to explore transportation projects in San Francisco. This map lets visitors to our site see at a glance which agency projects are in the works or underway. You can find the map on the SFMTA Projects Page. Click on the full-screen icon in the corner of the map, and you'll arrive at the Interactive Projects Map.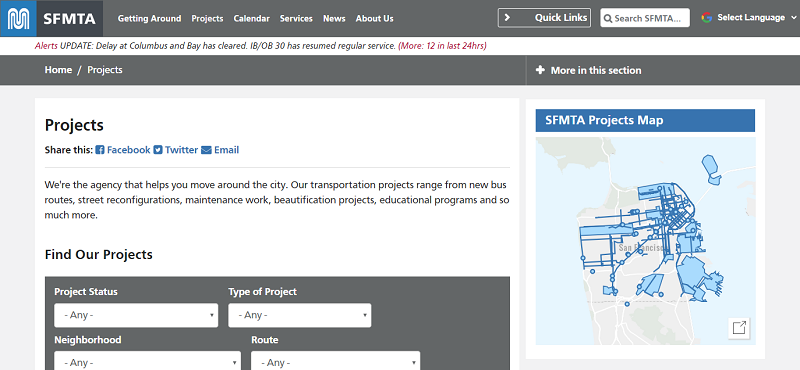 The Interactive Projects Map is an online map of transportation plans and projects sponsored by or in partnership with the SFMTA. The map offers a new way to learn about SFMTA projects and explore all of the work we are doing around the city. The map helps us share information about our projects with members of the public, city leaders and our city partners. Our staff can also use the map to minimize impacts to communities by seeing what other projects are happening nearby, allowing us to better coordinate construction schedules.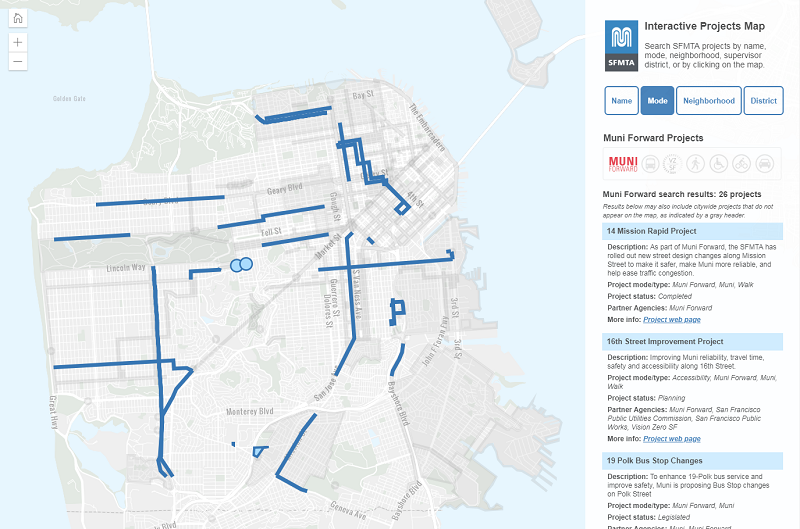 Most projects on the SFMTA website are included in the Interactive Projects Map. Projects that do not affect our streets or that are citywide can be searched using the map tool but will not be displayed on the map. This includes projects in the planning phase, projects in construction or implementation and those that have been recently completed. In addition to being featured on the SFMTA Interactive Projects Map, each project page now shows an interactive map of that project to help visitors to our website place it in context.

Though the map has been months in the making, we know there's room for improvement. We are looking forward to receiving feedback about the functionality of the map or suggestions for features to develop. We have a survey, the Interactive Projects Map Feedback Survey open through the end of August, specific comments and questions can also be sent directly to the project team at ProjectMap@SFMTA.com.
More information about the map and how to use it can be found in the FAQs.