Salesforce Transit Center
The Salesforce Transit Center project will build a major new regional transit hub just south of Mission Street between Second and Beale streets in downtown San Francisco. Phase One of the project will connect the bus services of AC Transit and WestCAT from the East Bay, Greyhound and Amtrak Thruway bus service with Muni service in San Francisco. Phase Two of the project will bring in Caltrain train service from the peninsula and eventually California High Speed Rail trains from Southern California into an underground station. The multi-level building (four stories above grade and two below) will include a rooftop public park, retail space, bicycle parking and administrative offices.
The Transit Center will be the terminus for the Muni 5, 5R, 7, 38 and 38R routes at the bus plaza and the 25 on the bus deck. 
Project Timeline
Demolition of Transbay Terminal
Phase 1a: First Level Bus Plaza
Phase 1b: Third Level Bus Deck, Rooftop Park
Phase 1c: Second Level Retail, Office Space
Phase 2: Below Ground, Rail Service
Project Status
Implementation/Construction
Bus Routes and Rail Lines
Transit Center Highlights
The Salesforce Transit Center will become the "Grand Central Station" of the west, a fully integrated transit hub capable of getting people to any major destination in the region from one central location using only public transportation.
The major project elements include:
Two-block-long bus deck with direct freeway access for AC Transit, WestCAT, Amtrak Thruway and Greyhound buses and Muni service to Treasure Island (25)
A ground level bus plaza serving six major Muni lines (5/5R, 7 and 38/38R)
A three-platform, 6-track train station underground
A Grand Hall entrance lobby and a rooftop park
Ancillary projects include a public plaza on Mission Street west of Fremont Street and the Salesforce Tower off Mission Street east of First Street.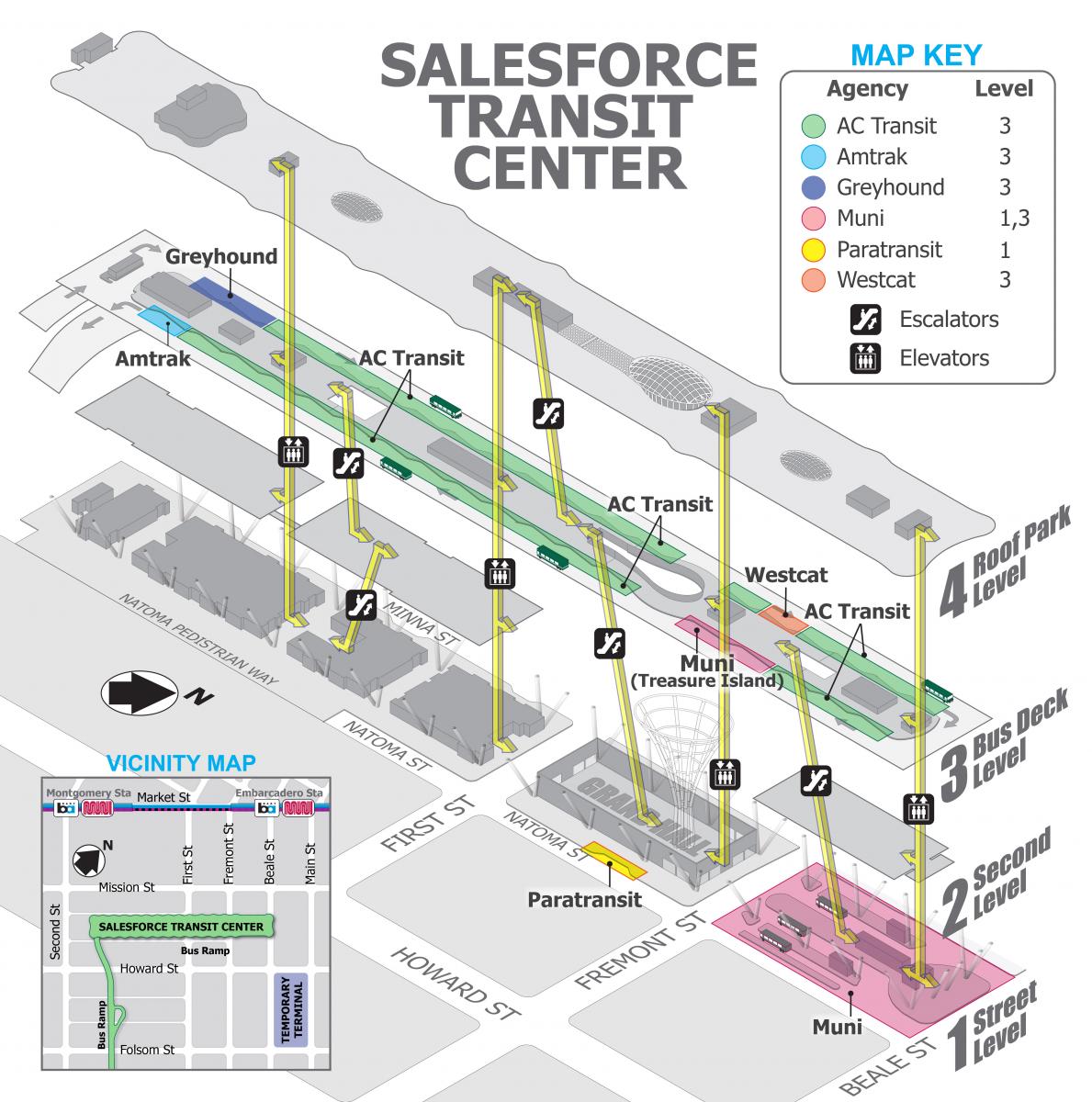 Partnering with the SFMTA
The Transbay Joint Powers Authority (TJPA) manages and operates the Salesforce Transit Center. As a partner agency, SFMTA provided technical support and design input for the project with transit power infrastructure for Muni buses and the design of the street level bus plaza. SFMTA traffic engineering has and will continue to help guide construction on city streets for necessary utility relocations and construction of the below grade train box.
Project History
The original Transbay Terminal at First and Mission streets, opened in 1939 and was a regional transit hub for over 60 years. It was closed in 2010 to make way for a new world-class transit center that will serve the region. While construction of the new Salesforce Transit Center took place, a Temporary Transbay Terminal served Muni and AC Transit for 8 years, ensuring our customers were able to continue traveling to and from the heart of downtown San Francisco from all over the region.
Check out the video from our partner TJPA about the history of the original Transbay Terminal and the design of the new Transit Center. 
Funding
Funding for the project is provided through TJPA and includes federal grants, proceeds from the sale of state property in the area, loans and local (SF) sources.