J-Pop Weekend: Anime, Cosplay, and Japanese Film Festival
Project Construction Alert:
As part of the on-going Balboa Park Station Area and Plaza Improvement project, the southbound I-280 off ramp at Ocean Avenue will be closed tomorrow and again on Monday, July 25, from 9 p.m. until 5 a.m. the next morning. For information on August closure dates, view the project alert page.
Event: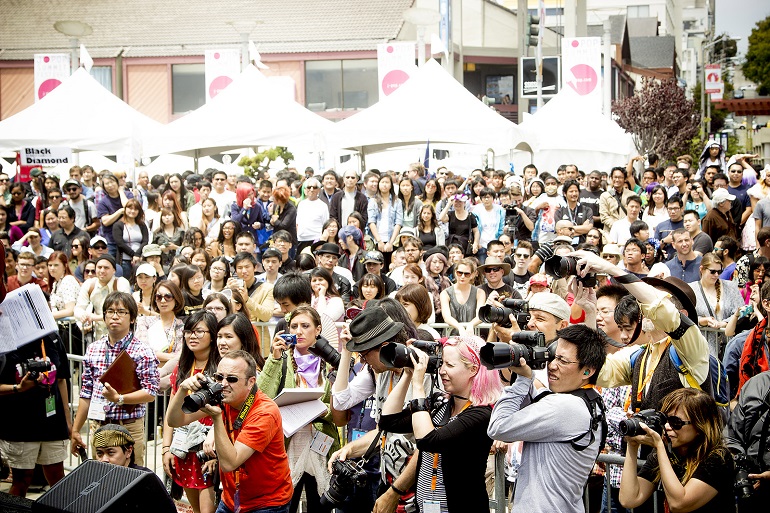 Media and crowd gathered for the J-Pop Summit in Japantown on July 14, 2014. Photo credit: Dennis Amith/Flickr.
While there is no major event planned for this coming weekend, you can rest assured that things will pick back up next weekend in a hurry as Giants baseball, the SF Marathon, and the Up Your Alley Fair are all On Tap. However if you're looking for something interesting to do this Saturday and Sunday and you're a fan of Japanese pop culture then this weekend is tailor made for you.
J-Pop Summit
Friday through Sunday
Various locations
Since debuting in 2009, the J-Pop Summit has quickly become a popular gathering for enthusiasts and novices alike to revel in and share their interests of Japanese anime, music, fashion, cosplay, games and more. Spread out over three days, Summit events will take place at the Regency Ballroom and at Fort Mason. The first two days of the nine day Japanese Film Festival will run concurrently at the New People Cinema located in Japantown.
Thinking of taking public transportation to J-Pop? If not, you should be. The 2 Clement, 3 Jackson, 19 Polk, 47 Van Ness, and 49 Van Ness/Mission routes will take you to the Regency. In addition to the 19, 47, and 49 the Powell Hyde Cable Car Line, 22 Fillmore, 28 19th Avenue, and 43 Masonic routes will get you to or near Fort Mason. The 2, 3, 22, 38 Geary and 38R Geary Rapid routes will take you to Japantown.
Muni service note: there are no scheduled re-routes for this event, however service may see increased ridership and minor delays.
On Tap in two weeks: Outside Lands Music Festival and the Nihonmachi Street Fair
Upcoming weekend BART closures between Daly City and Glen Park stations, begins July 30 through October 16. Muni will be providing free shuttle service and extra service on several routes. For details, check out our July 18 blog post.
"On Tap" gives you a heads up about the big events in town and what Muni routes and lines will get you to the party. Look for this feature to be posted usually on Wednesdays for a look ahead to the weekend. Check out our Weekend Traffic & Transit Advisory for more details.