Letting the Good Times Roll at Muni Heritage Weekend
Tuesday, September 29, 2015
In the golden September sunshine, this past Saturday and Sunday we joined hundreds of rail, transit, Muni and history buffs to celebrate Muni Heritage Weekend hosted at the Market Street Railway Museum. We here at the SFMTA want to give our thanks to all the hard working Muni operators, mechanics, street inspectors and parking control officers who made it possible as well as the volunteers from our non-profit partner Market Street Railway who made it a success! For those who missed out, here's a photo recap of all the fun you can catch next year.

Streetcar 578, One of the World's Oldest | September 26, 2015
Passing by the Ferry Building full of eager riders, San Francisco's streetcar darling, Streetcar 578, made an appearance at the festival. This streetcar resembles San Francisco's most famous vintage rides — the cable cars — because it was built in 1896 and dates to the transition period from cable car to electric streetcar. This popular car was a rare treat to see in operation on the sunny Embarcadero!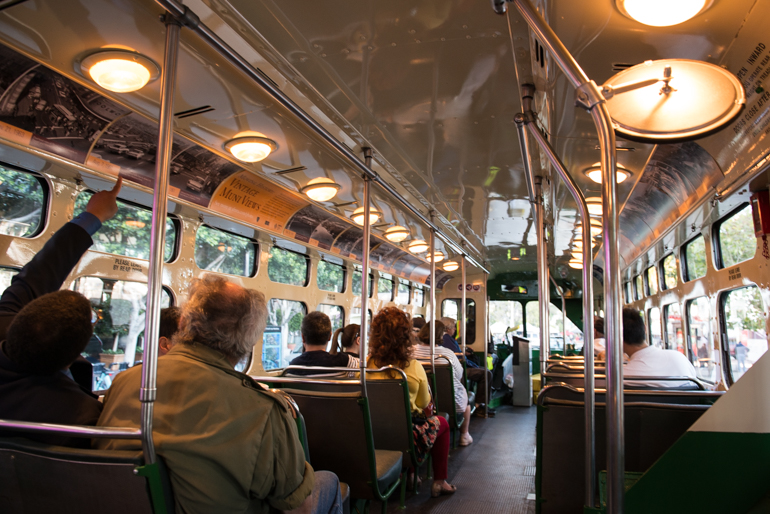 Passengers Taking a Ride on Trolley Coach 776 from 1950 | September 26, 2015
Fans of vintage buses also got a special treat this weekend. We showcased two trolley buses, Nos. 776 and 5300, from 1950 and 1975 respectively and a vintage Muni bus, No. 3287, from 1969. While those dates may not seem too long ago to some, they certainly qualify as vintage vehicles. The buses made a loop around Union Square and back via Market Street and featured pop-up exhibits inside the vehicle. The exhibits displayed historic photographs from the era when each bus was in regular service, transforming the buses into time machines, representing the 1960s - 1980s. If you missed the pop-up exhibits or want to revisit them, you can still catch them online at the SFMTA Photo Archive website.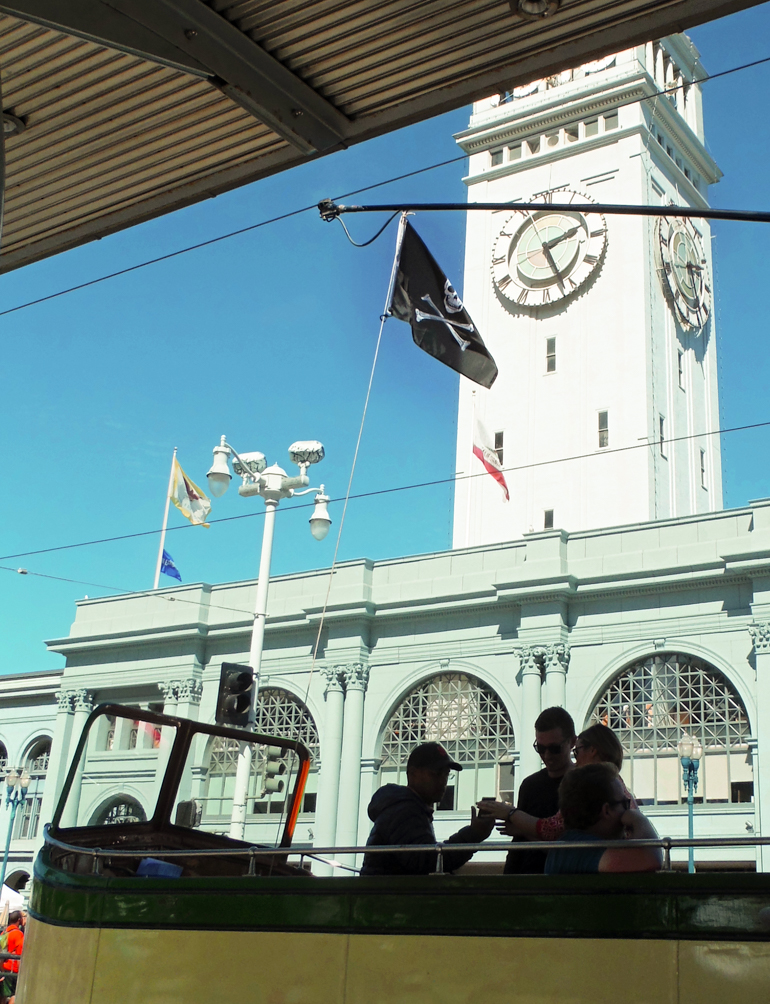 A vintage photo look for Muni's newest Boat Car #233 | September 26, 2015
Both of our open-top "boat tram" streetcars were operating in special service from Don Chee Way to Pier 39 and back. Newly arrived Boat Tram 233 was gave riders a laugh by sailing under the Jolly Roger — also known as the classic pirate ship flag "skull and crossbones."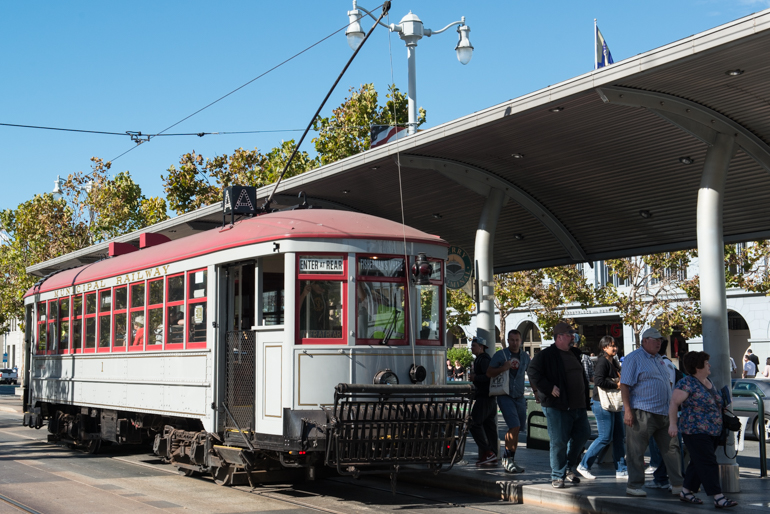 Streetcar 1 Unloading Passengers at Ferry Plaza on the E Line | September 26, 2015
Eagle-eye streetcar spotters may have noted that service on the E Embarcadero Line featured Car No.1 — Muni's original streetcar from the railway's first year in 1912. And no, that "A" roof sign is not incorrect, it's part of Car 1's restored look, which features the original grey, red, and gold paint scheme and signage.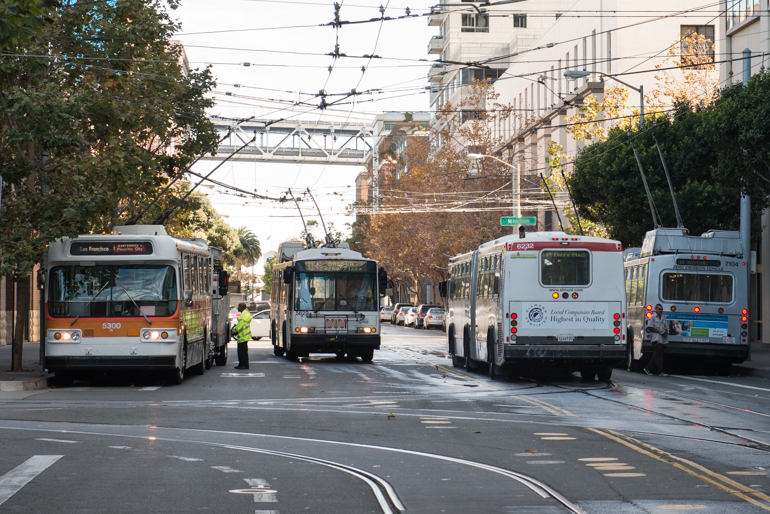 Muni Heritage Meets Muni Forward, Extra Service Vintage and Modern | September 26, 2015
In addition to the retro fun of the vehicle festival, this weekend SFMTA also looked toward the future of public transit in the city with the rollout of another round of Muni Forward service increases and improvements.
To see more images from the Muni Heritage Weekend, you can check out Market Street Railway's blog and the SFMTA Photo Website.  And as always, transit enthusiasts can find more SFMTA Photos on Flickr, Twitter, Google+, and Instagram.