Lime and Spin Host Adaptive Scooter Event in Golden Gate Park with SFMTA Support
We are proud to support Lime and Spin as the companies host a dedicated adaptive scooter event in front of Peacock Meadow in Golden Gate Park on Oct. 17 from 2:30 p.m. until 4:30 p.m. The initiative is another step toward ensuring a more inclusive and accessible transportation ecosystem for San Francisco's residents and visitors.
Adaptive scooters, equipped with features such as wider bases, seating and additional wheels, are designed to cater to riders with various mobility needs. They may be particularly useful to those who find traditional scooters challenging to ride. 
People will have the chance to get hands-on experience with a range of adaptive scooters from both Lime and Spin at this event. There are expected to be at least 10 vehicles for riders to test out and provide feedback.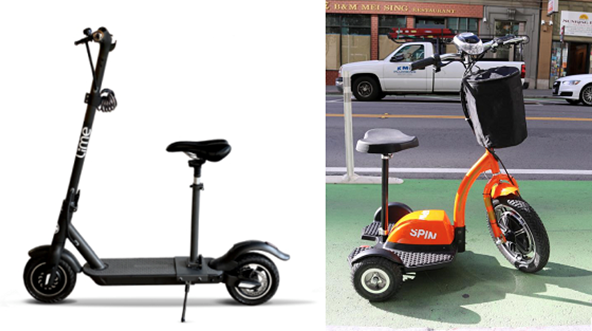 A two-wheeled adaptive scooter with a seat from Lime (left) and a three-wheeled adaptive scooter with a seat from Spin (right).
San Francisco users of the Spin app will receive notifications about the event through in-app banners and pop-up messages, while Lime notified its users by email. 
In a previous collaboration with AccessSFUSD, students and staff enthusiastically test-rode adaptive scooters in Golden Gate Park. Their invaluable feedback has significantly influenced the design and functionalities of these scooters. 
The Adaptive Scooter Program formally began in 2020. The SFMTA now requires all scooter operators to ensure that adaptive scooters represent at least 5% of their on-street fleet. The permittees also offer different types of adaptive devices through their Complementary Adaptive Programs, which provide longer-term adaptive rentals free of charge through scheduled drop-off and pick-up. Anyone who is interested in trying an adaptive scooter can learn more on our Adaptive Scooter Program page.  
This upcoming event exemplifies our commitment with Lime and Spin to create and support an inclusive transportation landscape in San Francisco. All are welcome to come experience this event focused on equitable urban mobility firsthand.