A Look Back at Two of SF's Main Streets
Thursday, February 26, 2015
Since the very first horse-drawn streetcars rolled down Market Street way back in the mid-19th century, San Francisco's transit system has remained almost entirely above ground.  With this surface-level system, street scenes are one of the most common subjects depicted in the images in the SFMTA Photo Archives.
This week, we'll take a trip back to the mid-1970s to get a good look at one of San Francisco's busiest intersections as it was 41 years ago.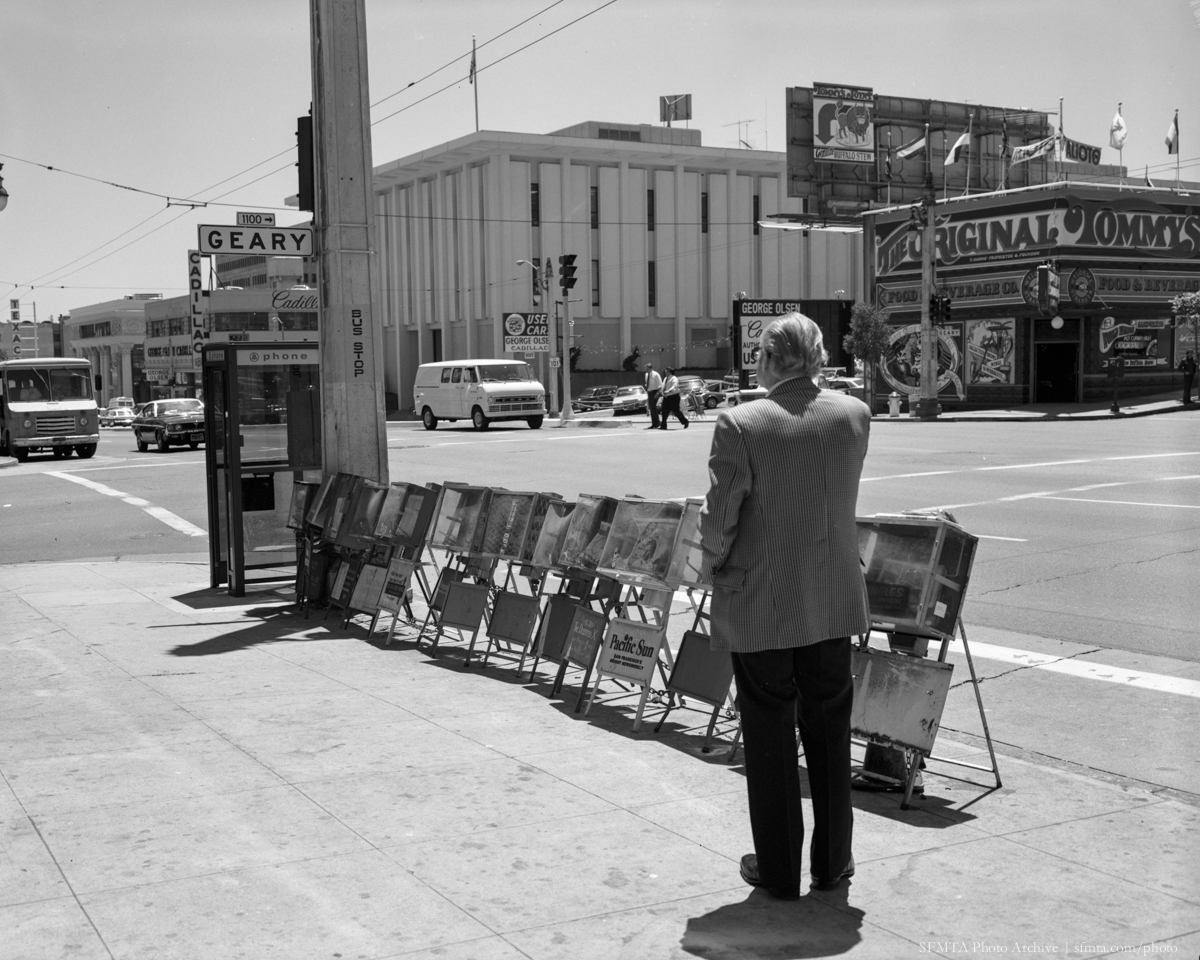 Bus Stop with Newspaper Racks on Van Ness and Geary | May 29, 1974 | M1849_8
A man waits for the bus on the northeast corner of  Van Ness Avenue and Geary Street. This crossroads has played a very important role in the Municipal Railway's operations from day one and still serves two of Muni's most heavily used routes (38 Geary and 49 Van Ness-Mission).
In the streetcar days, this was the junction where the A, B, C, and D-Geary Street lines met the H-Potrero/Van Ness line in an elaborate rail maze called a "three-quarters union". In the late 1940s, during a time when some public officials (Mayor Roger Lapham was the big one) saw the street and cable cars as a money pit of maintenance costs and sub-par service, the well-used rails at this corner vanished. Muni scrapped streetcar service in favor of buses on all of these lines (and scrapped the line names as well), along with many of the other streetcar and cable car lines throughout the city.
In 1974, this crossing looked much like it does today, minus the plethora of newspaper options and phone booth clogging up the bus stop—the reason this photo was snapped by Head Photographer Marshall Moxom in the first place. Side note: the bus stop has been moved, too. It's now several yards north at Cedar Street. Four decades later, one can still jump on major Muni routes going north, south and west or get a bite to eat at Tommy's Joynt on this bustling corner.
Check out more SF street scenes and the history of transit on the SFMTA Photo Archive website and follow us on Flickr, Twitter, Google+, and Instagram!