Meet the Boeings: How Futuristic Visions in Postwar America Helped Bring Light Rail to San Francisco
In the era after World War II, Americans envisioned a future where space-age technology would bring greater ease and comfort to everyday life. People would have robot pets, live in bubble houses and ride mass transit via silent and speedy monorails. San Francisco took its first steps towards that vision in the 1960s with the construction of the Muni Metro / Bay Area Rapid Transit (BART) project to replace outdated streetcars with sleek trains that would zip across town through the Market Street Subway.
Moving from streetcars to modern light rail vehicles (LRVs) was a trend among similar cities at the time. But Muni needed a special kind of vehicle that could serve both low-level platforms at its pre-existing stops on surface streets and high-level platforms in the new subway stations.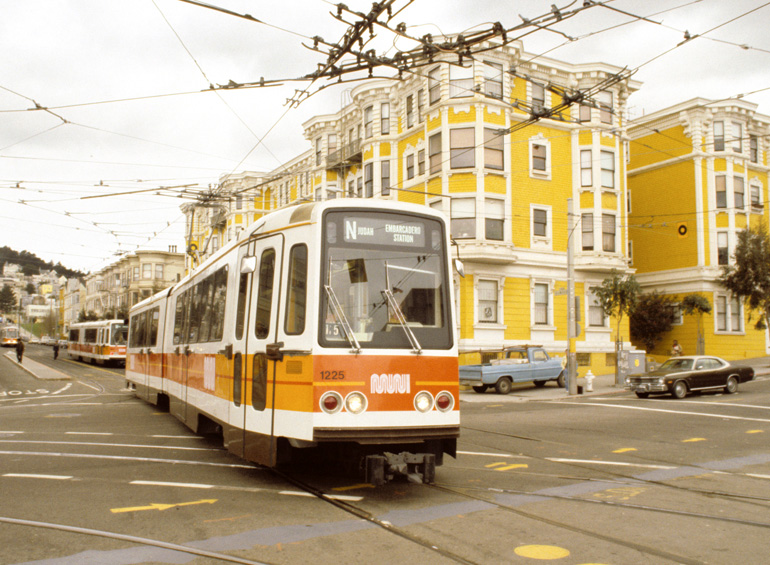 A first-generation Muni light rail vehicle, built by Boeing, on Duboce Avenue at Church Street. Known for both their funky paint schemes and frequent breakdowns, many residents remember these train cars with mixed feelings of nostalgia.
With few rail transit vehicle manufacturers to choose from in the 1970s, San Francisco and Boston turned to the Boeing-Vertol company, primarily an aerospace manufacturer, to build an LRV that could serve the atypical needs of both cities' rail systems. Unfortunately, the design compromises made to meet that goal resulted in the Boeing LRVs suffering from continual mechanical problems. 
After only 18 years (half of the typical fleet lifespan of more than 30 years), Muni began a program to phase out the Boeings and replace them with the silver and red LRVs, manufactured by AnsaldoBreda, that Muni riders know today. Breda cars began arriving in the mid-1990s and by the end of the decade, the Boeings were a rarer sight on the streets.

A passenger and his furry friend approach a Breda train on Taraval Street near Ocean Beach in 1996.
A new era of modern rail transit for Muni starts this year as the first state-of-the-art LRVs from Siemens arrive to supplement and ultimately replace the aging Breda cars. This fleet of the not-so-distant-future will run more quietly, efficiently and reliably than any of its predecessors. The trains are expected to go an average of 59,000 miles without major maintenance, more ten times longer than the current trains.

Left: The first new Siemens LRV upon its arrival in January. Right: An interior view. This train is currently being tested prior to its debut on city streets late this summer.
While the future of effortlessly gliding monorails envisioned in the mid-20th century may have never come to pass, Muni continues to move towards a future with a safer, more reliable transit system for the citizens of San Francisco.
For more images of Muni's LRVs and other transit history through the years, check out the SFMTA Photo Archive online and explore our Twitter and Instagram accounts.