Monday, November 18, 2019
Monday morning at 8:18 am, Muni customers experienced a major delay in the subway. Maintenance crews isolated the problem and power was restored at 11:28 a.m. after testing was completed. Crews will continue working on the problem tonight to better understand the underlying causes and take corrective action to prevent the conditions that led to the outage in the first place.
We understand that Muni customers rely on us to provide safe, efficient and reliable transit service and apologize for the major inconvenience this morning. We wanted to share our response to today's incident, and update our customers on what we're working on moving forward. We're working hard to ensure a system that is dependable and that you can count on.
An electrical circuit that feeds power to the K,L and M lines just east of Forest Hill stations failed, disabling inbound trains and slowing the Monday morning commute. Outbound service was not affected by the electrical problem.
Field crews arrived on scene at 8:45 am to assess and troubleshoot the problem.
The Transportation Management Center dispatched additional staff, including Parking Control Officers, Transit Fare Inspectors, Transit Field Managers, Planners and Communications Department staff, to assist riders and provide real-time customer service. Twitter, text and email alerts, NextBus, overhead station announcements helped keep customers informed about service changes.
Incoming Director of Transportation, Jeffrey Tumlin, who isn't scheduled to start with the agency until mid-December, also headed to Castro station to provide direction to customers transferring to our bus bridge. We're extremely grateful to have a hands-on director who values transparent communications and customer service and is excited to roll up his sleeves and help.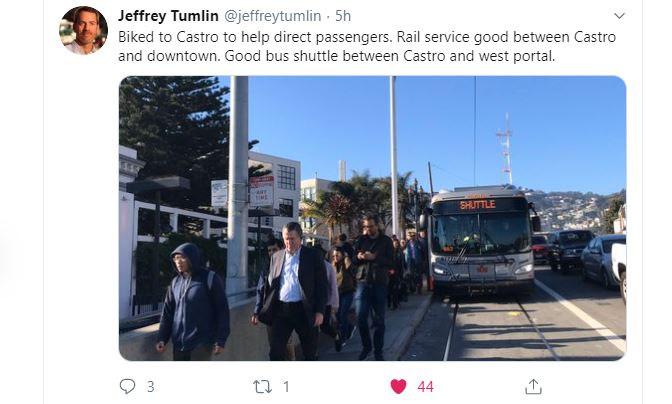 Twelve buses provided substitute service between the West Portal and Castro stations (and in some cases, Van Ness station), where riders were able to make rail connections.
The subway is the backbone of Muni's light rail system, serving more than 160,000 customers each day. It is a single trunk line, which serves the J, K/T, L, M and N lines. The impact of even a single incident, such as this one in the subway, impacts the entire system. We understand how important good service is, and we work around the clock to address maintenance issues and inform customers when we're experiencing a delay.
This morning's incident underscores the importance of the Muni Subway Maintenance Project. By extending the regular hours for subway maintenance, our crews are able to undertake more complex projects, aimed at making subway operations more reliable. This maintenance includes inspecting and repairing overhead lines, tracks, signals and the Automatic Train Control System, the computer that operates trains while in the subway.
We offer a free electronic subscription service that allows customers to receive real-time email or text alerts about Muni service as well as updates about agency news and projects. We encourage our customers to sign up for these alerts and follow us on Twitter for the latest information.
We are still working to identify the cause of the outage and will update this post as more information becomes available.