Moving on Up, with some M Ocean View Improvements
Tuesday, December 11, 2018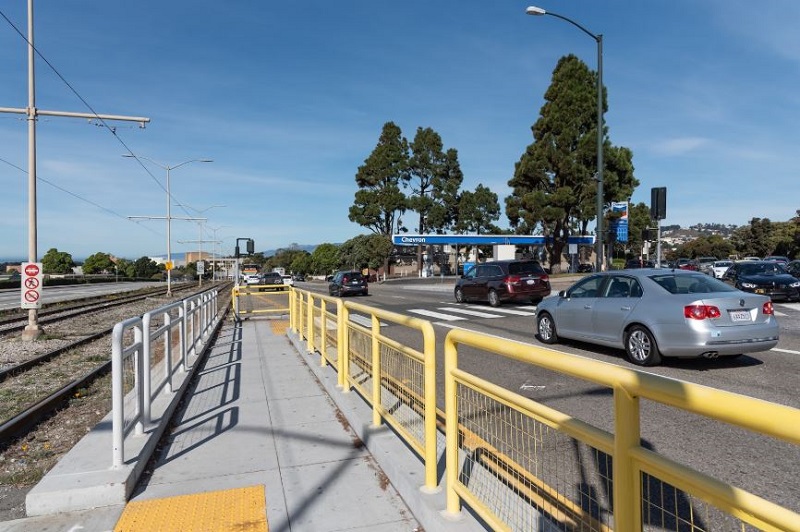 Recently, crews finished the final paving along 19th Avenue that officially completed work to improve safety and enhance movements of the M Ocean View. The work occurred in two phases, with track work coordinated with the summer's Twin Peaks Tunnel Improvements in order to limit disruptions for transit customers.
The project goals were to boost reliability and on-time performance of the M Ocean View through the heavily traveled 19th Avenue corridor, increase pedestrian safety around the Muni track right-of-ways and replace a section of aging track around 19th Avenue and Rossmoor Drive.
Phase 1: Safety and Transit Improvements at 19th Avenue and Junipero Serra Boulevard
This intersection sees a lot of action: Muni trains, pedestrians and traffic. For the M Ocean View, the area is a key crossing on its journey to downtown or Balboa Park Station, but trains were often getting backed-up by cars packing the intersection. The newly installed Transit Signal Priority (TSP) allows a sensor to communicate with the traffic signals when trains are approaching in order to keep the train moving through the intersection more often.
In addition, vehicle deterrents like red concrete and low-profile speed bumps, also called "intrusion treatments," were installed to help people avoid driving on the tracks. This coupled with pedestrian refuges and new crosswalks should help everyone using this busy intersection.
Phase 2: Track replacement between Winston Drive and Rossmoor Drive, pedestrian safety and transit performance improvements
A little farther north, the second phase included replacing the entire section of track between the Stonestown station platform and Rossmoor Drive. Similar to the intersection in Phase 1, new traffic signals and sensors were installed as were intrusion treatments where trains go from 19th Avenue to a dedicated right-of-way. Lastly, three new ADA ramps were installed at the Rossmoor Avenue/19th Avenue intersection along with pedestrian timers and train warning signals.
Let us know what you think of our new improvements to the M Line, send your favorite pictures to @sfmta_muni.