Thursday, December 11, 2014
Operating thousands of vehicles all over town for the past 100+ years, Muni is no stranger to dealing with wet weather issues. With today's major rainfall literally flooding the Bay Area, it seemed only appropriate to throwback to this truly remarkable photo from March 12, 1971. An unfortunate combination of excavation for BART and the Market Street Subway and some pretty serious rainfall caused this cave-in and massive pool of water on Market & 12th streets.
According to historical weather reporting, March 12 had the most precipitation of the year at .575" (vs. the typical .176").  With an increase like that, it's no wonder the excavation for the tunnel suffered from flooding.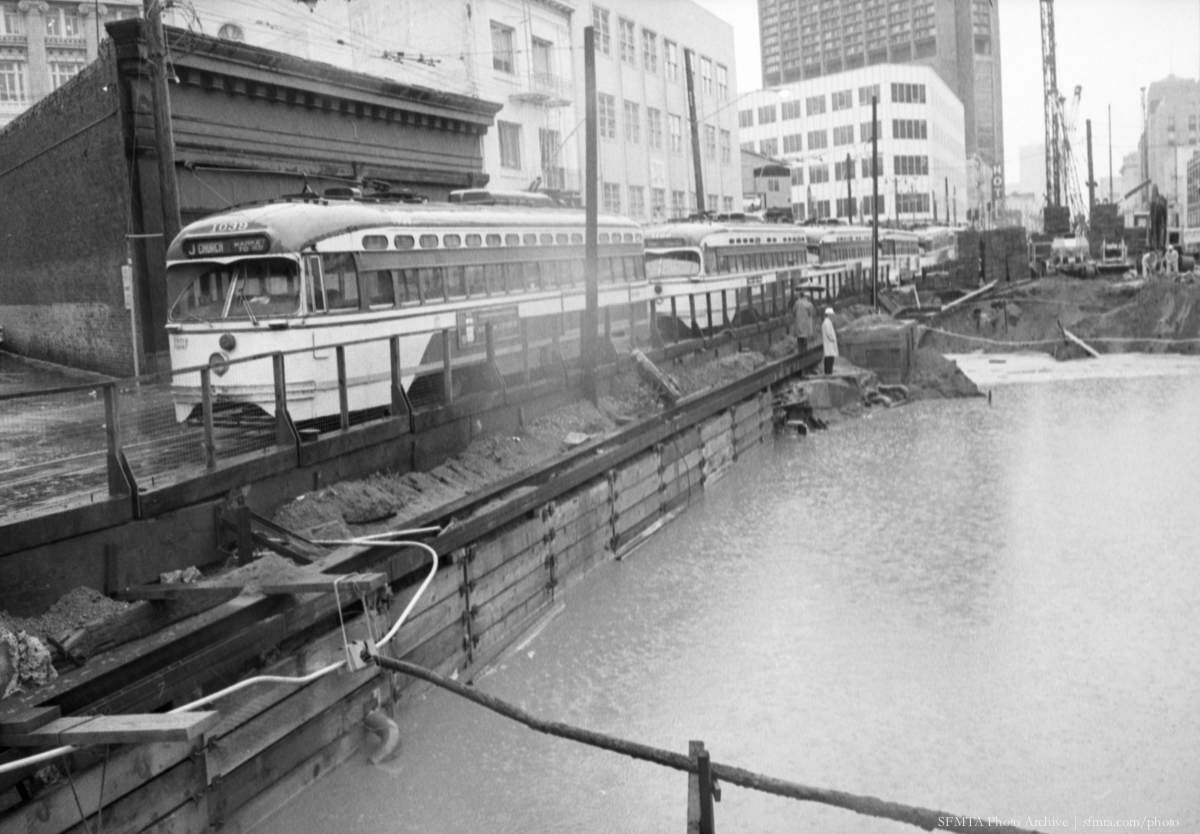 BART Construction Cave-In on Market and 12th streets | March 12, 1971 | M1051
What I find most remarkable is that streetcar service along Market Street was not halted altogether. Just as they are today, Muni and other work crews were out in the storm to make sure problems were dealt with and vital service kept moving. 
As many of us deal with today's rain-related transit snafus, it seems worth it to note that we're doing pretty well compared to this level of disruption and destruction. Kudos to all the frontline people from the SFMTA as well as our city partners who are out in the wet, repairing our infrastructure to keep our city on track!  
Stay informed about service changes due to the weather through our Twitter feed or by signing up for Muni Alerts, and, as always, be careful out there!  Wet, stormy weather necessitates driving and biking slower and more carefully; keep your eyes peeled for pedestrians (often wearing dark rain gear and watching the puddles), flooding (at low spots and intersections), slick surfaces (tracks, grates, manhole covers, pavement), and disruptions like debris and flashing redlight signals.
Check out more historic photos on the SFMTA Photo Archive website and follow us on Flickr, Twitter, Google+, and Instagram!