It may seem like a strange confectioner's combination but in San Francisco, public transit and delightful baked treats have had a long, sweet relationship. In this blast from the past, we're taking a look at several stylish, tempting cakes that have shown up at Muni celebrations over the years.
Starting our list is this elaborate, professionally baked and decorated double-decker cake made to celebrate Muni's 50th anniversary in 1962. On the left, the cake artist added a bus, complete with the striped "wings" paint scheme that Muni had in the 1960s. On the right, a cable car sits on the top tier of the cake to represent the year 1912.

A 1962 cake from Muni's 50th Golden Anniversary Luncheon. Image number X7523_2.
The next cake was baked to commemorate the birthday of San Francisco's first cable cars, with a large "95" to mark the ninety-fifth anniversary of the original Clay Street cable cars. These local kids obviously could not resist a good cake and showed up for a slice at the event, which was held near the Portsmouth Square Playground in 1968.

On the left, Friedel Klussmann, the founder of the Save the Cable Cars movement, is helping to serve the birthday cake. This cable car birthday event was held in Portsmouth Square on Clay & Kearny Streets where the first cable car line began in 1873.
No set of Muni cakes is complete without a streetcar confection. This 1970s cake was made in the shape of a J Church streetcar in a unique variation that merged the new white & orange Muni paint scheme with the older "PCC" style streetcars.  A small number of traditional PCCs were given the new livery prior to the introduction of Muni's Boeing light rail vehicles in the early '80s. This cake, which was likely brought from home by an employee, even features a small Muni "worm" logo and nicely executed headsign in icing.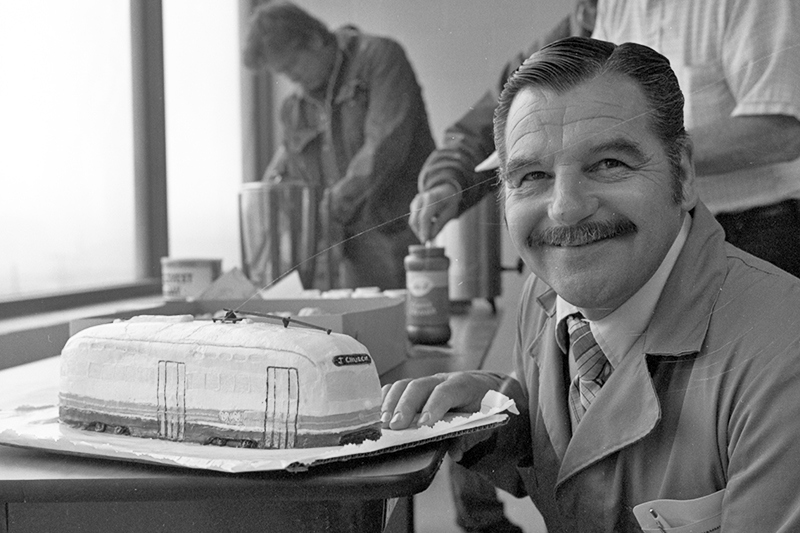 This cake was made to celebrate the completion of a series of streetcars painted with the new Muni worm and orange colors in September of 1977.
Taking top prize in any great bake-off is this masterpiece of a bus cake, which features not only an accurate GMC bus— number 3008—­ but also has a person waiting at the bus stop as well as little passenger faces in the windows.

This great Muni bus cake appears to have been made at home and brought into Muni to celebrate at a retirement party for a bus operator in 1977.
If these cakes are not enough to satisfy your sweet tooth, check out more Muni and BART cakes at over at the always-delicious Muni Diaries. And, there are always more SFMTA photos to explore on our website and Instagram.