San Francisco loves sports, from the big leaguer Giants to small-fry neighborhood teams. So in the midst of baseball season, we're throwing back to the 1940s to share a little-known piece of the city's history: Muni's baseball team.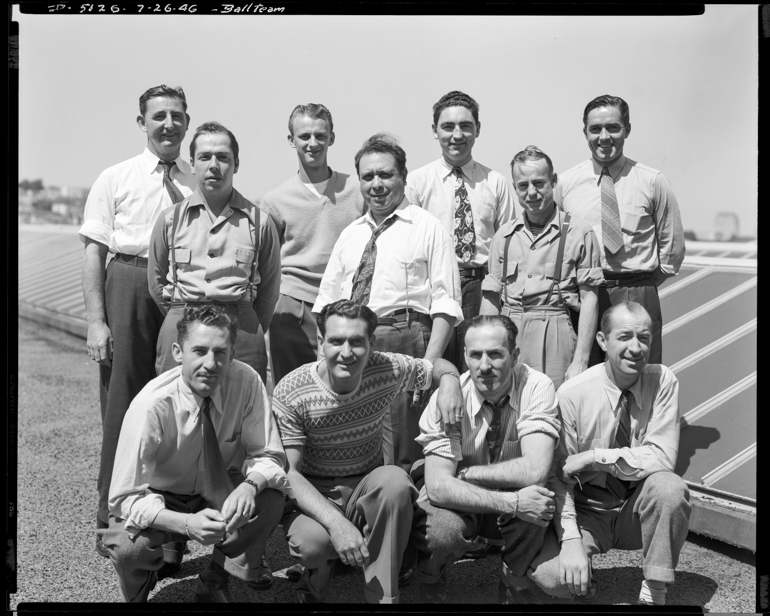 The Municipal Railway baseball team on the roof of the Geary Car House on July 26, 1946.
While we don't know exactly when Muni's first baseball team was formed, the 1946 team pictured above was likely one of the first.
After the 1944 merger with the Market Street Railway Company, Muni was undergoing some growing pains. In the struggle to unify the once-competing systems, the creation of a baseball team was one effort to help integrate employees from across the organization. It was a natural choice for a town that really digs the diamond and must've been a favorite among Muni staff.
Muni's sports teams, which also included bowling, basketball and softball, weren't just a way for employees to get together and have some fun. They helped staff build relationships with one another, which then helped them better serve the transit-riding public. The basketball league games, which were played at neighborhood rec centers, were a draw for the surrounding communities and lasted from at least the early 1970s to 2007.
Continuing this sporting tradition today, the SFMTA has a softball team that will play in this year's 27th annual Mae Louise Mays Memorial Softball Tournament for Foster Children. Prior to the creation of the SFMTA, Muni and the Department of Parking and Traffic each fielded teams for this much loved tradition. This coed softball tournament, held at Moscone Field, will help raise money for the San Francisco Foster Youth Fund in honor of Willie Mays' wife, who passed away last year.
For more photos from the past, check out the SFMTA Photo Archive online and follow us on Twitter and Instagram.