In the early 1970s, Muni explored some curious bus technologies to provide cleaner, quieter public transit and improve quality of life across the city. One such experiment was a 19th-century throwback wrapped in a 20th-century shell: a steam-powered bus.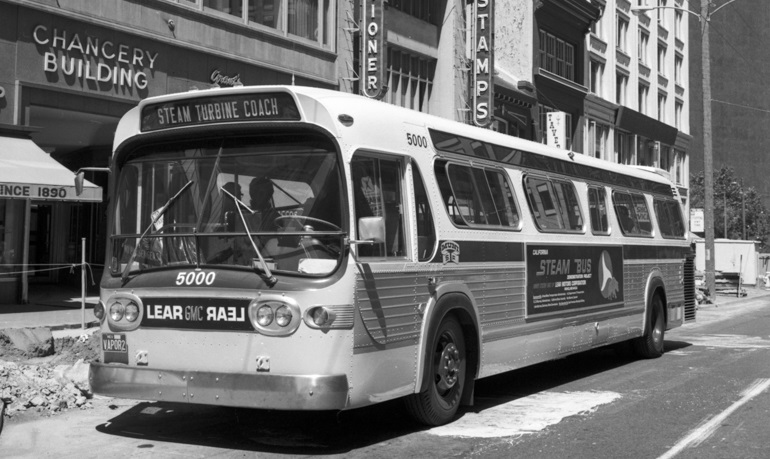 Muni's experimental steam turbine bus being tested on Market at Sansome Street on August 23, 1972.
In 1972, inventor and businessman Bill Lear (creator of the Learjet and the 8-track tape player) developed a steam turbine propulsion system and installed it in a General Motors bus similar to the ones used by Muni at the time.
This experimental coach was developed under a program sponsored by the U.S. Department of Transportation to see if a new type of propulsion system could provide a lower-emission alternative to the conventional internal combustion engines used in buses. Compared to the hulking V-8 diesel engine used in Muni's standard buses, the steam turbine engine was found to produce far fewer air pollutants in tests run by the California Air Resources Board and the U.S. Environmental Protection Agency.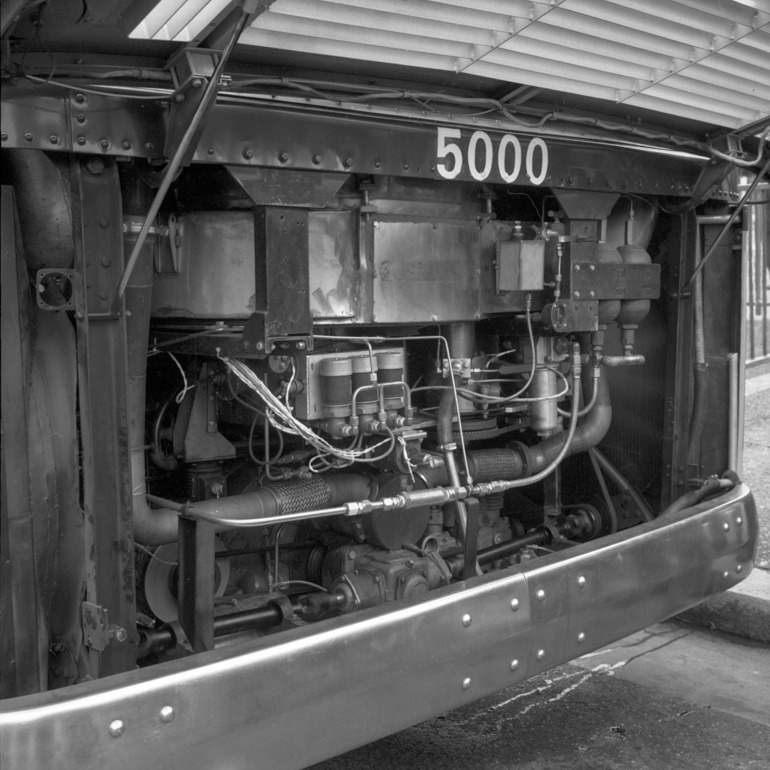 A close-up view of Lear's "vapor turbine" engine installed in a General Motors coach and tested by Muni in 1972. The steam generator can be seen at the top of the compartment and the round turbine below, mid-compartment.
The "Lear Vapor Turbine" system used superheated water vapor (steam) expelled at extreme pressures to spin a small turbine, which was connected indirectly to the stock drivetrain of the bus. In addition to its lower emissions, the turbine engine was quieter and could use a variety of fuel types.
But ultimately, Lear's steam bus did not prove to be a practical alternative to traditional engines due to its mechanical complexity, excessive production costs and high fuel consumption, and it never hit the streets beyond its test period in August 1972. Nonetheless, experimental buses like this one were integral to driving the development of improvements to conventional engines that have resulted in cleaner emissions and better fuel economy.
You can read all about the design and testing of this coach in features from both the July 1972 issue of Popular Science Magazine and August 1972 issue of Popular Mechanics.
Check out more historic photos from the SFMTA Photo Archive online, and follow us on Twitter and Instagram.