Mystery Photos Found in Time for Fleet Week
Thursday, October 8, 2015
With San Francisco's Fleet Week events taking place this week, it seemed appropriate to unveil a very recent and unusual discovery made by SFMTA Photo Archive staff. With well over 90 percent of our photos related specifically to public transportation in San Francisco, a random envelope of photos taken in 1926 showing Navy battleships in the Bay was a bit of an unconventional find.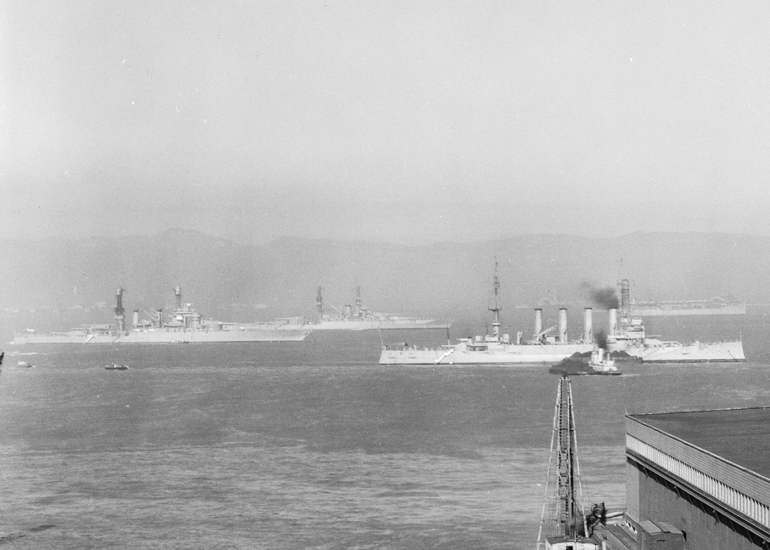 San Francisco Bay with Navy Ships (detail) | August 26, 1926
This envelope of about ten 8 x 10" black and white negatives is an anomaly, as it's not recorded or numbered like the rest of our photographs. Taken of the waterfront around Harrison Street and on Rincon Hill, the photos were likely taken to document where the Bay Bridge would be built. Not only do they capture glimpses of the remnants of Rincon Hill, but they catch a moment in time when the U.S. Navy had a much larger presence in San Francisco and would store its fleet just off the eastern waterfront.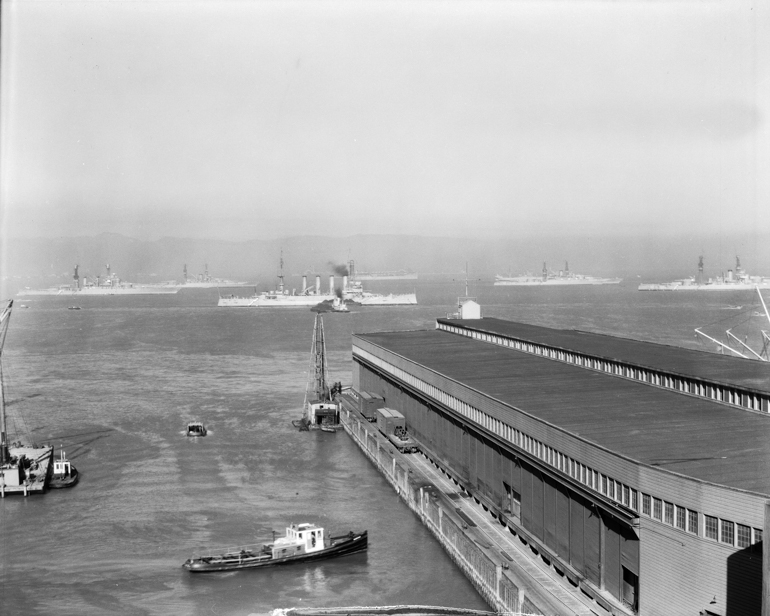 Looking East Towards Pier 26 and San Francisco Bay with Battleships | August 26, 1926
This un-cropped version shows about seven ships just a stone's throw off Pier 26.  While this sight is pretty unusual these days, the Bay Area has a long history of major U.S. Navy activity. With multiple bases, dry docks and airfields, the San Francisco Bay was a crucial part of the military's infrastructure, especially during World War II. As the Cold War wound down and the Navy began to contract its multitude of facilities, many of the Bay Area's sites were decommissioned.
That said, we'll leave the military history to the experts and stick to what we know: transit! As visitors flock to the waterfront to tour modern warships and watch the Blue Angels do their wild stunts this weekend, Muni will have all hands on deck to provide extra service for the Navy's special event. Traffic congestion is bound to get pretty hairy, so consider taking Muni, biking, or walking to the events, largely taking place at Marina Green.
You can find the full list of Fleet Week events here, and get details on weekend Fleet Week Muni service here.
And, of course, during Fleet Week military service personnel either in uniform or with a military identification card will be allowed to ride all Muni vehicles free of charge.
Be sure to check out more historic photos on our SFMTA Photo Archive website and watch for more cool photos on Flickr, Twitter, HistoryPin, and Instagram!