Need help riding Muni? We've got TIPs!
Thursday, September 17, 2020
In April 2020, as part of our emergency response to the COVID-19 pandemic, we launched the COVID-19 SFMTA Ambassador program along Market Street – one of the city's busiest Muni corridors where multiple core transit routes overlap and connect. As we have restored more Muni service and increased frequency on routes, demand has grown for ambassadors to serve additional high ridership locations and support ongoing Muni public health and customer information needs. To meet this public need, we are expanding the program beyond Market Street and are renaming it the Transit Information Program (TIP).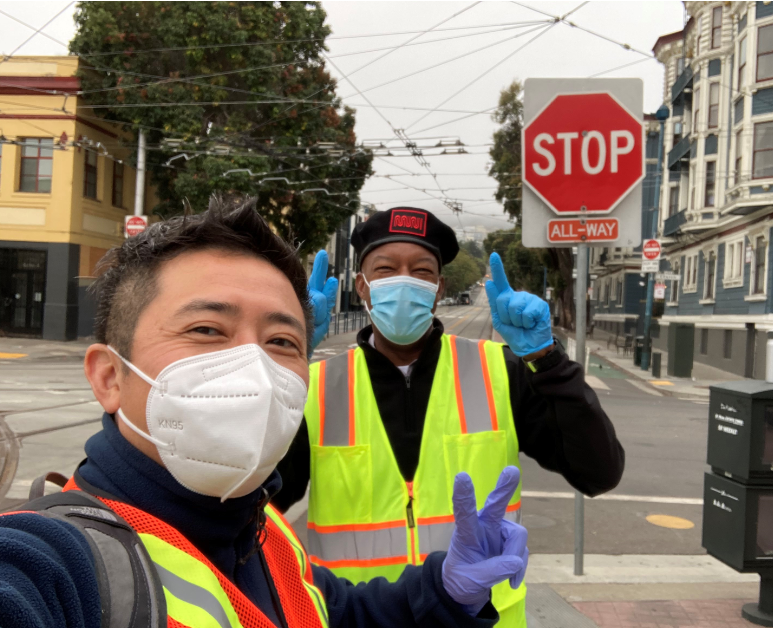 Photo: Former COVID-19 Ambassadors, now known as Transit Information Program staff (TIPs)
TIP staff (TIPs) come from many of our existing customer facing programs and staff divisions whose jobs changed because of the shifts to our system due to COVID-19. For example, you might meet a cable car or historic streetcar operator handing out masks to customers without face coverings. One of our Crossing Guards might encourage you to keep physical distance while waiting at a stop or as you board a vehicle. A Muni Transit Assistance Program staff member might hop on a vehicle to thank you for keeping your face covering on throughout your trip. Or a Transit Fare Inspector may help you find the correct bus stop.
These staff share a combined wealth of skills and understanding of the customer experience. Through their efforts as TIPs we aim to deepen the culture of customer service at the SFMTA.
The goal of this expanded effort is to provide a higher level and broader reach of direct customer engagement and support at key Muni stops to promote public health guidelines, support Muni operators, answer customer questions, and help monitor customer loads on trains when Muni Metro eventually reopens. We recognize that our fast-paced and ongoing Muni service changes have been challenging for all of us as a community, and we need to be even more available for our customers to offer support.
Our TIPs are here to help. Over the next few weeks, you will start to see them more often around town as we test different locations. They will provide rider reminders, hand out masks to customers who want to ride Muni but do not have a face covering and provide basic transit service information.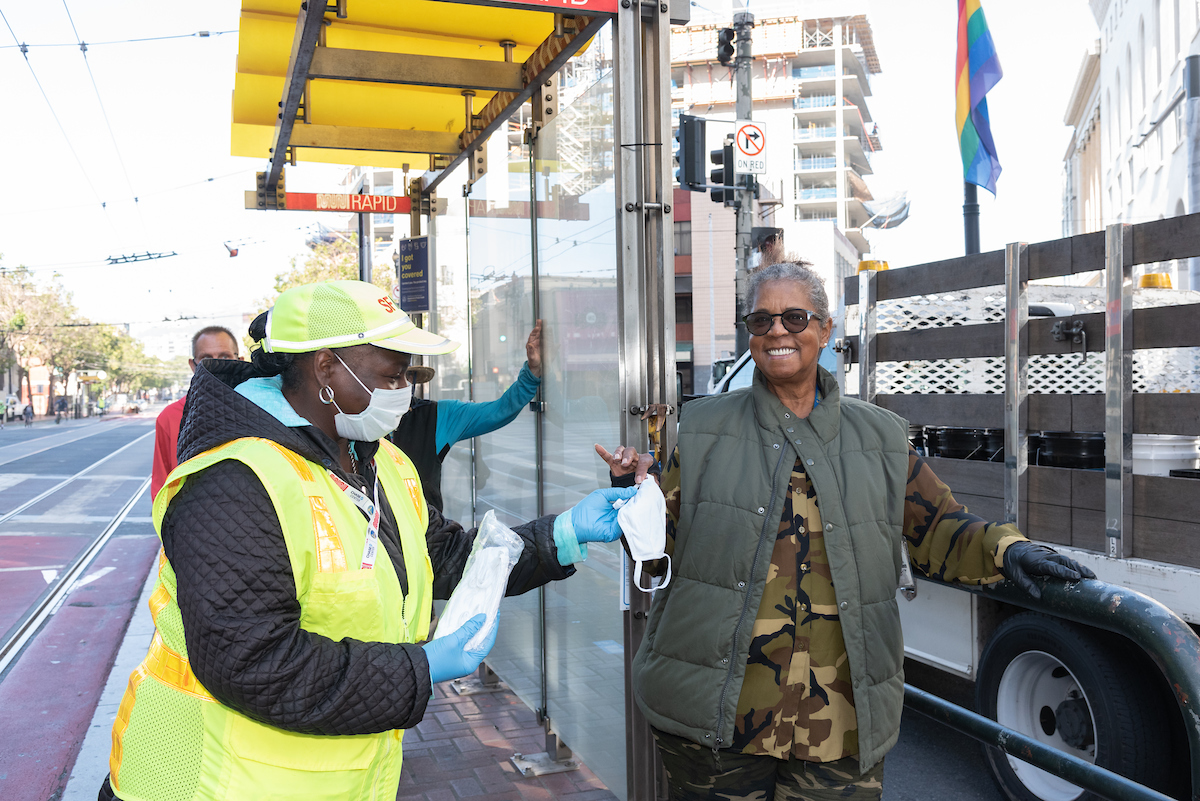 Photo: Transit Information Program staff (TIPs) helping customers during August service changes.
TIPs will be posted initially at about 45 locations, mainly along high-ridership routes like the 8 Bayshore, 9 San Bruno, 14 Mission, 38 Geary, 49 Van Ness, and Metro bus stops. These locations include key intersections where multiple routes cross, like Mission and 4th, Mission and 24th, Mission and Ocean, San Bruno and Silver, and Stockton and Pacific. The program is designed to be flexible to changing needs, so these locations may change day to day or over time, depending on where TIPs can be of most service to our customers. Air quality issues and civic events may also impact TIPs deployment.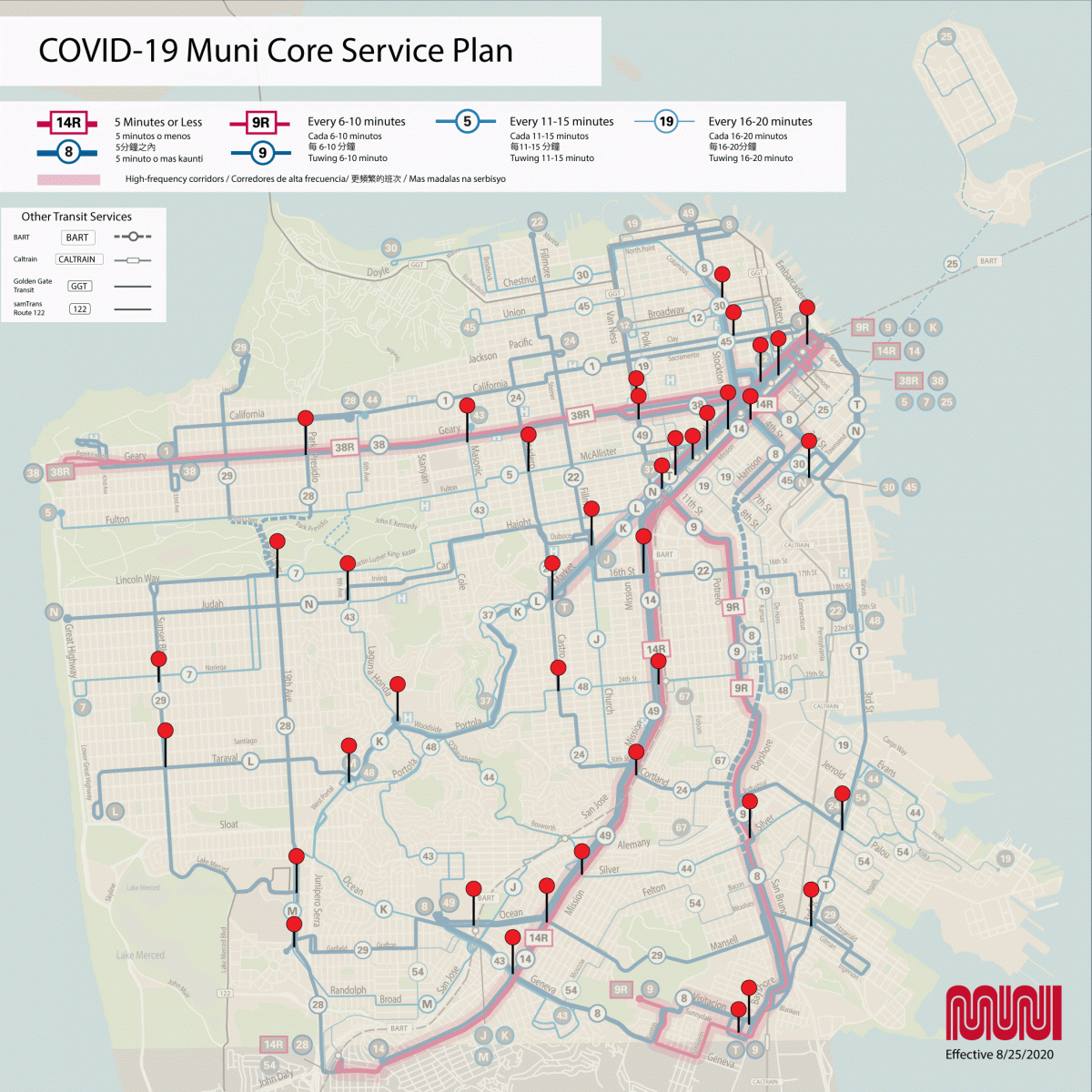 Map: Initial test locations for the expanded Transit Information Program
While we continue to take steps to improve capacity, we still sometimes still see crowding at bus stops and on buses, especially along our high ridership corridors like Geary, Market, Van Ness, and Mission streets. If a bus is about half full or more, our operators will stop picking up additional customers until there is enough room for more. Operators will indicate this to customers by placing a "Drop-Off Only" sign in their windshield and TIPs may recommend that customers wait for the next bus. We know that this continues to be tough on everyone, and we need your help to make physical distancing work.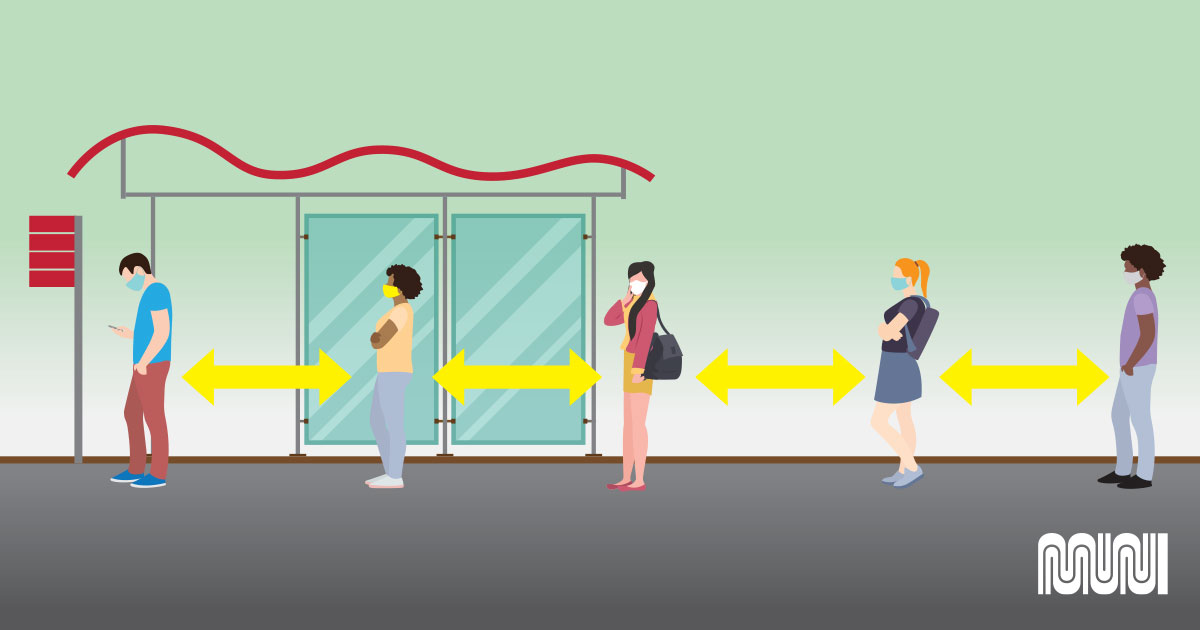 Graphic showing physical distancing at Muni stops
We also continue to see some customers who are not wearing face coverings. For our customers' and operators' well-being, operators may skip stops if customers are not wearing face coverings. It is vital that every customer do their part by wearing a face covering on Muni.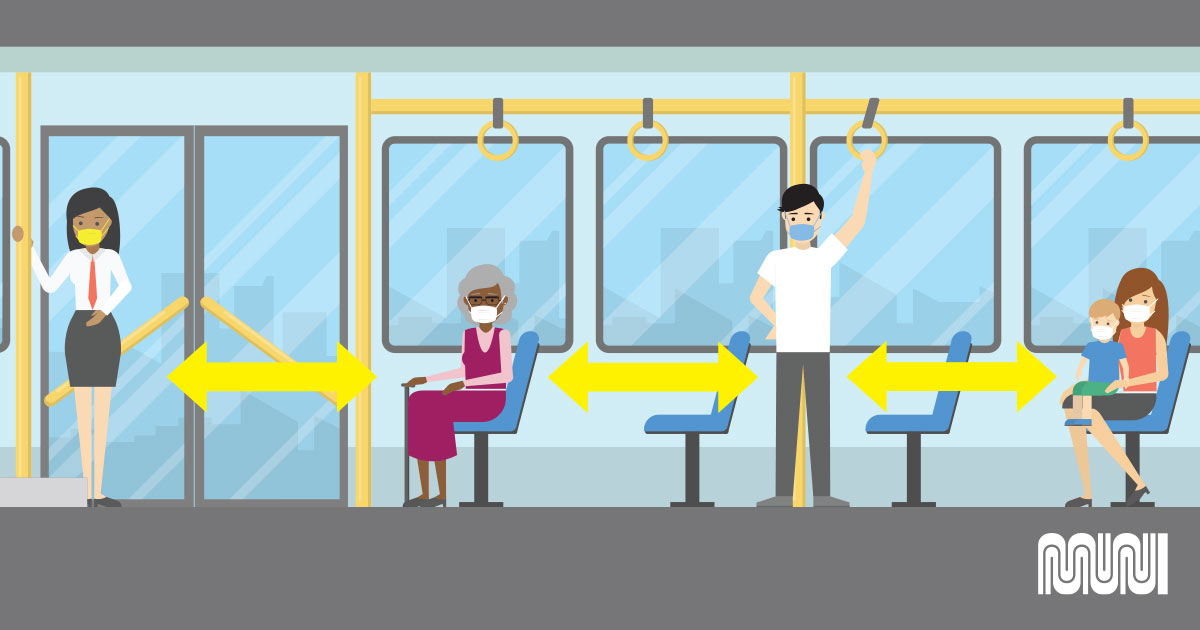 Example of physical distancing on Muni buses: Wear face coverings and give space for fellow riders.
Muni has been hit especially hard by COVID-19. The immediate health and financial impacts have cost SFMTA 30-40% of its service hours and about 80% of our capacity. It's also put a $200M hole in our operating budget. Though ridership is far lower that pre-COVID levels, Muni continues to serve approximately 150,000 customers daily. Despite many challenges, our staff are working hard to provide essential trips and hopefully our TIPs will improve your experience on Muni.
Customer Reminders
Remember, we still need your help. Help reduce the risk of COVID-19 transmission by:
Staying home

,

 except for essential trips. 

Wearing a face mask or covering over your mouth and nose and maintaining physical distance such as leaving a seat open between you and anyone who is not in your household.
Use alternate transportation whenever possible – walk, bike or take a taxi – to save a seat on Muni for those who don't have other options.
If you do need to travel on Muni:
Please respect your Muni operator. They are working hard for you.

Face coverings are required on Muni. To avoid getting passed up, cover your nose and mouth with face cover or mask while you are waiting for Muni and on Muni.

Board by the back door unless you require assistance.

Give yourself extra time just in case. Your fare is good for two hours across multiple routes. 
Visit our COVID-19 Developments and Response page for the latest information about Muni routes in service or to explore alternate ways to get around the city. To provide feedback on any Muni service changes please use our Muni Feedback Form.