New Dashboards Give a Window into Muni Service Changes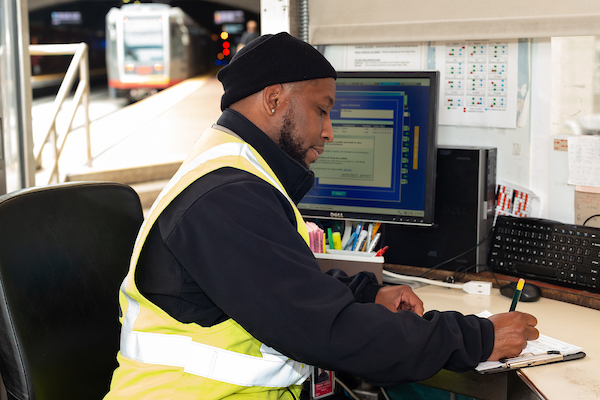 An inspector manages Muni service. New dashboards that help inform changes to Muni service are now live at SFMTA.com/MuniData
Many factors inform our decisions about Muni service adjustments. These include making sure changes to service support the SFMTA's values, which are economic vitality, environmental stewardship, trust and equity. We also evaluate travel patterns. You can now explore these patterns using the new Muni data dashboards (SFMTA.com/MuniData).
When looking at possible Muni service changes, the first thing we do is turn to the Muni Service Equity Strategy for guidance. Using the Muni Service Equity Strategy, we prioritize providing Muni service along routes that more often serve people of color, members of low-income households, and/or those who are dependent upon transit service, including people with disabilities and seniors.
We also use ridership data to analyze where riders are boarding and where and when there is crowding. This is how we determine if there are opportunities to better align ridership with how often the buses and trains run on specific Muni routes. The Muni data dashboards described below demonstrate some of the different ways ridership data can be sliced for these analyses.
Using the data described above – while being guided by the SFMTA's values and the Muni Service Equity Strategy  – allows us to make informed decisions about adjusting Muni service to best meet San Francisco's needs. Now with our new Muni Data dashboards, you can see the numbers that help make these decisions.
Check out our new Muni Data dashboards (SFMTA.com/MuniData).