A New Generation of Bikeways is Coming to San Francisco
Thursday, September 8, 2016
You should be able to ride a bike in safety, whether you're 20 years old, eight or 80.
That's the vision we're working towards, and the only way we're going to get there is by building safer streets that offer more protection for people biking.
In support of Mayor Ed Lee's recent Executive Directive on Bicycle and Pedestrian Safety, we're sharing that message today with the Board of Supervisors' Public Safety and Neighborhood Services Committee.
Our vision for safer, more bike-friendly streets has become more of a reality in recent years. Since 2010, the SFMTA has installed 13 miles of protected lanes in San Francisco – and that's just the beginning.
Fifteen miles of new protected bike lanes will be ready for construction in the next 15 months. When completed, these projects will more than double the miles of protected lanes in San Francisco.
A parking-protected bike lane on westbound 13th Street. Protected bike lanes separate people biking from cars through physical measures like concrete medians, parked cars or different curb heights.
Some of SF's biggest street transformations in recent memory, which will include protected bike lanes, are underway this year:
These revamps will bring San Francisco's first extensive segments of raised, protected bike lanes. It's all part of our larger effort to expand our network of bike-friendly streets and eliminate traffic deaths – our commitment to Vision Zero.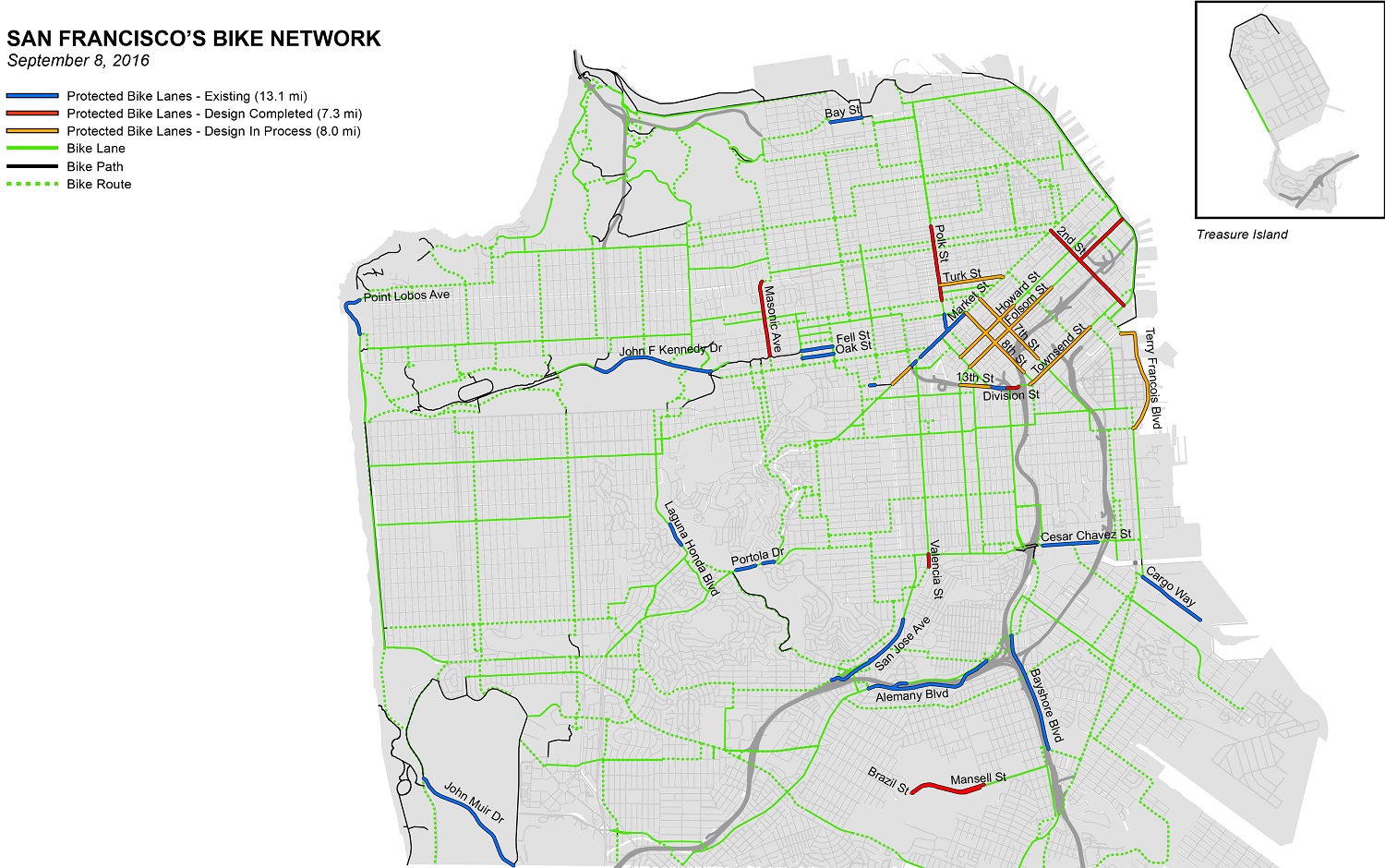 A map of protected bike lanes that exist, are in progress and proposed.
Beyond the major streetscape projects underway, we're planning new protected bikeways on streets like 7th, 8th, Townsend, Turk and Alemany Boulevard.
We've heard from communities around the city that they want safer streets for walking and biking, and that protection is key for people who want to bike more often.
In 2015, we commissioned an independent research study of 608 San Franciscans as well as focus groups to better understand the attitudes residents have towards biking. We'll have a future blog post that delves into the study, but here are a few important findings about the perception of safety:
·         70 percent of respondents cited safety concerns as having a major impact on their decision to bike
·         59 percent said that bikeways should be separated from cars
·         55 percent said they don't feel safe biking near traffic
·         64 percent said protected bike lanes would be effective at increasing safety
More people prefer protected bike lanes on major streets, and we agree. But after implementing various types of protected bike lanes, we know that they come with challenges.
Street space in our city is limited, and protected bike lanes usually require more space than standard bike lanes. So in implementing them, we must consider other demands such as access to curbs and buildings, transit, emergency vehicles and people with disabilities. There are also trade-offs to parking and driving that must be considered.
That said, we have had success building protected bike lanes that are sensitive to their context. It comes down to working closely with our partners and communities to understand their needs and balancing trade-offs while prioritizing safety.
But those near-term trade-offs have a big pay-off. Every person who switches from driving to riding a bike means one less car on the streets for other drivers to contend with. Just take a look at how much space 72 people in cars take up compared to 72 people on bikes.
In 1991, the City of Münster's planning department took a series of photographs for a three-paneled poster that showed the difference in space required to transport 72 people by car, bus or bicycle.
Images like this one underscore the importance of promoting sustainable transportation options like biking to help everyone get around more easily. More protected bike lanes help keep the growing numbers of people who bike safe and enable more people to do it.
With the upcoming ten-fold expansion of our bike-share system to 7,000 bikes, you can expect a snowball effect as bike-sharing is a gateway to get even more people try traveling around on two-wheels.
With better infrastructure to increase transportation options, I think we can all bet on a San Francisco's biking boom to continue. 
---
Street Talk is an SFMTA blog series by Sustainable Streets Director Tom Maguire where he shares the agency's thinking on the big picture questions and concerns facing our streets today.
ABOUT TOM MAGUIRE
Tom Maguire is Director of the Sustainable Streets Division at the SFMTA, where he directs the agency's ambitious efforts to achieve Vision Zero and to create world-class streets for all San Franciscans. The 1,035 employees of Sustainable Streets operate, engineer, design, and plan the city's traffic, parking, pedestrian and bicycle infrastructure and provide transit security and parking enforcement.
He joined the SFMTA in October 2014 after serving as Assistant Commissioner at the New York City Department of Transportation, where he managed bus rapid transit, freight mobility, peak-rate parking, congestion pricing and sustainability, and resiliency programs. He has also worked for the engineering and design firm Arup. Tom holds a Master's degree in City and Regional Planning from UC Berkeley and a B.A. from Rutgers.