New Muni Trolley Buses Coming to All Electrified Routes By 2019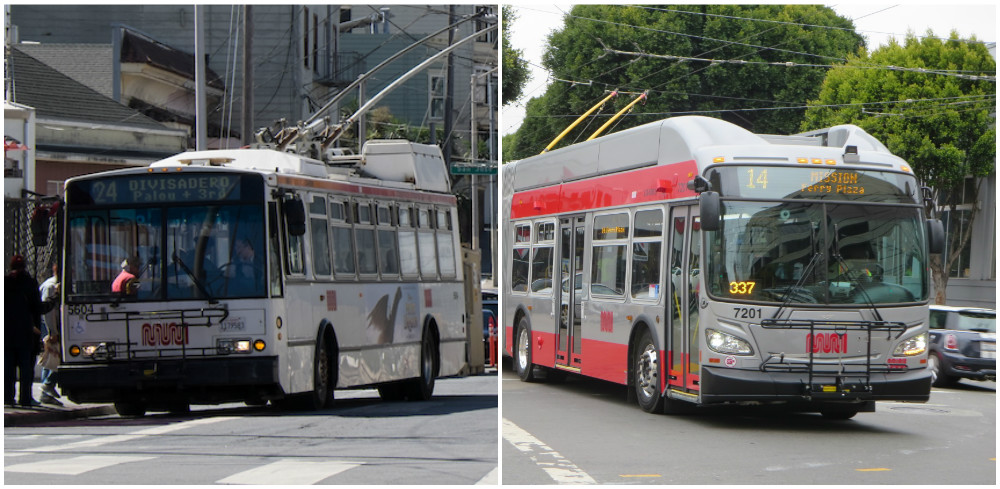 Left: An older electric trolley bus (standard length). Right: A newer trolley bus (extended length).
You've seen Muni's sleek new extended trolley buses roll out over the past couple of years. Now, it's time for the rest of the electric bus fleet to get upgraded to the next generation.
All of Muni's standard-length (40-foot) trolley buses, which you may know by the trolley poles that attach them to overhead wires on routes like the 1 California and 24 Divisadero, will be replaced with a new fleet by 2019. Thanks to an approval from our Board of Directors this week, the first new buses are due to arrive by the end of the year.
Like the new generation of Muni trains (which start service this year), these new trolley buses will go a long way towards making Muni more reliable, not to mention quieter and safer.
The Old Fleet
The older fleet of trolley buses, which first rolled out in 2001, needs to be replaced more than any other fleet of Muni vehicles. They're overdue to be retired by several years, and finding replacement parts to maintain them can be a challenge since the manufacturer, Electric Transit, Inc. (ETI), has been out of business since 2004.
As a result, about 40 percent of Muni breakdowns occur on ETI trolley buses, even though they only make up 20 percent of Muni's fleet. And since they lack the ability to travel "off-wire" for very long, delays on their routes can be especially disruptive.
The New Fleet
All of Muni's new buses – hybrid-electric and electric trolley – are manufactured by New Flyer, which has a strong track record in the U.S. of providing reliable buses with state-of-the-art technology that streamlines maintenance.
We've already replaced all of the longer (60-foot) ETI trolley buses with new ones starting in 2015. We started with the longest buses so they'd benefit the most Muni riders (they now serve the 14 Mission, 30 Stockton and, more recently, the 5 Fulton / 5R Fulton Rapid). The last 33 of these are expected to arrive by spring of next year.
New Batteries Keep Muni Going… and Going and Going
Perhaps the most dramatic upgrade that the new trolley buses bring is in battery power.
As noted, older trolley buses lack modern batteries, so they can only travel for a few blocks, at most, without receiving power from overhead wires via their trolley poles. So if their route gets blocked by, say, construction work or emergency vehicles, or if the overhead power goes out, the result can easily become a major delay.
Fortunately, battery technology has come a long way. New Flyer trolley buses can travel for several miles without overhead power, and up to 40 mph, on a single charge. And if their trolley poles detach from their wires, a button allows operators to automatically re-attach them or secure them to the top of the bus without leaving their seat.
Simply put, modern batteries are a game-changer for reliable, electric trolley bus service.
In fact, as battery storage improves, a future without overhead wires looks to be on the horizon. The technology isn't ready for Muni to make the leap just yet, but the future is promising for an electric fleet of buses powered completely by battery, which would render trolley poles and wires obsolete.
That's down the road – but for now, Muni riders have plenty to look forward to.
Muni's Trolley Bus Routes: 1 California, 2 Sutter, 3 Jackson, 5 Fulton / 5R Fulton Rapid, 6 Haight/Parnassus*, 14 Mission, 21 Hayes, 22 Fillmore, 24 Divisadero, 30 Stockton, 31 Balboa, 33 Ashbury, 41 Union, 45 Union-Stockton, 49 Van Ness/Mission*
*Currently served by hybrid-electric buses due to construction.