No "Accident": Why Language Matters in Making Our Streets Safer
Thursday, December 17, 2015
When describing traffic collisions, most of us have grown up using the word "accident." But traffic "accidents" are preventable, which is why we at the SFMTA refer to them as collisions or crashes.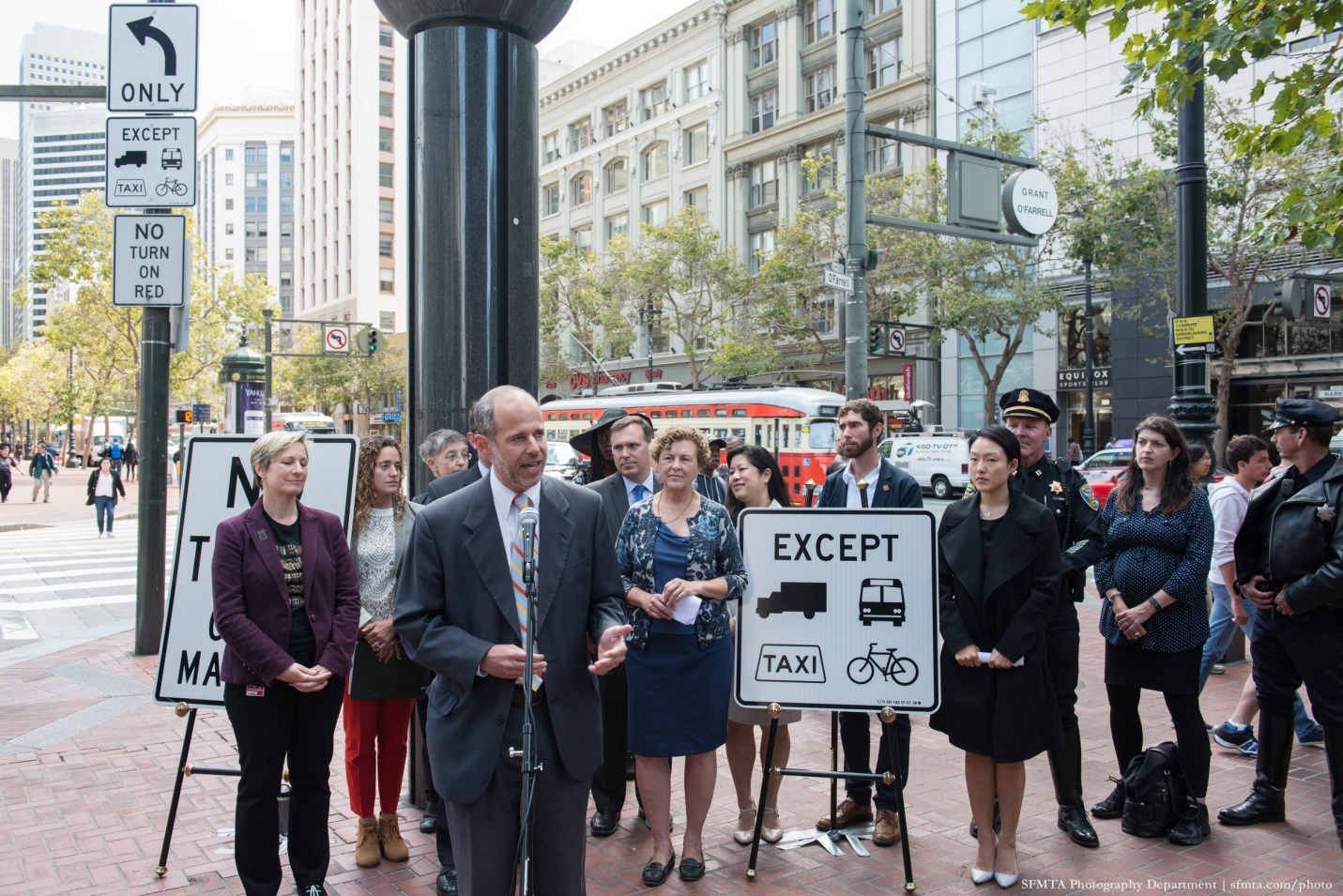 This summer, Ed Reiskin and our city partners held a press conference to announce the launch of turn restrictions along Market Street as part of the Safer Market Street project. Photo taken Aug. 10, 2015.
The words we use can have a powerful influence on the way we view traffic injuries, and calling them "accidents" implies that nothing can be done to stop them. As part of our commitment to Vision Zero — an end to traffic fatalities by 2024 —  we're ensuring that our language reflects our core belief that no traffic fatality is inevitable or acceptable.
We're always working to make our streets safer through better education, engineering, enforcement and evaluation. A key part of our agency's education efforts is the use of more accurate language that provides a productive framework for solutions to help end traffic violence.
Meanwhile, we're making physical safety improvements to our streets to make traffic crashes less frequent and less severe. Last month, we announced that we exceeded our goal of completing 24 Vision Zero projects in 24 months, with more on the way. Using data-driven analysis, we're focusing these safety improvements on San Francisco's 125 mile-long High-Injury Network, the 12 percent of San Francisco streets where more than 70 percent of severe and fatal collisions occur.
The patterns are clear, and we know that street safety is no accident.
By making this small change in our everyday vocabulary, we can all help spark a change in the way we talk and think about traffic crashes. It's an important piece of the puzzle in building support for Vision Zero: a city where traffic injuries are truly unacceptable.
Changing our behavior as well as our language will also help keep us safer. Slow down and keep your eyes up when on the street to make sure everyone gets to their destination safely.