Out and About in the Outside Lands
As Muni ramps up service to keep traffic moving for this weekend's Outside Lands Music Festival, we take you back in time to SF's outer edges during its early days.
During the early 20th century, the Outer Sunset was known as the "Outside Lands." Road infrastructure was patchy and transportation options were limited to streetcar lines on Lincoln Way, 20th Avenue, and Sloat Boulevard.  From Judah to Vicente, western San Francisco was a sea of sandy, scrubby coastal dunes. Amid this sand dune desert, the eucalyptus and cypress thickets of Golden Gate Park offered a refreshing and green oasis.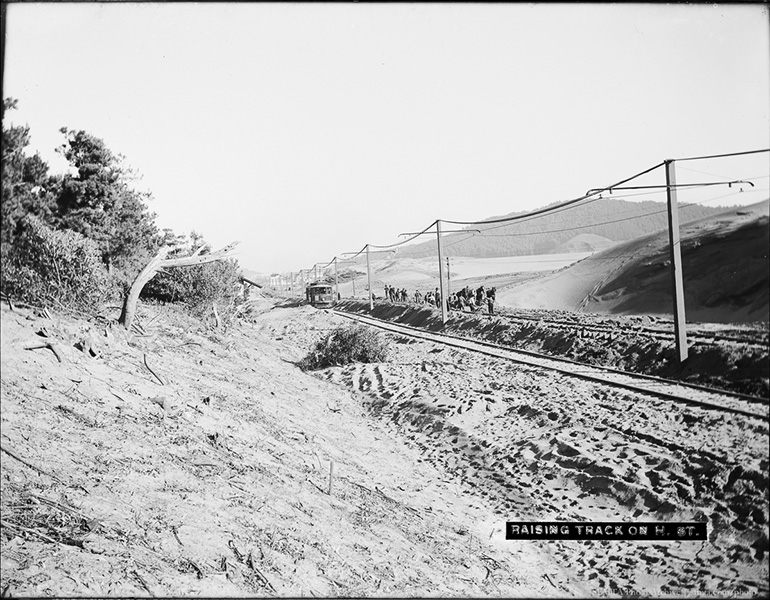 Raising the Streetcar Track on Lincoln Way Formerly Known as H Street in the Outside Lands | January 26, 1906 | U00693
Pulled from the SFMTA Photo Archive collection, this image from January of 1906 shows an enormous swath of sand visible at approximately 19th Avenue and Lincoln Way (then known as "H Street"). A group of workers labor in the dunes, raising the grade of the streetcar line on the only transit route in the vicinity.
Even as late as 1931, significant piles of sand were still visible among the buildings at Lincoln Way and 36th Avenue, as seen in the photo below. With the post-World War II population boom, the Outside Lands finally saw a bit more development, at last reigning in the drifting sand.

Streetcar Track Construction at Lincoln Way and 36th Avenue Looking West | December 1, 1931 | U13168
To dive deeper into the past of SF's west side, journey over to outsidelands.org and check out the incredible work done by the local historians at the Western Neighborhood Association. Their website features podcasts with tales from the sandy hinterlands, including Episode 59 all about the Doggie Diner, and Episode 91 on the bison in Golden Gate Park.
And for more photos of streetcars, sand dunes, and scenes of San Francisco, follow the SFMTA Photo Archive on Flickr, Twitter, Google+, and Instagram!