Over 6,000 Mid-Century Muni Photos Now Online!
Thursday, November 16, 2017
This week, we bring you an inside look at a milestone reached in the SFMTA Photo Archive. We recently completed cataloguing a significant photo collection spanning over 30 years from about 1935 to 1967 and including over 6,000 photos.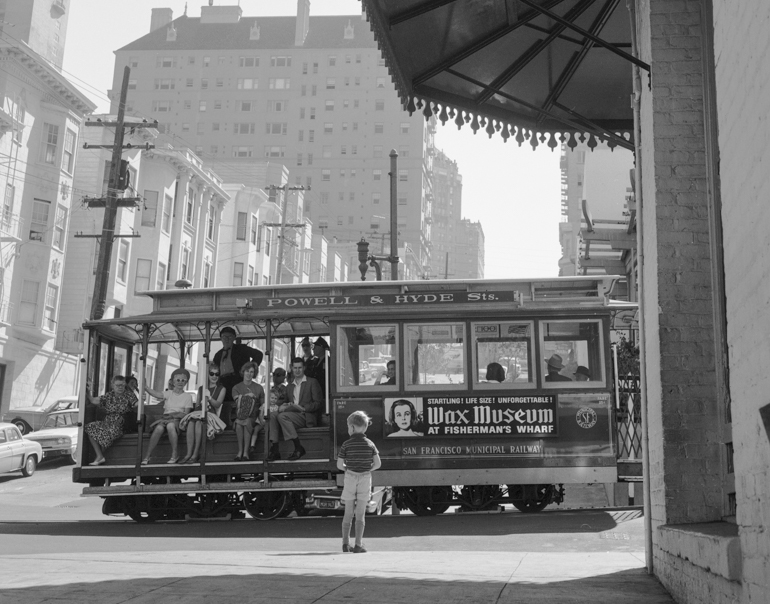 A boy watches a Powell and Hyde cable car passing the cable car powerhouse at Washington and Mason Streets in 1965. Muni had recently completed a visitors' center at the cable car barn, which later became the Cable Car Museum. 
The bulk of this collection, know as the "X-Series" in the Archive (due to the alpha-numeric filing system used by the original photographers), covers the mid-century period of Muni from 1944 to 1967. This time period was filled with major changes to the city's transit system. From the consolidation of two private transit companies into public operation, conversion of streetcar lines to buses and major facilities upgrades, to the launch of an awards program for operators, campaigns to boost ridership, and the "Save the Cable Cars" campaign, Muni underwent a complete overhaul in the 40s, 50s, and 60s.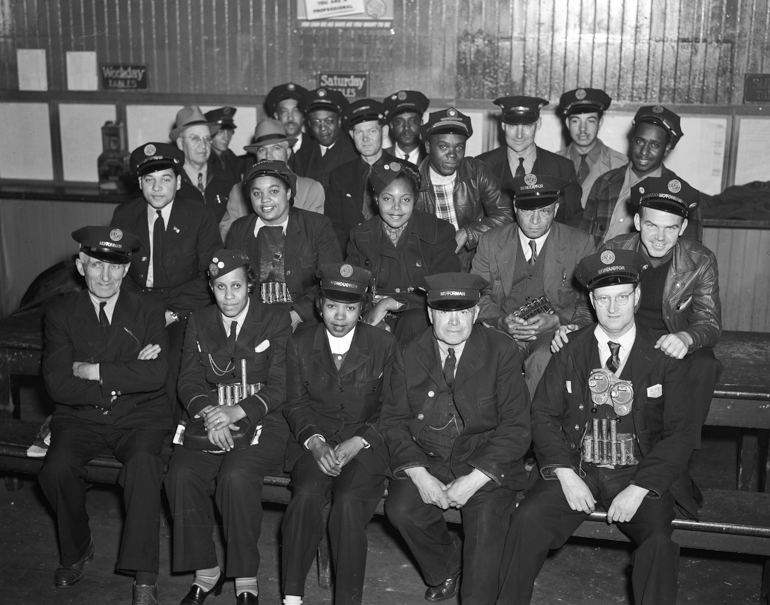 A group of new Muni employees poses inside Sutro Carhouse in 1947, which was located on 33rd Avenue and Clement Street.
After voters approved the separate purchases of Muni's biggest competitors- the Market Street Railway Company in 1944 and California Cable Company in 1952- Muni set about merging San Francisco's public transit system (and its myriad employees and facilities) into one citizen-owned operation.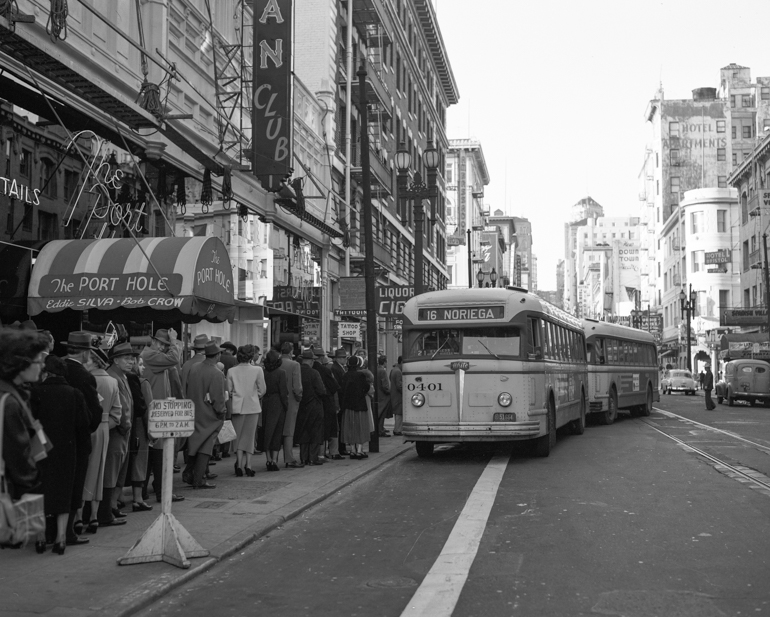 Passengers wait to catch a bus during the evening rush hour on Mason and Market Streets in March 1951.
During the late 1940s, Muni began replacing many aged streetcar lines with buses like those pictured here. Today, lines like the 14 Mission, 22 Fillmore, and 33 Ashbury-18th are all descendants of these converted streetcar lines.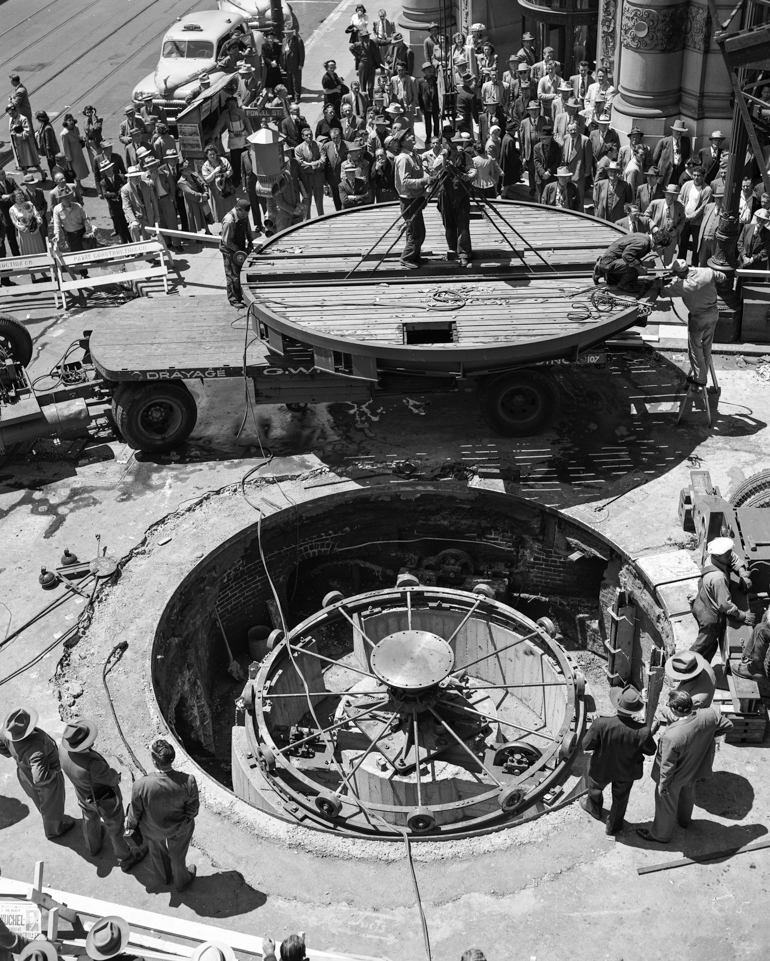 A crowd watches as the finishing touches are put on a new cable car turntable at Powell and Market Streets in May 1950.
Amidst consolidation, conversion, and reconstruction of SF's transit system, San Francisco's iconic cable cars nearly went extinct. The cable car system was run down, outdated, and expensive to operate and in an era when transit ridership was dropping rapidly, the city seriously debated replacing cable car lines with buses. Through the efforts of Friedel Klussmann and her "Save the Cable Cars" campaign, the system survived and was rehabilitated, albeit as a truncated version.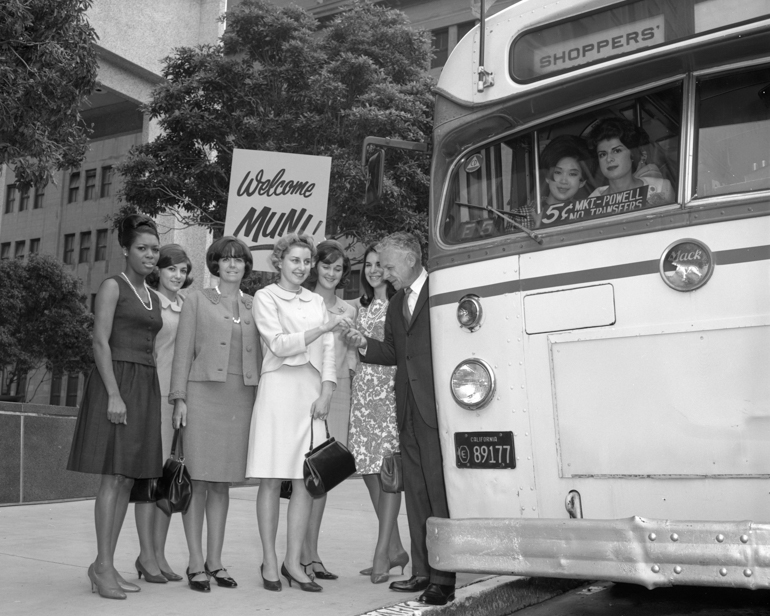 Launch of a new "Shoppers' Shuttle" route aimed at midday riders in September 1966.  These routes began in 1953 and expanded service through the 1950s and '60s.
In the early 1950s, Muni launched a series of new weekday routes to encourage people to ride the bus during off-peak hours. Called the "Shoppers' Shuttle", passengers could ride to major commercial districts downtown and in the Mission for only a nickel (regular fares were 10 cents at the time).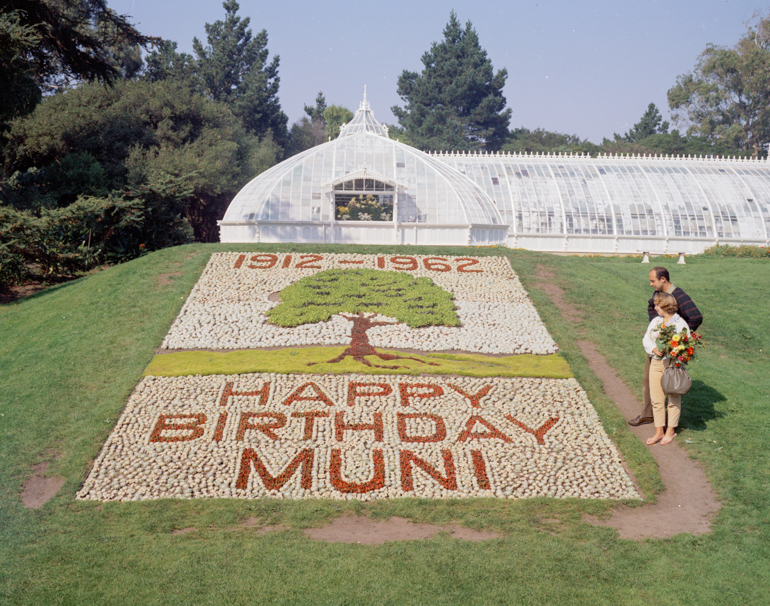 A special succulent plant display at Golden Gate Park's Conservatory of Flowers was just one of many celebrations that were put on for Muni's "Golden" anniversary in 1962.
With the completion of this archiving milestone, SFMTA Photo Archive staff are now moving onto preserving the next major collection, which spans from 1967 to 1978 and includes even more photos than this one.
Check out more of these photos at the SFMTA Photo Archive website and follow us on Instagram!