Friday, November 21, 2014
Twice a month we'll share some of our favorite vistas and destinations in the city and the Muni routes and lines that will take you there.
Panoramas and Public Art is a new feature showcasing permanent and temporary art along with classic views  found throughout the city.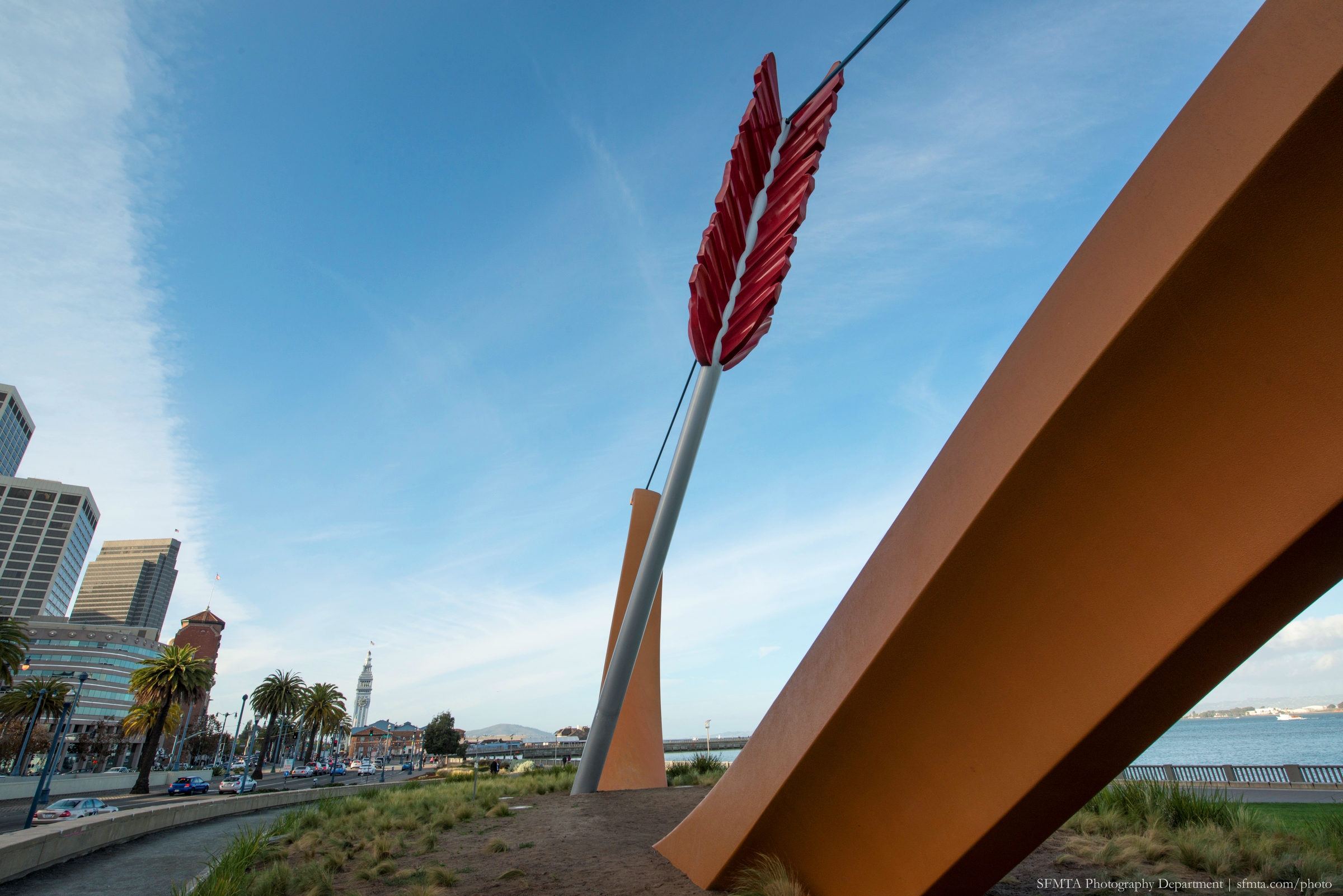 Looking north from sculptors Claes Oldenburg and Coosje van Bruggen's "Cupid's Span"
"Metamorphosis," a 12-foot long steel structure which sits in the plaza adjacent to the Exploratorium at Pier 15, lives up to its name; at night it becomes otherworldly, lighting up from the inside and shrouding itself in a fine mist.
The central Embarcadero has become a popular landing zone for some of the city's most interesting artwork. Claes Oldenburg and Coosje van Bruggen's "Cupid's Span," lands smack in the middle of a popular pedestrian park at the end of Folsom Street. "Metamorphosis," a representation of the real comet known as 67P/Churyumov-Gerasimenko celebrates the Rosetta Mission, which sent a lander to touch down on the comet on Nov. 12.
Did you know?
According to the artists, the 60-fooot high painted fiberglass and stainless steel "Cupid's Span" sculpture, when seen from various angles and distances, is meant to elicit various local and historical San Francisco references. For example, up close, the taut bowstring and vertical arrow relate to the cable and towers of the Bay Bridge; from a moderate distance, the bow, arrow and string suggest the hull, mast and rigging of a Spanish galleon--the vessel of the colonizers.
The "Metamorphosis" sculpture was developed by David Delgado and Dan Goods of NASA's Jet Propulsion Laboratory and was designed and fabricated by architect Jason Klimoski.
The "Metamorphosis" sculpture, which will be on display through Jan. 4, 2015, commemorates the touchdown of the European Space Agency's Philae lander on the 67P/Churyumov-Gerasimenko comet which captured the world's attention nine days ago on Nov. 12.
How to Get There:
Muni Rail Lines: F Market streetcar stops in front of the exploratorium at Embarcadero and Green Street; J, K, L, M, T and N lines stop within walking distance. Take Muni's T Third Line and exit at Folsom to visit "Cupid's Span."
Muni Bus Route: 2 Clement, 6 Parnassus, 14 Mission, 21 Hayes and 31 Balboa routes stop within walking distance of the exploratorium. The 1 California, 10 Townsend, 12 Folsom-Pacific, 41 Union, and 38 Geary also stop in the vicinity.