Panoramas From the Past: Early 20th Century Views of SF
Thursday, February 16, 2017
Within our vast historic photo archive are a handful of panoramic gems – sets of images that were composed so to be placed side-by-side and form a wide view.
Thanks to modern digital imaging technology, we can stitch these shots together to experience these historic views from a unique perspective.
This week, we'll share a couple of these panoramic views from 1906 and 1928.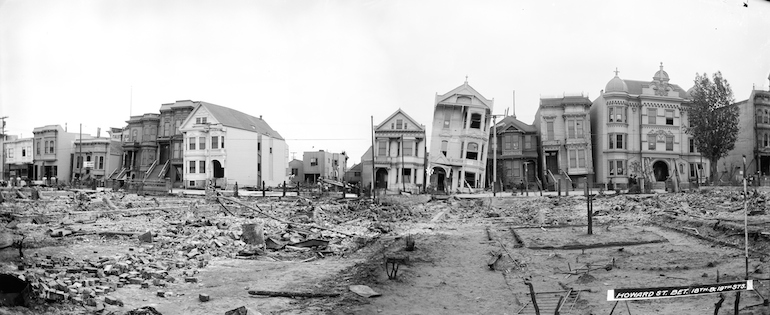 Destroyed and leaning houses along Howard St. (today, South Van Ness Ave.) between 18th and 19th streets on May 9, 1906.
After the Great Earthquake and Fire of 1906 destroyed much of San Francisco, the United Railroads Company sent its photographer around town to document the destruction of its properties. The panorama above doesn't show company railway facilities, but was taken to show the devastation wrought across town. Leaning and sunken houses stand across Howard Street  (today, South Van Ness Ave.) from several less fortunate buildings that were completely leveled.


The Oak and Broderick Carhouse in October 1928.
The other panorama we're sharing shows the Oak and Broderick Car House in 1928. While this massive building was built in the 1880s by the Omnibus Cable Company as a cable car house, by the time these shots were taken, it was used by the Market Street Railway Co. as a key facility for streetcar storage, repair and operations. Rumor has it that the company photographer (who also took the United Railroads Co. images from 1906) had his photo lab in one of the offices in the building.
Today, this brick behemoth is long gone and in its place is a retail and residential housing complex.
While views like these can now be created easily with a smartphone, photographing panoramic sets in the early 20th century without the use of a specially-designed camera was a true art that only careful, dedicated photographers could master.
Be sure to check out more historic photos on the SFMTA Photo Archive website, and follow us on Twitter and Instagram.