On Parade, Then and Now: Muni's Motorized Cable Car 62
As we close in on Pride weekend, we bring you the history behind motorized Cable Car 62, Muni's readymade "float" that will be in the midst of the parade action this Sunday.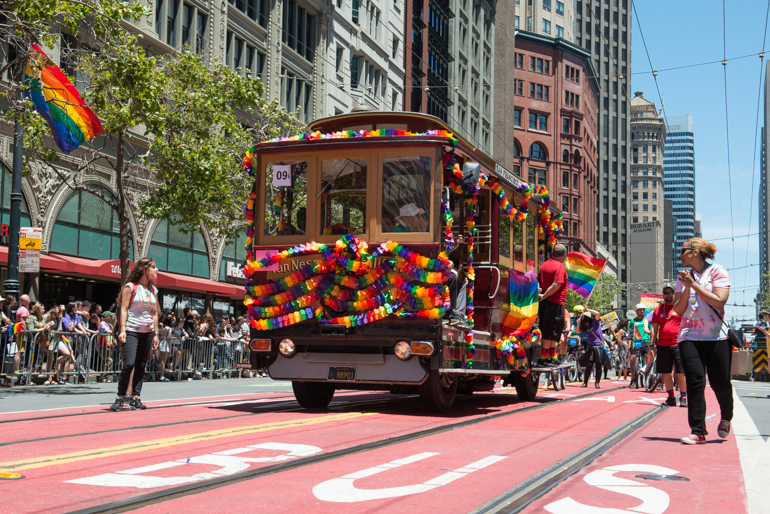 Motorized Cable Car 62, decked out at last year's Pride Parade on Market at Powell Street on June 26, 2016.
Many people mistake Car 62 for just another one of the numerous cable car-style tour buses that run around our city. But unlike the imitators, Car 62 was actually one of a few real cable cars converted into a motor vehicle.
Car 62 began life as part of the California Street Cable Railroad Company (a.k.a. Cal Cable) fleet, and it was originally numbered Car 61. It was built for Cal Cable's Jones Street Shuttle Line, which ran on Jones between Market and O'Farrell streets to connect passengers to the company's main lines (the California Street Line and the O'Farrell, Jones & Hyde Line). 

Cal Cable Car 62 (which later swapped numbers with Car 61) on the Jones Street Shuttle Line, at the O'Farrell Street terminal, circa 1927. This car was given as a gift to Osaka, Japan.
The company only deemed it necessary to build three cars (nos. 60, 61 and 62) to serve the Jones Street Line. Nicknamed "dinkies," these cars were built 8 feet shorter and 1,000 pounds lighter than those built to serve the main lines, though all were built in the same style. The "dinkies" had an easier time compared to the cars on the main lines, since the Jones line was only five blocks long and had relatively minor inclines.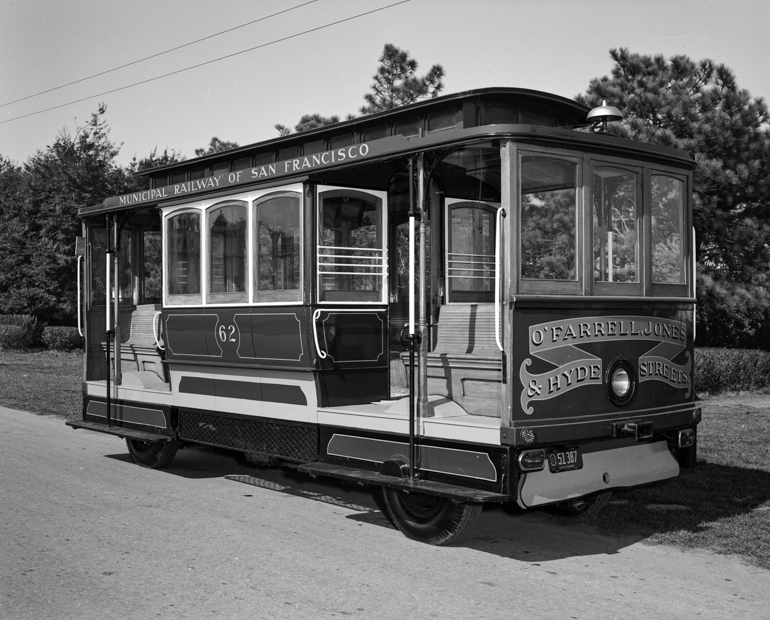 Muni's Motorized Cable Car 62 on Feb. 8, 1954, ready for a new life on tires.
In 1954, two years after Muni acquired Cal Cable, the Jones Shuttle Line was closed, leaving Car 62 out of a job – but only temporarily. Muni recognized the popularity of the cable cars and rebuilt Car 62 on a motorized truck chassis so it could be used in parades, special events and other displays.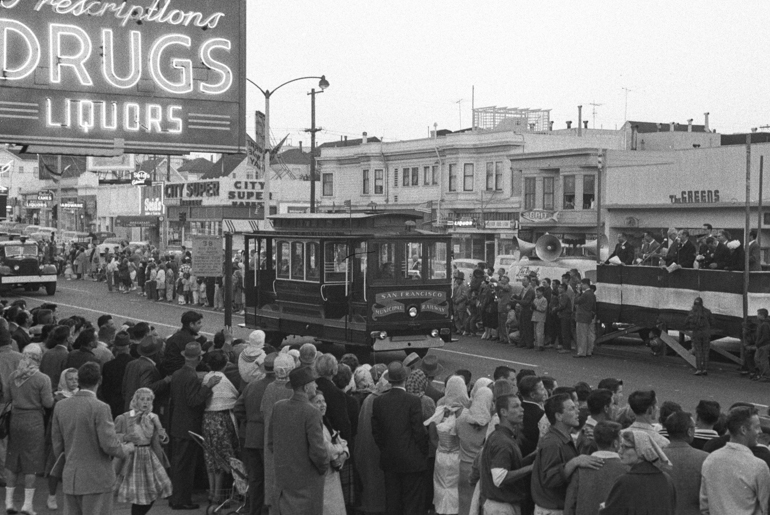 Not long after conversion, the Car 62 was put right back to work, as seen here in a 1959 parade on Geary Boulevard (at 18th Avenue) held to celebrate the street's reconstruction.
Today, Car 62 gets plenty of publicity at events in the city year round, from parades for Pride, Carnaval and Lunar New Year, to the Cable Car Bell Ringing Contest and Muni Heritage Weekend.
Interestingly, the other two Jones Street dinkies also survive to this day. Car 60 was sold in 1956 and converted as a tour bus for the Classic Cable Car Charters company, whose fleet includes other former Cal Cable cars. Car 61 (which swapped numbers with Car 62), was given to Osaka, Japan, one of San Francisco's sister cities, in 1959.
Look for the SFMTA contingent aboard Car 62 in this weekend's Pride Parade, and for more historic photos, check out the SFMTA Photo Archive online, and follow us on Twitter and Instagram.