In-Person Bike and Roll Returns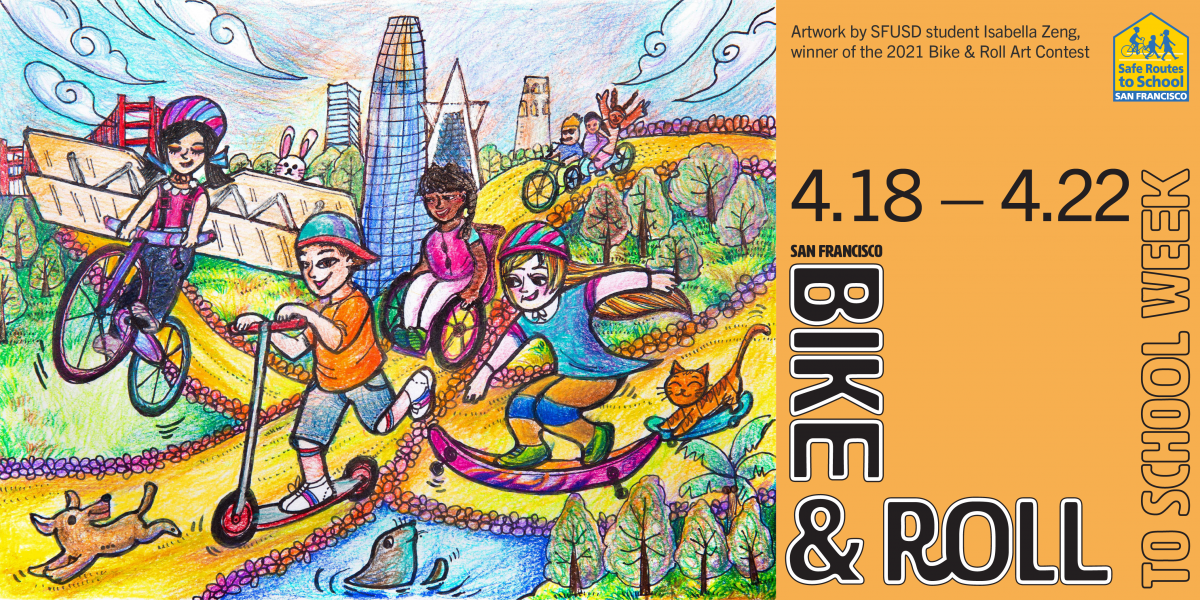 The SFMTA is pleased to announce that for the first time since 2019, the San Francisco Safe Routes to School program's annual Bike & Roll to School Week is back as an in-person event! Whether they're on a bike, scooter, wheelchair, or skateboard, Bike & Roll to School Week (or BR2SW) celebrates all students using healthy, sustainable transportation to get to school. This year's celebration is April 18-22, at schools citywide.
Biking, rolling, and walking provides people of all ages with a sense of freedom and connection to their city. BR2SW encourages SF students to experience that through sustainable and joyful ways of getting around. With more people walking, biking, and rolling to school, pick-up and drop-off times are less congested with car traffic, and therefore safer and easier for everyone.
San Francisco Safe Routes to School is a partnership of city agencies and nonprofits, led by the SFMTA, that helps make walking and bicycling to school safer and more accessible for all San Francisco children and youth, and to increase the number of children who choose to walk, bicycle, take public transit, or join carpools.
There are many ways for families and school staff to get involved:
Excited to see your school participate? Register your school today! Each school's celebration is organized by a local Bike Champion — a volunteer from the school community who's excited to bring the joy of Bike & Roll to their students and families. San Francisco Safe Routes to School will provide you with everything you need to make it a great event.
Is your school already registered, or are you excited to just participate with your family? Pledge to bike or roll to school during the week! Everyone who pledges to participate will be entered into a drawing for great prizes, courtesy of Cleary Bikes and Sports Basement.
Interested in encouraging others? There are many ways to participate in BR2SW. Students can roll on bike, wheelchair, scooter, skateboard, walk, or even enter Bike & Roll Art Contest. All SFUSD students are invited to enter the art contest, in which students at every age level can win prizes courtesy of Blick Art Supplies. The grand prize winner will be featured on the BR2SW poster for 2023!
Bike & Roll to School Week is organized by San Francisco Safe Routes to School partner, the SF Bicycle Coalition.