Plan Your Next Golden Gate Park Trip with Muni
Thursday, February 3, 2022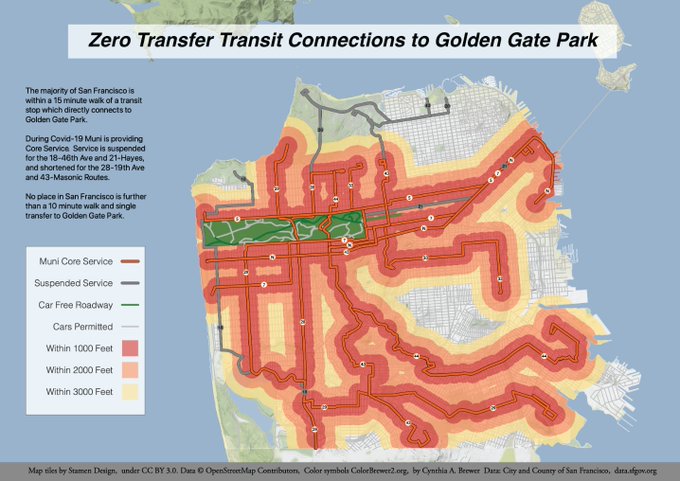 A map of San Francisco showing Muni lines that offer direct service to Golden Gate Park, including: The 18 46th Avenue, the 29 Sunset, the 5 Fulton and 5R Fulton Rapid, the N Judah, the 44 O'Shaughnessy, the 33 Ashbury/18th Street, the 7 Haight/Noriega, the 43 Masonic and the 28 19th Avenue. Around each bus route shown on the map, a red zone shows the range within 1,000 feet of a stop, orange shows within 2,000 feet of a stop, and yellow shows within 3,000 feet.
Here's a fun fact: 70% of San Franciscans are within a 15-minute walk of a transfer-free Muni ride to the largest public space in our city: Golden Gate Park.  
Especially as COVID-19 has heightened the importance of outdoor recreation and park access, SFMTA has made efforts to update Muni service to get people to Golden Gate Park. As of now, there are nine Muni lines that provide direct access to the park. (Check out the map above that Muni operator Mc "Mack" Allen made to illustrate transit access!) Even in neighborhoods farthest geographically from the park–like the Mission, Bayview and Excelsior—several Muni lines, including the 44 O'Shaughnessy, the 33 Ashbury/18th Street and the 29 Sunset, provide direct service to the park.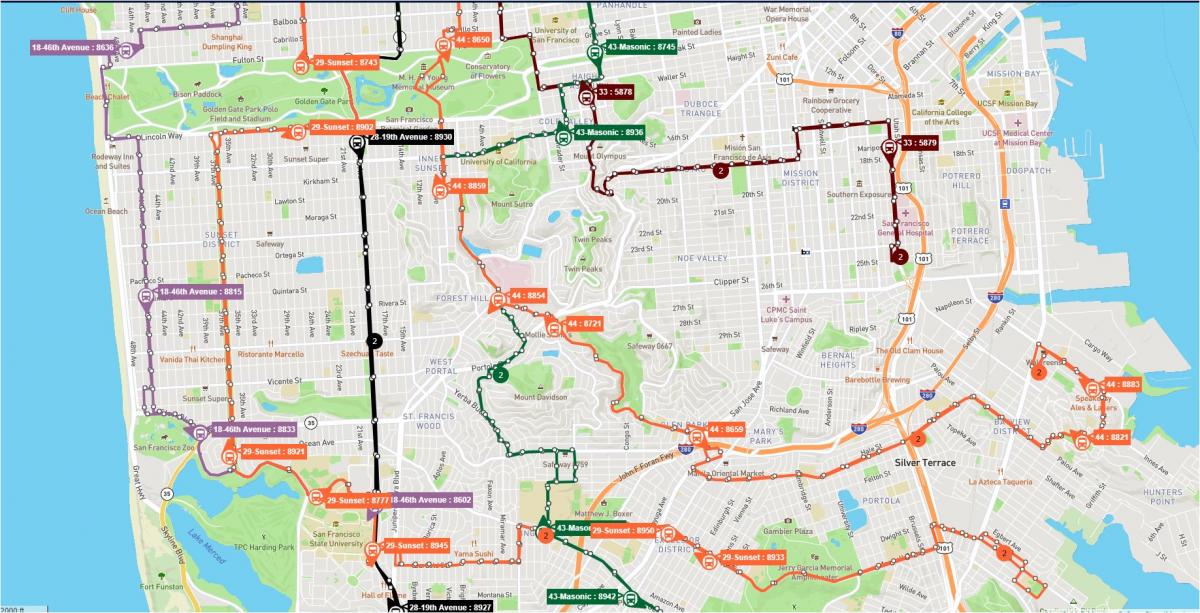 Map of San Francisco showing a detailed view of Muni routes from the southern and southeastern parts of San Francisco that serve Golden Gate Park: the 44 O'Shaughnessy, the 29 Sunset, the 43 Masonic, the 28 19th Avenue, the 18 46th Avenue and the 33 Ashbury/18th Street.
We know, though, that lines on a map don't tell the whole story. Over the past year, the SFMTA has been listening to communities as part of our Golden Gate Park Access & Safety Program—our effort to improve access to and within the park—and our Muni 2022 Service Network Plan. From many people across the city, especially youth, seniors and people with disabilities, we heard that restoring connections and increasing frequency to reduce crowding and wait times on high-ridership Muni lines are essential to getting people to the park—and all around San Francisco. 
The incredible thing about a bus network is its flexibility: in response to feedback and changing conditions, we can continually evolve our routes to better meet the needs of San Franciscans. That's what's happening with the 29 Sunset—one of our longest and most-used Muni routes, and one that passes right through Golden Gate Park.  
Every day, around 11,000 people from the Bayview, Excelsior, Park Merced, Sunset and Richmond neighborhoods ride the 29 Sunset—including thousands of students from the significant number of schools and universities along the route. Over the last year many told us that the route needs some upgrading. Our 29 Sunset Improvement Project, developed with the communities the line serves, will improve frequency and speed to reduce crowding and wait times.  
In addition to improving service on the 29 Sunset, there is also an opportunity to reduce travel times for people accessing Golden Gate Park. Identifying new sustainable, long-term funding for Muni could support the addition of more rapid lines across the city, including a 29R Sunset Rapid.  
The 5 Fulton also provides all-day service to Golden Gate Park. Recent improvements include two temporary transit bulbs that were installed at 6th Avenue eastbound and 8th Avenue westbound, that save time and improve reliability for riders on the 5 Fulton and 5R Fulton Rapid. Six permanent transit bulbs between Arguello and 10th Avenue will ultimately be installed as part of the Fulton Street Safety and Transit Project and will add to over a decade of improvements to these lines. With the installation of these bulbs, Muni Forward transit reliability upgrades will have been completed along the entire route of the 5 Fulton and 5R Fulton Rapid—the first Muni lines to achieve this distinction. As more operators are hired and trained this year, Muni is expected to increase frequency on the 5 Fulton and 5R Fulton Rapid in June 2022.  
Golden Gate Park is a central feature of our city and looking at how easy—or difficult—it is for people across San Francisco to access it helps us understand what we can and should be doing to improve transit service for all. We're excited to continue our work with communities to make Muni access to Golden Gate Park more equitable and enjoyable!