Plans for 2022 Muni Service Take the Next Step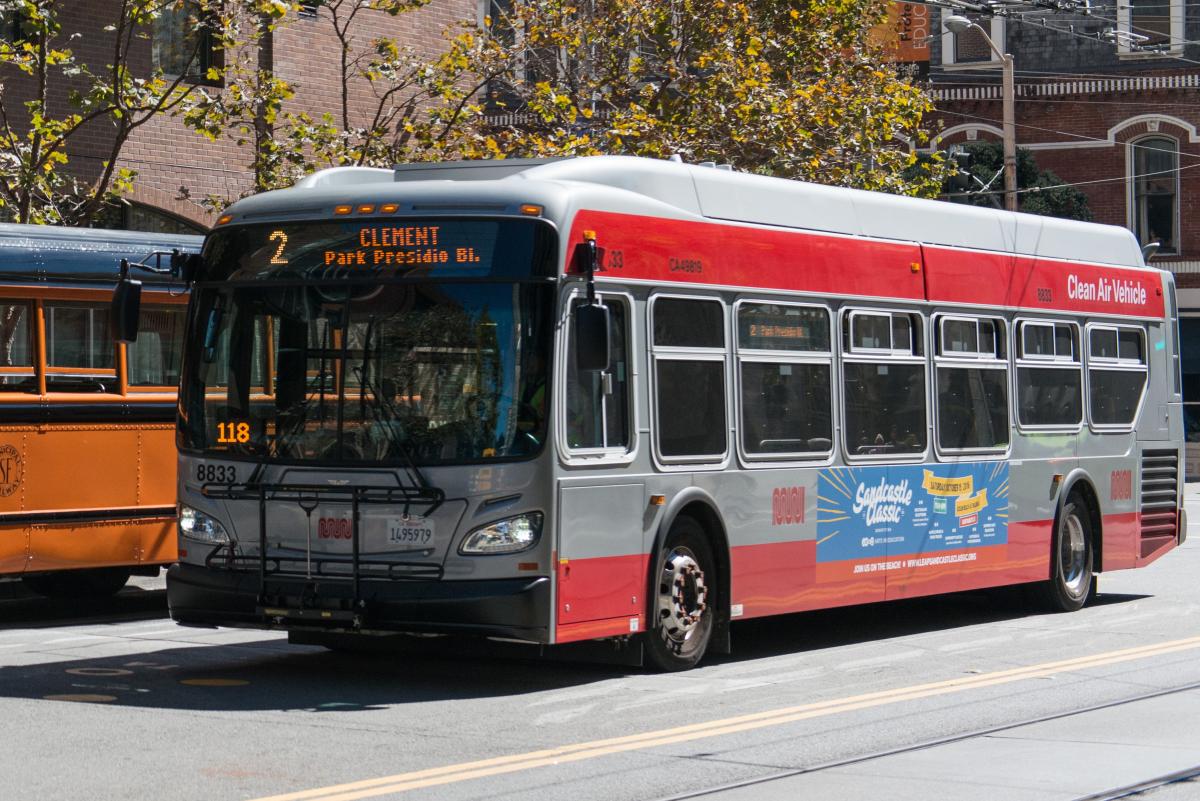 A 2 Clement Muni bus serving its route to Park Presidio Boulevard. The 2 Clement is proposed to return to service in early 2022.
When we asked about what SFMTA should do with resources to expand a bit of service in February 2022, the SFMTA received more than 4,500 responses to our survey.   
We also received detailed feedback about Muni service at meetings, pop-ups and via email and our hotline. In response to that feedback, in early 2022 we are restoring connections, particularly for people with disabilities and seniors. Taking the time to evaluate our service and working with the public, we have also developed ideas for new connections, allowing Muni to take more people more places. 
These changes will restore key pre-pandemic connections, preserve or restore Muni access in hilly areas and focus on access for people with disabilities and seniors. At the same time, they will provide new direct connections from the Western Addition, Tenderloin and Richmond District to Caltrain, Oracle Park (Giants' Stadium) and SoMa, and will provide new through-service between North Beach, Fisherman's Wharf, Russian Hill and the Marina through all the western neighborhoods.  
In the survey responses, we also heard a desire for increased frequency to reduce crowding and wait times on high ridership Muni routes, so we are looking for opportunities where resources allow us to do that as well. Once we know the extent of the impact of the city's vaccination mandate, we will restore as much service as we can, and then increase frequency on high ridership routes to reduce crowding and wait times as resources allow.   
Proposed 2022 Muni Service Route Restorations and Improvements 
We are proposing to restore five of the seven pre-pandemic routes that are currently still suspended, although some of those routes would be restored with some changes to balance resources.  
The 2 Clement would be restored to Presidio Avenue and California Street and operate every 15 minutes all day on weekdays 

The 6 Haight/Parnassus would return every 20 minutes, and the 52 Excelsior and 66 Quintara would return to their past routes 

The 10 Townsend would be restored to Sansome and Montgomery streets and run along 16th Street in Potrero Hill 

The 21 Hayes would be restored every 15 minutes to Grove and Hayes streets 
The 31 Balboa would be rerouted to 5th Street, Townsend Street, 3rd Street and Harrison Street, with a terminal at the 4th and King Caltrain Station 
These routes are especially important to access hospitals such as St. Mary's and UCSF, senior centers, low-cost food options and other key connections among neighborhoods. We also heard the need for more connections to Caltrain, between Potrero Hill and the Financial District. 
The 28R 19th Avenue Rapid would also be restored in full for stronger North/South connections and the 43 Masonic would be extended to its pre-pandemic route north of Presidio and California to the Presidio, the Marina and Fort Mason. This responds to the need we heard for connections to Fort Mason and nearby grocery stores. 
While we don't propose to restore the 3 Jackson and 47 Van Ness in early 2022, we are proposing some changes to the 5 Fulton, 12 Folsom/Pacific, 28 19th Avenue, 30 Stockton, 38R Geary Rapid and 49 Van Ness/Mission to help bridge service gaps, including more frequent service to reduce crowding and wait times and route extensions to make connections to grocery stores, hospitals, schools and diverse workplaces. 
Changes could also be made to some routes that were temporarily changed during the pandemic, such as the 23 Monterey, 48 Quintara/24th Street, 57 Parkmerced and 58 Lake Merced that could potentially address demand for service along Brotherhood Way, Sloat Boulevard, better access to businesses in Noe Valley, and safety concerns along Clipper Street. 
The proposal also includes options for the J Church: When rail service was restored to the J Church line in December 2020, we did not reintroduce the J Church into the subway, ending the line at Church and Duboce. This change allows us to limit the number of trains in the subway, reduce congestion and improve reliability for the entire Muni Metro system. In early 2022, the J Church could remain as it currently is, an all-surface route terminating at Church Street and Duboce Avenue, to maintain the improvement in reliability on the J Church and the 75% reduction in delays we are seeing in the subway. But, it could also be returned to the Market Street Subway evenings only, when there is less congestion in the tunnel, or even full-time.  
Next Steps 
We will be seeking approval of the service plan by the SFMTA Board on December 7, 2021, and expect to implement the additional service in February 2022. This time frame may be pushed back depending on transit operator availability related to the vaccine mandate. 
We will present this plan for input at several upcoming meetings where the public can provide public comment. See SFMTA.com/2022Network for upcoming meetings. To provide feedback, email TellMuni@SFMTA.com or call 415.646.2005. 
We expect to finalize the proposal for these improvements to Muni service in November. We will continue to seek additional funding, which we will need to make any further changes. Looking forward to the next 6 months, it is our goal to restore more if we can tackle the long-term funding. We will also continue  community dialogue and planning to develop an expansion of our Rapid network and other frequency improvements to address crowding and reduce wait times as the system continues to recover.  There are many competing needs for our Muni system.  We are doing our best to balance as many of them as possible with the resources that we have.