Post-game Report: Keeping the City Moving During Super Week
Editor's note: As of Wednesday, Feb. 10, downtown closures will open Thursday evening, Feb. 11, and Muni routes will resume normal service Friday morning, Feb. 12. See Wednesday, Feb. 10 post for more details.
Wow, what a week! Many thanks to all the fans and commuters who hung in there and helped us keep the city moving. Please remember that although the concerts have gone and the big game is in the record books, downtown detours and Muni re-routes will remain in effect until Saturday to allow crews to dismantle Super Bowl City site.  
We also want to thank event-goers for using public transit. Muni carried almost 200,000 extra subway trips during the nine day Super Bowl event. Last Saturday alone, we carried over 60,000 extra subway customers – a 60 percent increase. Bus ridership was also high on both weekends. The first weekend, we saw 55,000 additional customers on Saturday and 40,000 additional customers on Sunday.  Last Saturday, ridership was highest on Saturday, with over 70,000 additional customers and Sunday was also up by about 10,000 customers.
Muni wasn't the only transportation option available to the more than a million fans participating in the Super Bowl festivities. Whether you walked, took a taxi, rode a bike or drove, SFMTA crews were out there helping you get around.
 

Nearly 70 Parking Control Officers were assigned to facilitate traffic issues at 32 intersections in the morning and evening rush hours.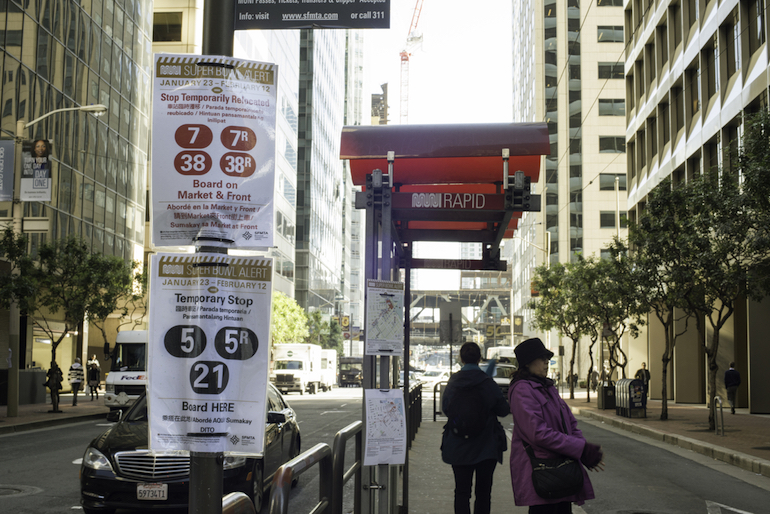 The service alerts posted at this Fremont Street Muni shelter, along with the various maps of Muni re-routes, traffic detours and pedestrian and bike wayfinding helped folks get through or around the area.
 

SFMTA parking control officers were out in force to direct traffic and to monitor congested intersections.
 

Muni customer service ambassador helps a bicyclist navigate around the Super Bowl event area.
 

Cars and taxis head south on 4th Street one of the variable message signs above reminding folks of the ongoing closure.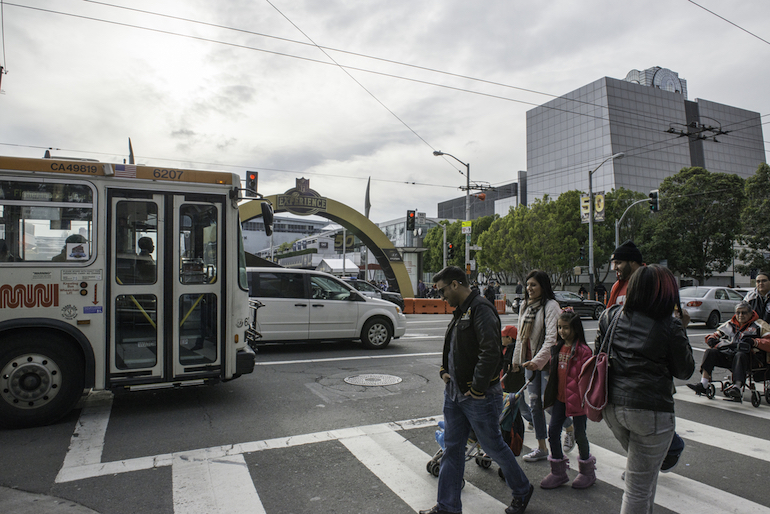 Visitors cross Howard Street with the NFL Experience entrance behind them.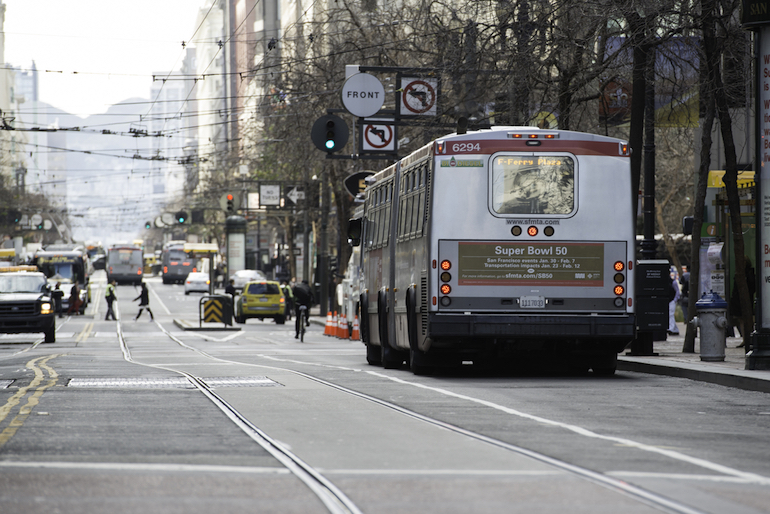 The gold and red SFMTA Super Bowl PSA reminds residents and visitors where they can get transportation information and updates.