Thursday, August 29, 2019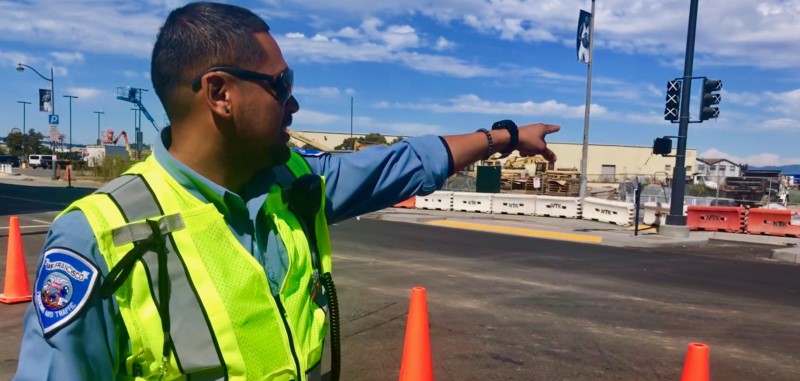 Practice makes perfect! That's right, we are talking about practice. Over the last month, we have been conducting dry runs to make sure things go smoothly when Chase Center officially opens next week. We need to move thousands of people in and out of the area surrounding the new arena.
Our Parking Control Officers have been conducting drills to simulate what traffic flow will be like when 16th Street and Warriors Way will both be closed to vehicle traffic during events. These dry runs are a big help to coordinate between light-rail, bus shuttles, bike, pedestrian and car traffic to make sure everything comes together to get people to and from Chase Center. Up to 26 Parking Control Officers will be in the area, focused on transit priority, traffic control, safety, parking and curb enforcement. Remember, Muni is still the best way to get there and your event ticket is your Muni fare.
Things to remember:
Get there early to avoid last-minute crowds.
Look out for incoming trains when you are on the platform.
Don't cross the yellow line, stay back from the edge.
Obey Parking Control Officers, they are there to keep you safe.
Don't cross the street illegally.
Exit the platform at the designated exit, do not jump off midway, it is illegal.
The new Route 78X 16th Street Arena Express bus service will run from 16th and Mission Streets and the new Route 79X Van Ness Arena Express will run from existing route 47/49 bus stops along the Van Ness Corridor. Route 78X and 79X buses will begin running approximately 2.5 hours before the start of any Chase Center event and for 30 minutes after events. After events, both routes will drop off at 16th and Mission BART station. Route 78X will return to Chase Center for additional trips. Route 79X will continue, making local stops on Van Ness, beginning at Market Street and continuing to North Point. These new routes will improve arrivals and departures from each Chase Center event.
Remember, there are no stopping zones throughout the area to ensure that traffic can move smoothly. Please be aware of appropriate locations to pick up and drop off. Third Street northbound will be also closed after events for the block adjacent to Chase Center. Please sign up for our Chase Center GovDelivery alerts to stay informed.