Reimagine Potrero Yard: View Latest Designs
Wednesday, September 20, 2023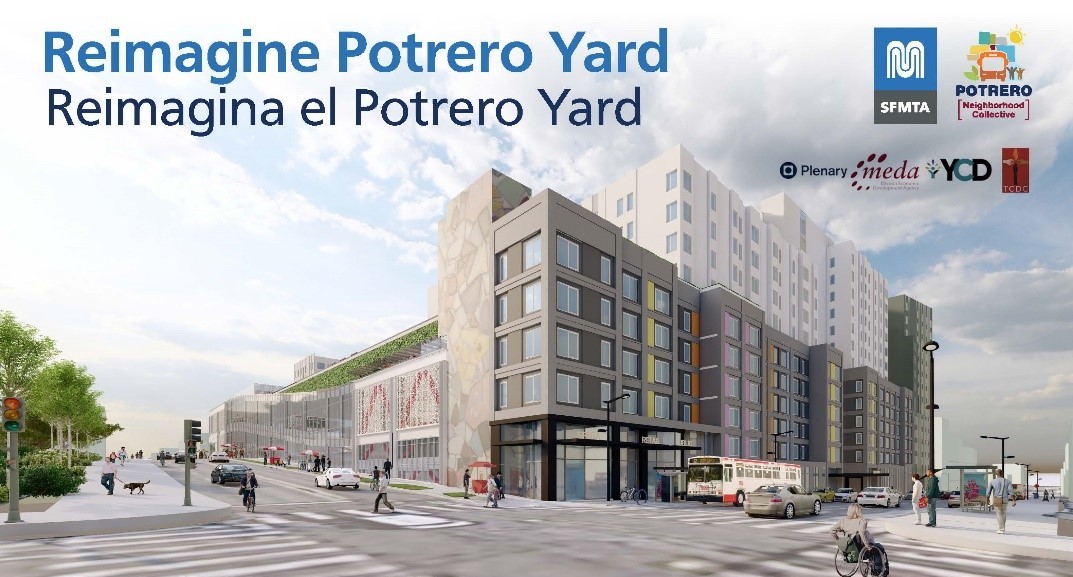 Rendering of Bryant and 17th Streets intersection. Image: Arcadis IBI Group 
We are reimagining the SFMTA's Potrero Yard as the nation's first known joint development of a bus maintenance facility with integrated housing and retail. Please join us at a Community Open House today, Wednesday, September 20, 2023, to learn more about the Potrero Yard Modernization Project including updated designs, economic development opportunities and the public art plan.  
Wednesday, September 20, 2023, 5:30 p.m. (TODAY) 

Z Space, 450 Florida St, San Francisco, CA 

Bus Yard tours for all ages, childcare and dinner provided
Español - Jornada Comunitaria, Miércoles 20 de septiembre de 2023 a las 5:30 p.m. Z Space, 450 Florida Street, San Francisco, CA. Tour de Yarde de autobuses para todas las edades, Cuidado de niños, Cena.
Located at Bryant and Mariposa Streets, Potrero Yard is an over 100-year-old bus yard, which is long past its lifespan and does not meet current seismic safety standards. The new state-of-the-art bus facility will not only improve maintenance and storage capabilities but support a greener, more sustainable and reliable transportation system for our community.
The Potrero Yard Modernization Project also gives San Francisco a unique opportunity to address a critical housing need. The project proposes up to 513 units of affordable and workforce housing, subject to funding sources and market feasibility. Plus, it includes retail opportunities at three key intersections with space for street vendors along 17th Street. Our design is rooted in being a good neighbor by minimizing shadowing on Franklin Square Park, providing a public restroom, offering views into the yard of Muni operations and including a strategy to achieve a LEED Gold rating.
Rendering of 17th Street frontage from Franklin Square Park. Image: Arcadis IBI Group 
The SFMTA selected the Potrero Neighborhood Collective (PNC) as the Development Team to refine the Project during the pre-development phase, and PNC is expected to design, build, finance, and maintain Potrero Yard as part of a Public Private Partnership (P3) with the City. 
If you cannot attend the Community Open House, visit the Potrero Yard Modernization Project page (SFMTA.com/PotreroYard) starting October 4, 2023, to view Community Open House information.