Potrero Yard Modernization Project
Project Introduction
The San Francisco Municipal Transportation Agency (SFMTA) is planning to rebuild and expand the Potrero Yard, located at Bryant and Mariposa streets.
The Potrero Yard Modernization Project will replace the obsolete two-story maintenance building and bus yard with a modern, three-story, efficient bus maintenance and storage garage, equipped to serve the SFMTA's growing fleet as it transitions to battery electric vehicles.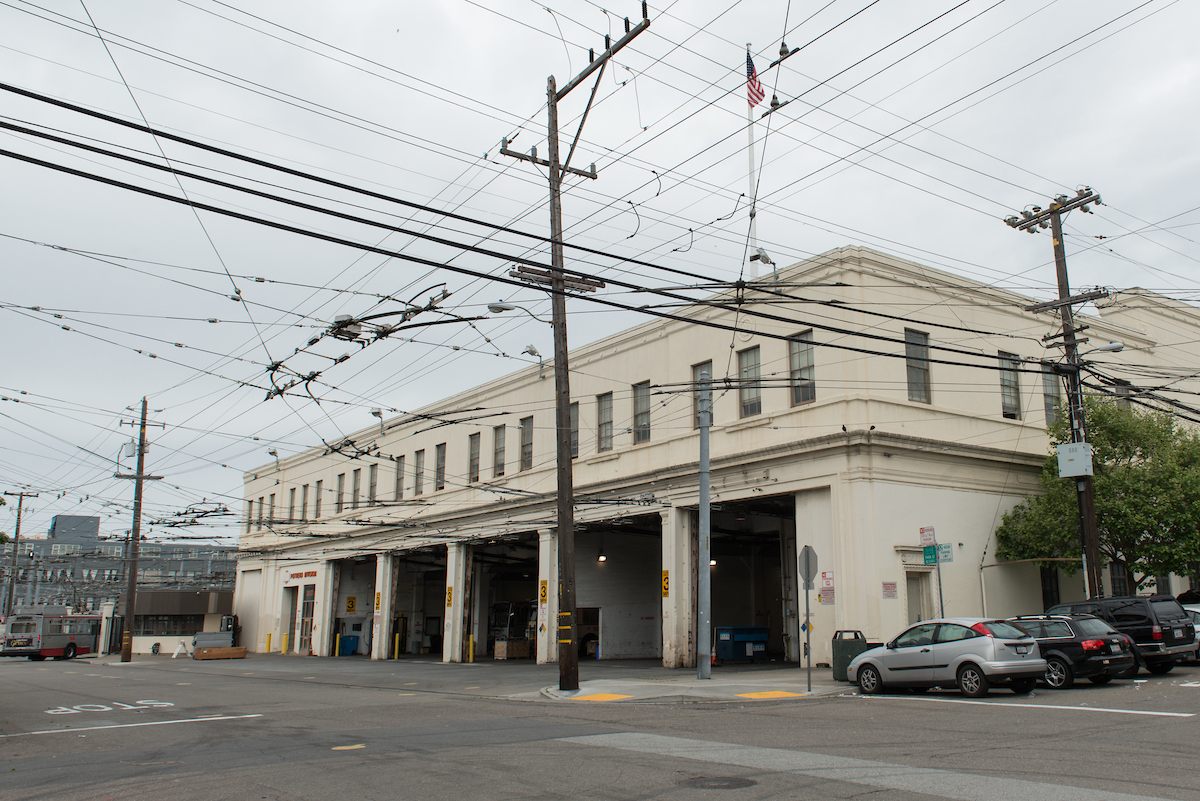 As a result, a modern Potrero Yard will better serve our customers by keeping more buses on the road, help the SFMTA prepare for natural disasters and be more cost-effective.
Fill out the request form to take a tour of Potrero Yard
Improvements
Provide needed space for a growing bus fleet.
Facilitate the transition to a battery electric fleet.
Improve the efficiency and timeliness of bus maintenance and repairs.
Improve working conditions for all staff and enhance resiliency to climate change and natural disasters.
Bus Routes and Rail Lines
Why Replace the Potrero Yard?
Every day, 102,000 Muni customers rely on buses from the Potrero Yard to get them where they need to go.
However, the current facility is more than 100 years old and presents challenges for our operations. Built in 1915, the Potrero Yard originally served 100 streetcars. Today it houses 138 trolley buses.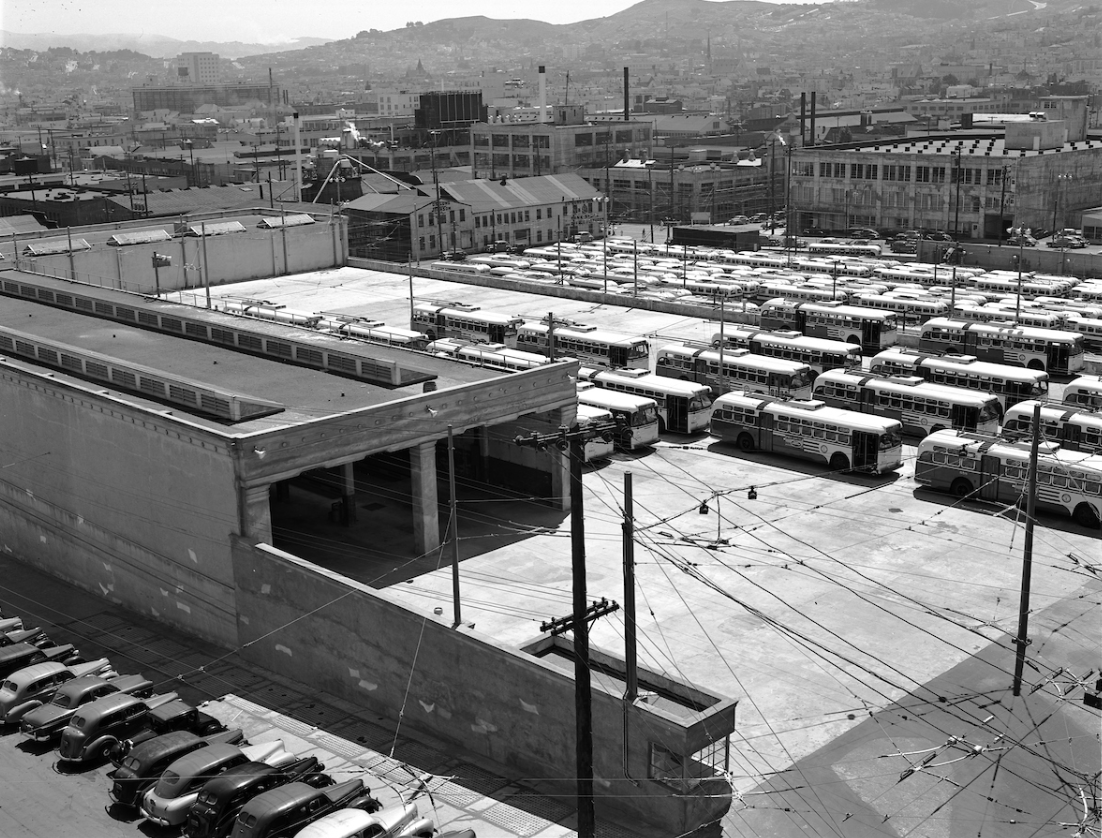 As Muni expands service to keep up with our ridership, we need more space to park and maintain our growing fleet. Over the last several years, the SFMTA has increased service by 10% – the largest expansion since the 1970s. By 2025, Muni will operate 200 more vehicles than the nearly 1,300 transit vehicles we operate today.
San Francisco's fleet of transit vehicles is the greenest in the United States, and we are gearing up to transition to battery electric buses by 2035. Our existing maintenance yards are too small to accommodate our new vehicles and too old to retrofit for new technologies. A modern Potrero Yard means San Franciscans get better transit service.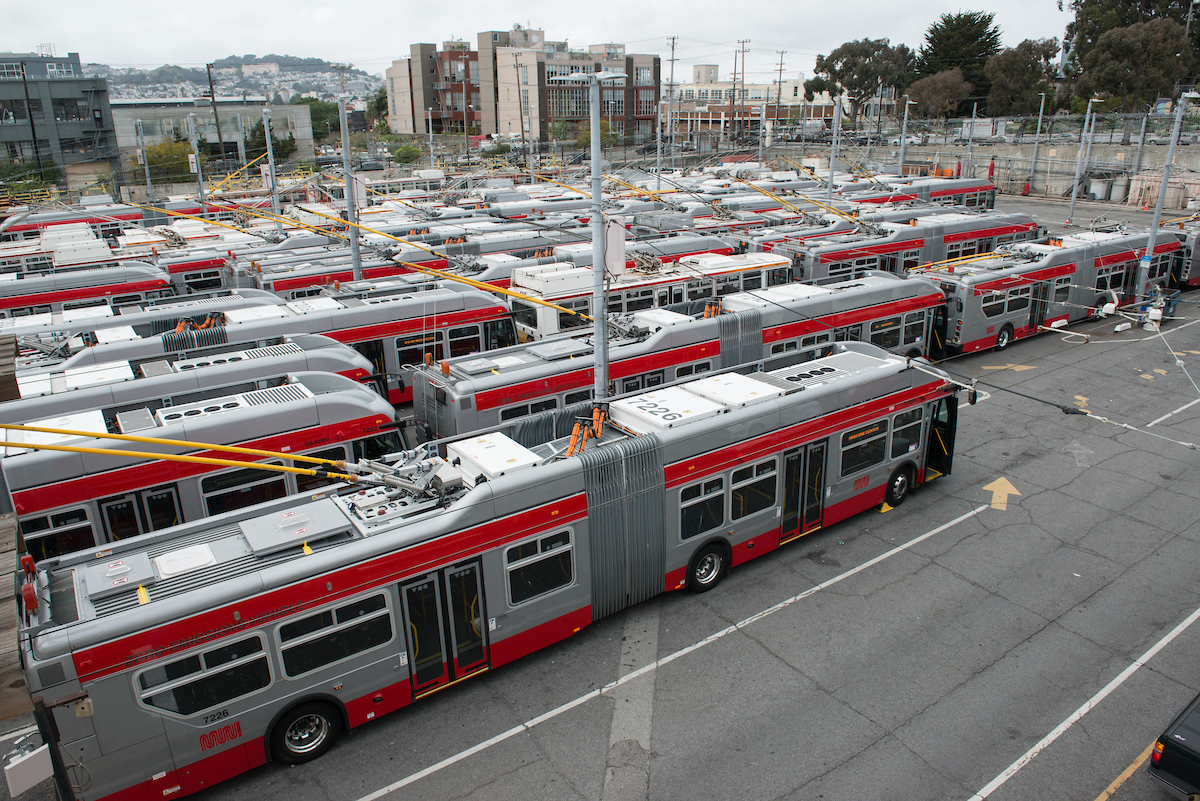 The building does not meet modern seismic safety and maintenance standards. As a result, SFMTA employees' ability to efficiently conduct their work is reduced. In many of the maintenance bays, the ceiling is too low to do roof repairs indoors or lift buses to repair them from below. This slows down maintenance work, making it difficult to get buses out of the garage and back into service. Fewer buses in service means longer waits and more crowding for riders.
Housing on Top of a Bus Yard?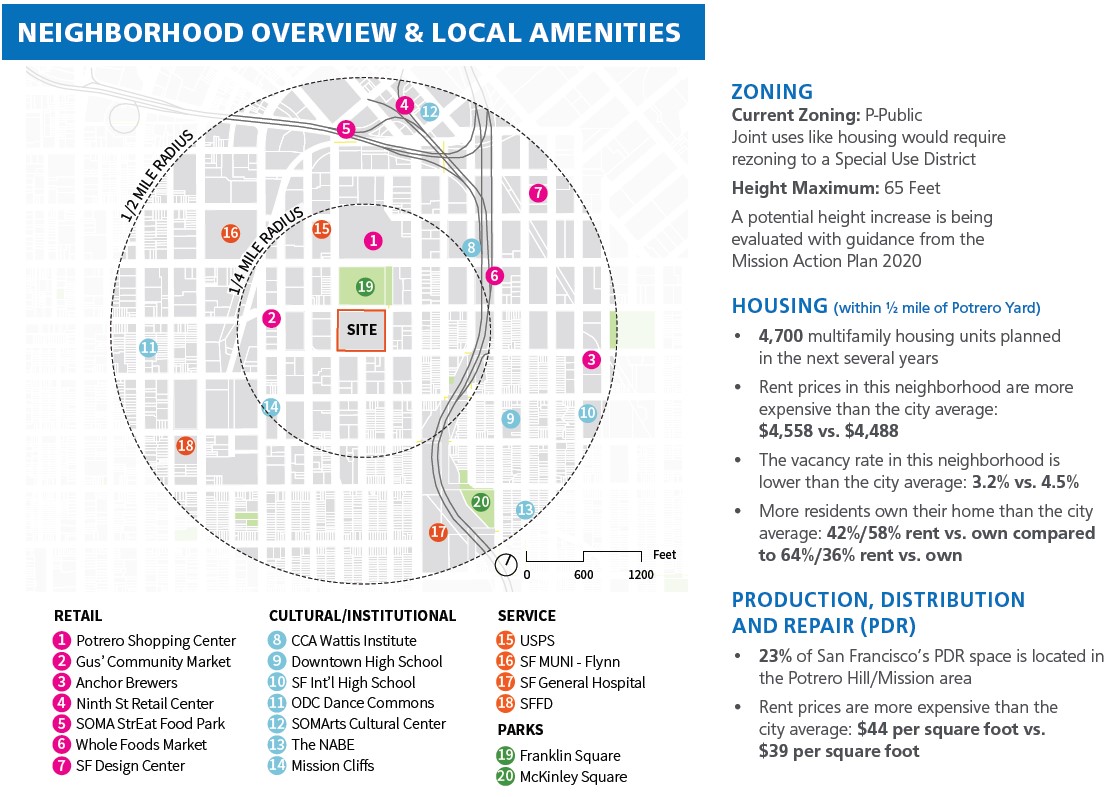 The 4.4-acre site presents an intriguing opportunity for the SFMTA to add another land use above the bus facility's roof. This is what we refer to as "joint development".
The SFMTA has two principal reasons for considering joint development. First, revenue from the housing units could potentially offset some of the cost of rebuilding the yard. Second, the 4.4 acres at Potrero Yard could contribute to the City's goals for more housing.  
In December 2018, the SFMTA began a community conversation with two public workshops focused on building height, design, and possible community amenities. We are committed to deepening our engagement with the community to help make a modernized Potrero Yard an asset to the neighborhood. At our February 2019 public workshops, we invited the community to provide input on a potential housing component. We asked attendees to provide input on how to optimally fit the building into the neighborhood and how to move residents and employees to and from the site.
Stakeholder Engagement
Our Promise to the Public: The SFMTA is committed to an inclusive, transparent stakeholder engagement process in designing this important new project. We believe that the community should help to shape many of the decisions that are needed to rebuild Potrero Yard. The SFMTA promises to:
Be transparent about the constraints of the project that will guide our decision making

Work to understand and address stakeholder concerns and priorities

Balance stakeholder concerns and priorities while also meeting the project's core transit objectives
Potrero Yard Neighborhood Working Group
Applications Open for Potrero Yard Neighborhood Working Group
The SFMTA is working with the diverse communities near our facilities to modernize the 100-year-old Potrero Yard at 17th and Mariposa.
The Potrero Yard Neighborhood Working Group brings together community members to work with SFMTA staff to shape the public outreach, weigh in on elements of the project design, and deliberate the form housing will take on the site.
Group as of October, 2019:
| | |
| --- | --- |
| Seat Type | Member |
| Environmental/Parks Advocate | Mary Haywood Sheeter (Friends of Franklin Square) |
| Transportation Advocate | Vacant |
| Housing Advocate | Erick Arguello (Calle 24) |
| Housing Advocate | Scott Feeney (YIMBY) |
| Preservation/Beautification  | Alexandra Harker (Landscape Architect) |
| Youth/Family Services | Alexander Hirji (SF Youth Commission) |
| SFMTA/Muni Front line Staff Advocate | Kamilah Taylor (Muni Operator) |
| SFMTA/Muni Front line Staff Advocate | Benjamin Bidwell (Muni Operator) |
| Small Business within 0.5 miles | Roberto Hernandez (SF Carnaval) |
| Small Business within 0.5 miles | Vacant |
| Merchant Organization | J.R. Eppler (Potrero Boosters) |
| Resident within 0.5 miles | Magda Freitas |
| Resident within 0.5 miles | Claudia DeLarios Moran |
| At-Large | Thor Kaslofsky |
| At-Large | Brian Renehan |
If you are interested, please apply today!
The input and feedback will be important for ensuring that diverse viewpoints are considered and incorporated into the decision making for Potrero Yard.
To apply, complete the online application form, or you can download the PDF application and email it to Adrienne.Heim@sfmta.com. Applications will be reviewed on a rolling basis.
Please contact Adrienne.Heim@sfmta.com with questions.
-=
Thank you for your interest in supporting the Potrero Yard Modernization Project. We look forward to hearing from you!