Potrero Yard Modernization Project
Project Introduction
The San Francisco Municipal Transportation Agency (SFMTA) is planning to rebuild and expand Potrero Yard, located at Bryant and Mariposa streets.
The Potrero Yard Modernization Project will replace the obsolete two-story maintenance building and bus yard with a modern, three-story, efficient bus maintenance and storage garage, equipped to serve the SFMTA's growing fleet as it transitions to battery electric vehicles.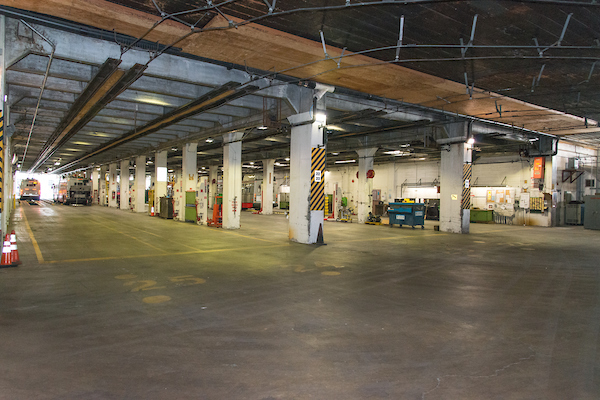 A modern Potrero Yard will better serve our customers by facilitating more reliable and convenient bus service, and by making service more resilient in the event of a natural disaster.
Request a Tour of Potrero Yard
[Note - Currently on hold due to public health restrictions on public gatherings]
Improvements
Provide needed space for a growing bus fleet.
Facilitate the transition to a battery electric fleet.
Improve the efficiency and timeliness of bus maintenance and repairs.
Improve working conditions for all staff and enhance resiliency to climate change and natural disasters.
Bus Routes and Rail Lines
Why Replace the Potrero Yard?
Every day, 102,000 Muni customers rely on six bus routes (5 Fulton, 5 Fulton Rapid, 6 Haight/Parnassus, 14 Mission, 22 Fillmore, and 30 Stockton) that run out of Potrero Yard.
Due to the building's age and changes in bus fleet technology, major improvements are needed to ensure the SFMTA maintains its bus fleet as efficiently as possible. Potrero Yard was built in 1915 and sits on 4.4 acres bounded by Bryant,17th, Hampshire, and Mariposa streets. The two-story structure originally operated as a streetcar facility housing 100 streetcars. It has since been expanded to hold 138 40-foot and 60-foot trolley buses.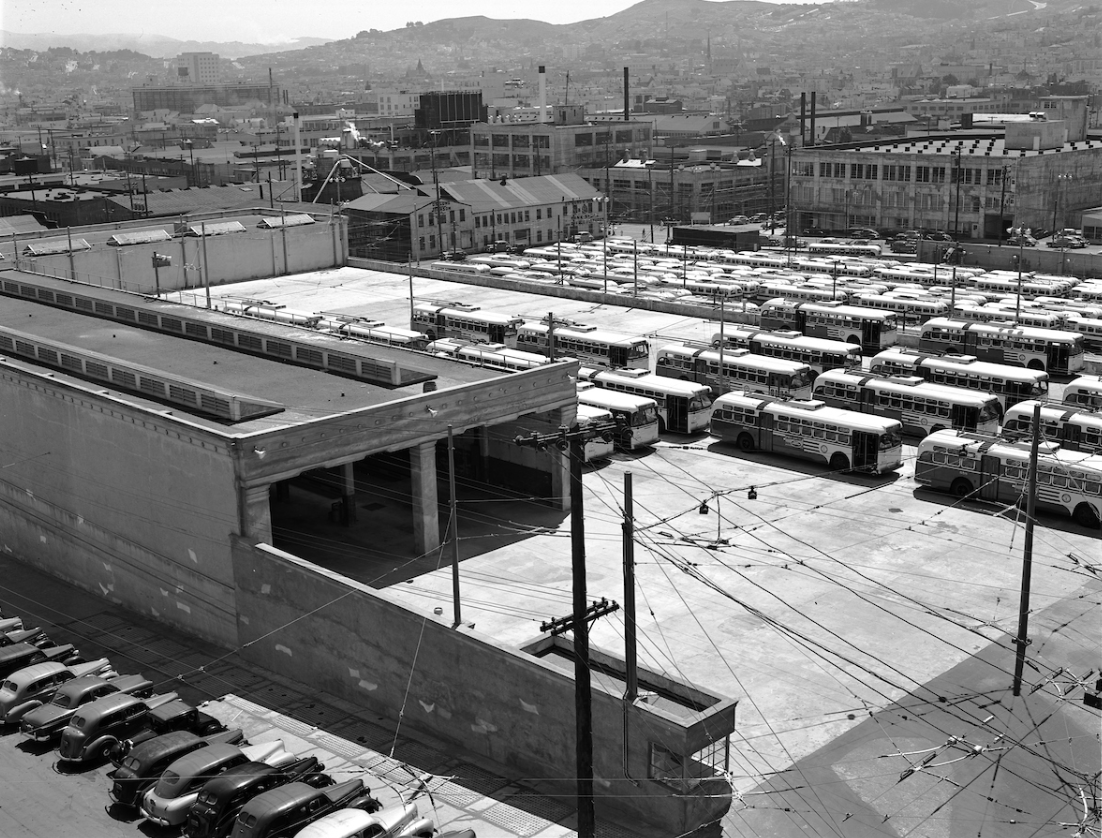 San Francisco's fleet of transit vehicles is the greenest in the United States, and the SFMTA is gearing up to transition to battery electric buses by 2035. The current Potrero Yard is too small to accommodate our growing fleet and too old to retrofit for new technologies. A modern bus facility means San Franciscans get better transit service.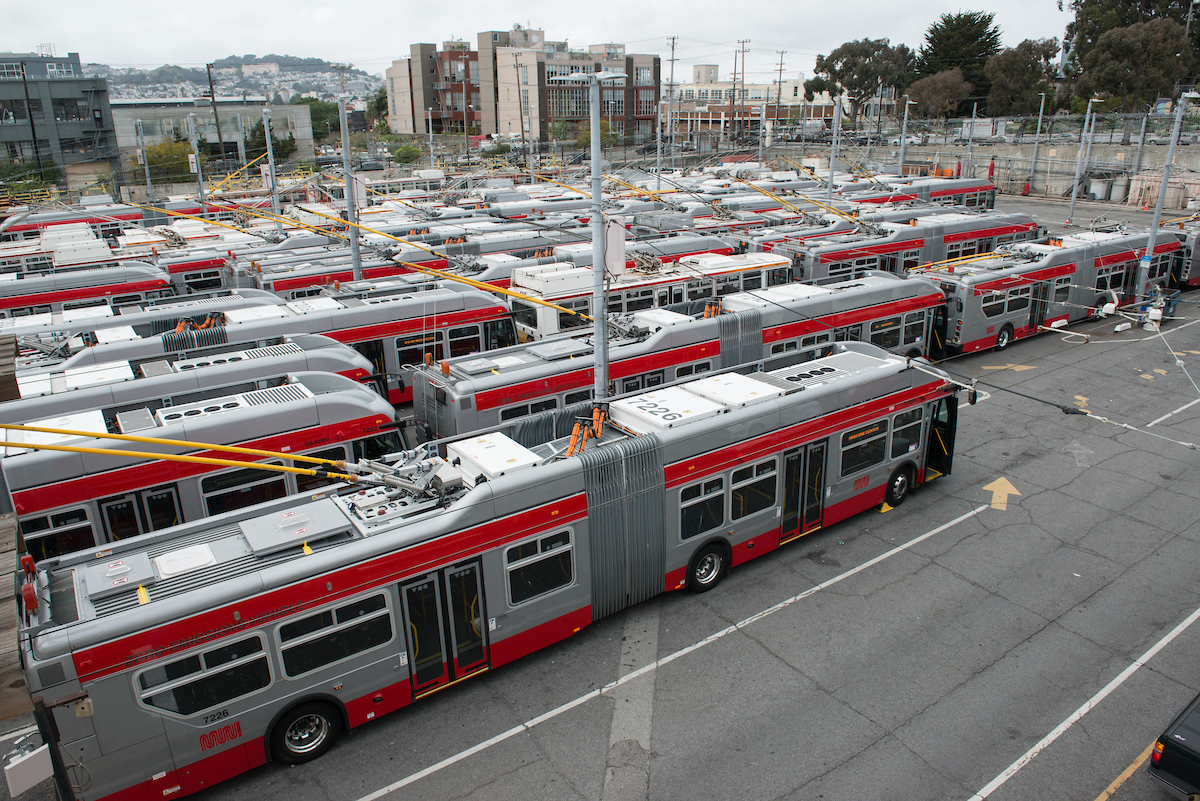 As Muni expands service to keep up with increasing ridership, the SFMTA needs more space to park and maintain its growing fleet. Over the last several years, the SFMTA has increased service by 10% – the largest expansion since the 1970s. By 2025, Muni will operate 200 more vehicles than the nearly 1,300 transit vehicles it operates today.
Potrero Yard also does not meet modern seismic safety and maintenance standards. As a result, employees' ability to efficiently conduct their work is compromised. In the maintenance bays, the ceiling is too low to administer roof repairs indoors or lift buses to repair them from below. This slows down maintenance work, making it difficult to get buses out of the Yard and back into service. Fewer buses in service means longer waits and more crowded buses.
Future Facility
The new facility will be designed to fit in better with the surrounding neighborhood by breaking up the massing and introducing active uses where possible along the street frontages. The facility will have three main levels for bus maintenance and storage that will measure up to 75 feet in height from the corner of Mariposa and Bryant streets. The modern yard will be able to store 213 buses or approximately 50 percent increase in capacity.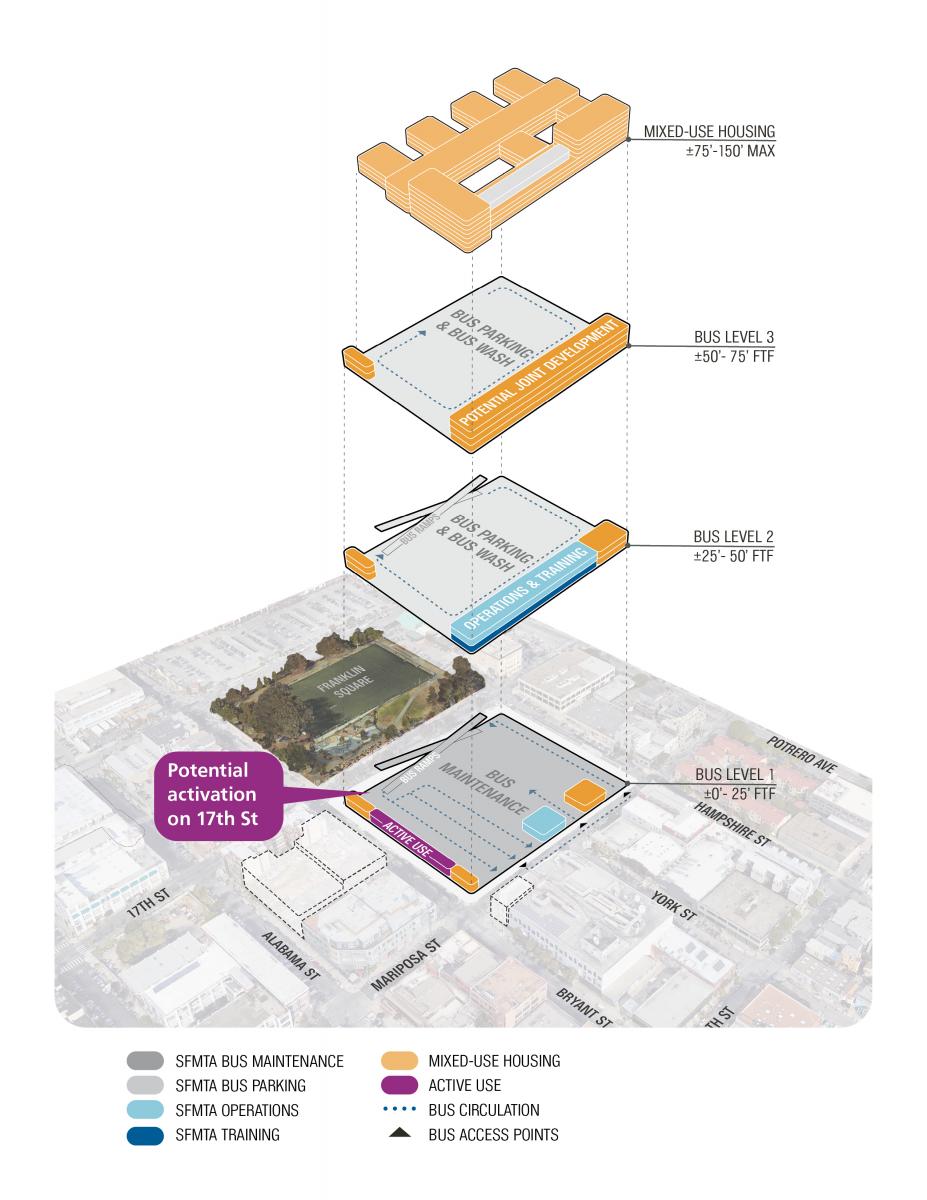 In addition, the facility will include the following features:
LEED Gold Certified

Built to an elevated structural and seismic standard

Infrastructure for battery-electric buses

Centralized location for Street Operations, Muni's "first responders"

Centralized, modern Muni operator training

Ground floor active uses on Bryant and possibly 17th streets
Housing on Top of a Bus Yard?
The 4.4-acre site presents an opportunity for the SFMTA to add another land use or "joint development" above the rebuilt bus facility.
The SFMTA has partnered with other City departments (SF Planning, Mayor's Office of Housing and Community Development, and the Office of Economic and Workforce Development) to explore housing above the Yard. Guided by input from the community, the City and the SFMTA have concluded that housing is a feasible, compatible use at the site and are currently proposing that housing be a principal component of the project.
The City and SFMTA are proposing approximately 560 residential units that include seven (7) additional floors above the bus facility with a total height of up to 150 feet at the tallest location (the 150 foot maximum height includes the 75 foot bus facility).
There are many factors that have informed the size and unit count of the project, including building height, massing, financial feasibility, and shadow considerations on Franklin Square. The SFMTA has worked with the City family and the community to propose a project that is ambitious, achievable, and compatible with the bus yard and its surroundings.
The SFMTA and City have established a 50% affordability target for this project resulting in approximately 280 affordable units. The project's ability to achieve this goal depends on many factors, including the availability of City subsidy, market dynamics, and construction costs.
Project Application to SF Planning Department and the California Environmental Quality Act (CEQA) Process
After nearly two years of community outreach and with guidance provided by the Potrero Yard Neighborhood Working Group (consisting of 13 community members and two Muni operators), the SFMTA submitted a project application to the SF Planning Department in November 2019 for the project described above. The project application establishes a set of parameters (e.g.. building mass, height, and number of residential units) that are the basis for evaluating the project's potential environmental impacts through CEQA.
The CEQA process requires an environmental review of the project. This review is assembled into a document, known as an Environmental Impact Report or EIR. The EIR will include information about the project, alternatives to the project, the project's potential environmental impacts, and how any  impacts may be avoided or mitigated.
To stay updated about the project application visit SF Planning Record Status 2019-021884ENV.
Stakeholder Engagement
Promise to the Public: The SFMTA is committed to an inclusive, transparent stakeholder engagement process in designing this important new project. The SFMTA believes that the community should help to shape many of the decisions that are needed to rebuild Potrero Yard. The SFMTA promises to:
Be transparent about the constraints of the project that will guide decision making
Work to understand and address stakeholder concerns and priorities
Balance stakeholder concerns and priorities while also meeting the project's core transit objectives
Potrero Yard Neighborhood Working Group
Applications Open for Potrero Yard Neighborhood Working Group
The SFMTA is working with a diverse group of neighbors, stakeholders, and SFMTA employees to plan for the modernization of Potrero Yard.
The Potrero Yard Neighborhood Working Group brings together community members to work with SFMTA staff to shape public outreach, weigh in on elements of the project design, and inform the design and program of joint development (housing above the yard).
Group as of December, 2019:
| | |
| --- | --- |
| Seat Type | Member |
| Environmental/Parks Advocate | Mary Haywood Sheeter (Friends of Franklin Square) |
| Transportation Advocate | Vacant |
| Housing Advocate | Vacant |
| Housing Advocate | Scott Feeney (Mission YIMBY) |
| Preservation/Beautification  | Alexandra Harker (Landscape Architect) |
| Youth/Family Services | Alexander Hirji (SF Youth Commission) |
| SFMTA/Muni Front line Staff Advocate | Vacant |
| SFMTA/Muni Front line Staff Advocate | Benjamin Bidwell (Muni Operator) |
| Small Business within 0.5 miles | Roberto Hernandez (SF Carnaval) |
| Small Business within 0.5 miles | Vacant |
| Merchant Organization | J.R. Eppler (Potrero Boosters) |
| Resident within 0.5 miles | Magda Freitas |
| Resident within 0.5 miles | Claudia DeLarios Moran |
| At-Large | Thor Kaslofsky |
| At-Large | Brian Renehan |
If you are interested, please apply today!
Feedback from the Working Group ensures that diverse viewpoints are considered and incorporated into the decision making for Potrero Yard.
To apply, complete the online application form, or download the PDF application and email it to Adrienne.Heim@sfmta.com. Applications will be reviewed on a rolling basis.
Please contact Adrienne Heim, Public Information Officer, at Adrienne.Heim@sfmta.com or 415.646.2564 if you have questions.