The Revitalization of Van Ness Breaks Ground
We joined our partner agencies, elected officials and community members Wednesday to celebrate the start of construction on the Van Ness Improvement Project, which will include San Francisco's first bus rapid transit system.
"This project is essential to reshaping how San Franciscans get around the city efficiently," said SFMTA Director of Transportation Ed Reiskin. "Van Ness will benefit from better transit, strengthened infrastructure and safer streets for all."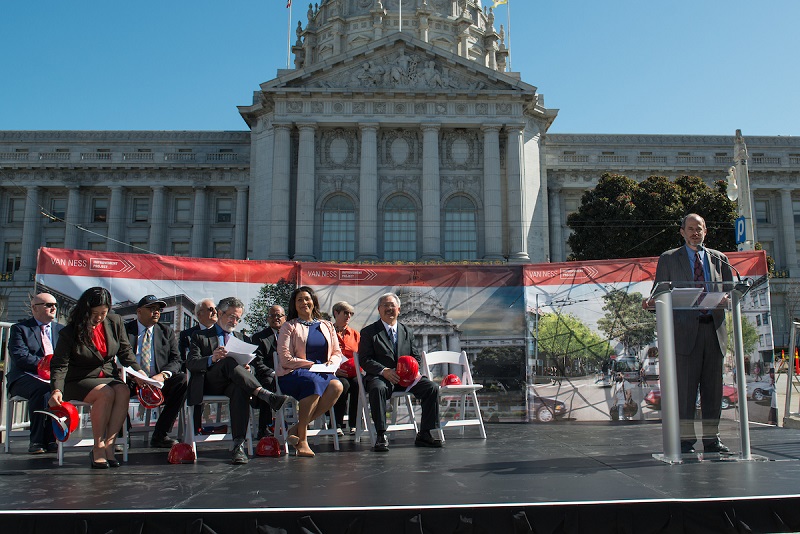 Though traffic lane changes began last November to prepare the roadway for construction, the ceremony kicked off the more impactful and critical work to come, including the removal and temporary paving of the street median to make room for construction activity and maintain traffic flow. Crews are expected to begin work along the curb to replace utility infrastructure in May.
The Van Ness Improvement Project began as a package of transportation improvements to improve traffic flow and make transit more reliable. But through the planning process, it grew into a major collaborative effort between local, state and federal agencies to revitalize Van Ness Avenue, between Mission and Lombard streets, and take the opportunity to rehabilitate its infrastructure.
"When we tear up the roads and the medians and do all these traffic-related improvements, we are now improving as a city," said Mayor Ed Lee at Wednesday's groundbreaking ceremony. "While we're there, let's take care of what's underneath as well. We never did that very well in the past and we are doing that now."
The SF Public Utilities Commission, for example, will replace and repair the water and sewer infrastructure beneath Van Ness, which, at more than 100 years old, is in critical need of replacement.
SF Public Works will also beautify Van Ness with new landscaping and greenery. When construction is complete in 2019, Van Ness will be lined with hundreds of new trees – double the number prior to construction – and drivers will enjoy a smoother ride on a repaved roadway.
Learn more about the Van Ness Improvement Project and Wednesday's event by viewing our press release and checking out our video from the event below. You can find full details on the project and sign up for construction updates at sfmta.com/vanness.