Round 'Em Up: 42 Years of the Muni Bus 'Roadeo'
This Saturday, the SFMTA will host San Francisco's 31st "Bus Roadeo," a tradition which tests the safe driving skills of Muni bus operators and parking control officers. That's right – the SFMTA's professional navigators of San Francisco's streets bring their moves to the obstacle course in a competition for glory.
To celebrate the event, the first since 2008, today's Throwback Thursday (#TBT) features a look back at the first Roadeo 42 years ago.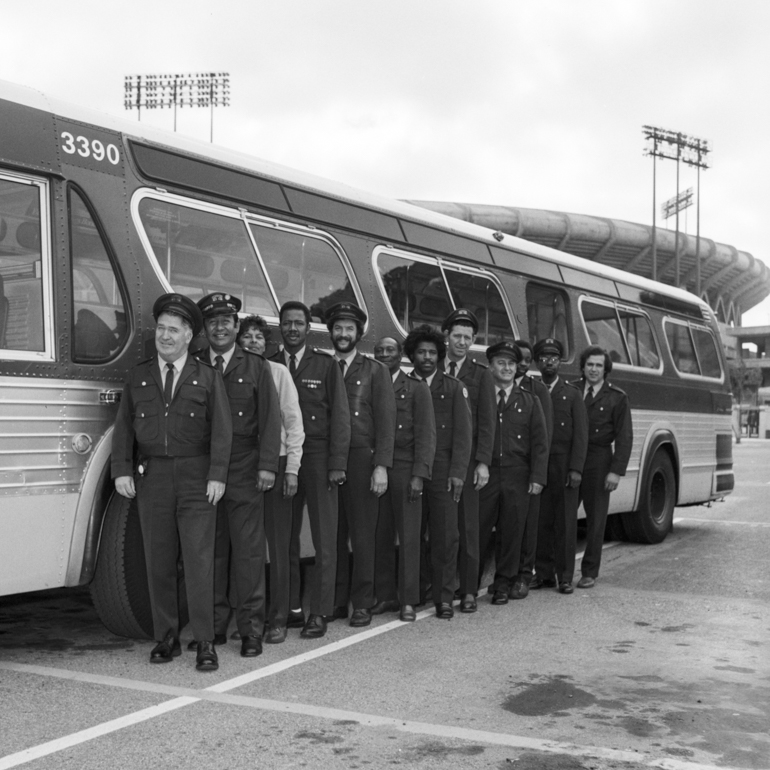 Muni operators ready to compete in the Bus Safety Rodeo at Candlestick Park on October 29, 1974
Muni's first Bus Safety Roadeo (yep, that's the correct spelling) took place on October 29, 1974. In the parking lot at Candlestick Park, 12 bus operators got the chance to tackle an obstacle course with the vehicles they'd worked to master. Co-workers, friends, family and Muni's then-general manager, Curtis Green, turned out to cheer on the Muni contestants and judge who would lasso the gold.

A Muni operator navigates the course at Muni's first Bus Roadeo in 1974.
Today, the roadeo has built on that tradition and includes both Muni bus operators and parking control officers (PCOs), who face different challenges in their jobs.
Muni operators who win this weekend will go on to compete with transit professionals from around the country in the annual American Public Transportation Association (APTA)'s International Bus Roadeo, which takes place in North Carolina in May.
Bus operators competing in local roadeos must navigate an obstacle course laid out in the APTA Roadeo Handbook. Cones and barrels are used to simulate passenger stops, lane changes, turns and maneuvers that put even the best drivers to the test. Operators lose points for infractions like turning with the incorrect radius, running over cones and striking curbs.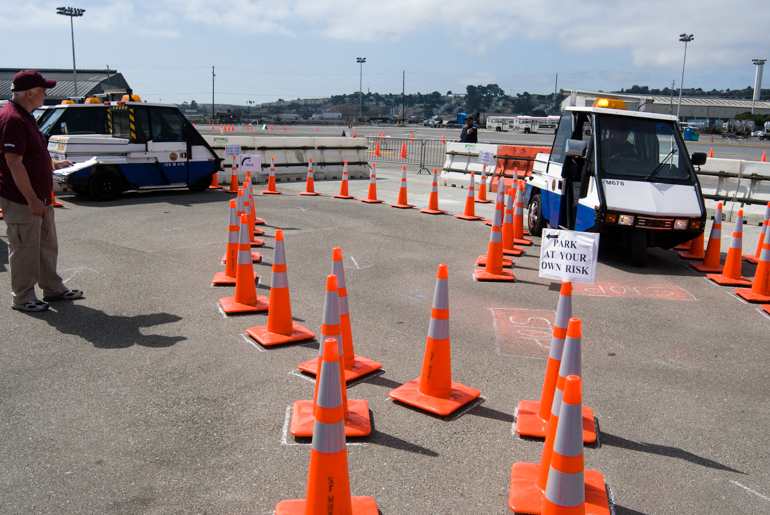 A parking control officer navigates tight turns and narrow lanes at a roadeo on September 8, 2008.
PCOs must wrangle the wheel to slip through cones barely wider than their small, nimble, three-wheeled "Go-4" vehicles. While PCOs don't compete in the APTA Roadeo, the top three winners are awarded a trophy for their skills.
We wish the best of luck to all our roadeo competitors tallying up another year in a long tradition this Saturday. One of Muni's pro operators or mechanics could even come in first place at the APTA competition like the current reigning champ Muni operator Kevin Grady did last year.
To explore more San Francisco history, follow us on Flickr, Twitter, HistoryPin, and Instagram and check out the SFMTA Photo Archive online.