Salesforce Transit Center Welcomes Muni Service This Week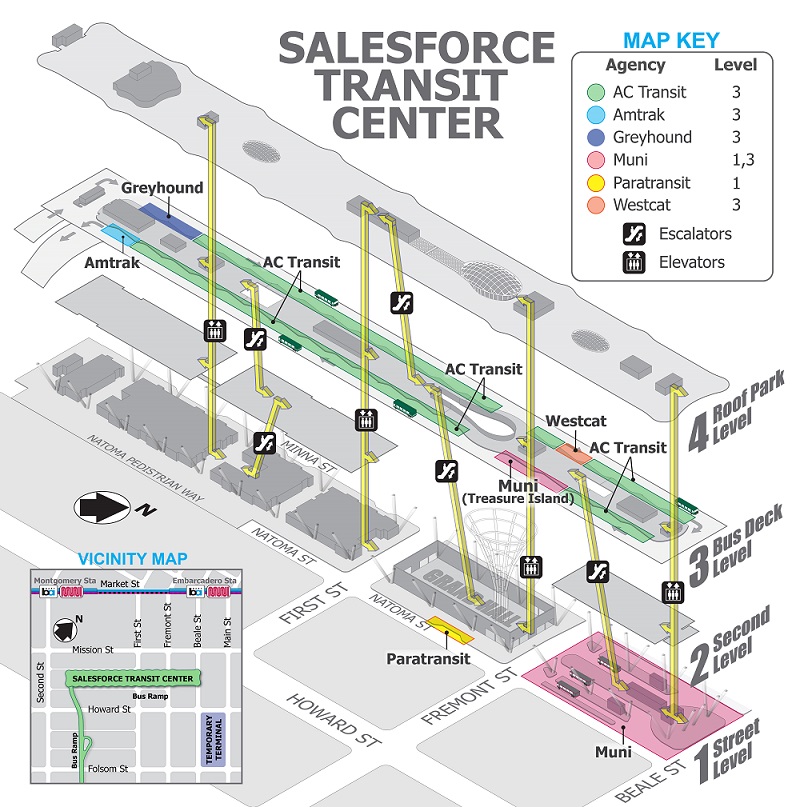 The Salesforce Transit Center is opening for Muni service on Saturday, June 16! While the full Transit Center, including the Grand Hall entrance and rooftop park, isn't open until later this summer, the bus plaza will be operational for Muni routes 5/5R, 7, 38/38R, with the 25 Treasure Island beginning service to the bus deck when the Transit Center fully opens.
This two-block long, four-story high regional transportation hub just south of Mission Street between Second and Beale streets, will serve people from all over the San Francisco Bay Area, improving travel times to the downtown area for commuters and travelers from all over the region. In addition to the transit-focused amenities, this world-class hub will be like no other, including a Grand Hall entrance, gondola, and a rooftop park! This new regional transportation hub will serve people and transit agencies from all over the Bay Area, providing improved and faster service to and from San Francisco.
The major Transit Center elements include:
A Grand Hall entrance lobby and a rooftop public park!

Two-block-long bus deck for AC Transit buses, WestCAT, Amtrak Thruway and Greyhound buses and Muni service to Treasure Island (#25)

Street-level bus plaza serving seven major Muni lines

Three-platform, six-track train station underground

Multi-level building retail space, bicycle parking and administrative offices

Ancillary projects include a public plaza on Mission Street west of Fremont Street
Beginning today please watch for SFMTA ambassadors who can help inform you on where to go and what to expect.
Phase 1A Saturday, June 16: Muni Transit Service Begins
5 Fulton (moved into Transit Center December 2017)
5R Fulton Rapid
7 Haight
38 Geary
38R Geary Rapid
Phase 1B Summer 2018: Full Opening, Additional Transit Service Begins
Muni 25 Treasure Island
AC Transit
WestCAT
Greyhound
Amtrak Thruway
Please see the Transbay Joint Powers Authority website for more information about the full opening later this summer.
Phase 2: In the future, Caltrain train service from the peninsula and eventually California High-Speed Rail trains from Southern California will move into an underground station at the Salesforce Transit Center.
The Salesforce Transit Center will become the "Grand Central Station" of the west, a fully integrated transit hub capable of getting people to any major destination in the region from one central location using only public transportation. The original Transbay Terminal at First and Mission streets opened in 1939 and was a regional transit hub for over 60 years. It was closed in 2010 to make way for a new world-class transit center that will serve the region. While construction of the new Salesforce Transit Center took place, a Temporary Transbay Terminal served Muni and AC Transit for eight years, ensuring our customers were able to continue traveling to and from the heart of downtown San Francisco from all over the region.
The Transbay Joint Powers Authority (TJPA) manages and operates the Transit Center with SFMTA as a partner providing technical support and design input for the project, particularly as it relates to transit power infrastructure for Muni buses and the design of the street-level bus plaza which will be the terminus for the Muni 5, 5R, 7, 38 and 38R routes. Funding for the project is provided through TJPA and includes federal grants, proceeds from the sale of state property in the area, loans and local (SF) sources.
Our Partners:
Please note: The full Salesforce Transit Center isn't open until later this summer. The service beginning Saturday, June 16 is for Muni routes only.