San Francisco's "Other" Railroad
When discussing railroads owned by the City of San Francisco most people only think of the Municipal Railway (Muni) that we're all so familiar with. But did you know that there was another railroad with 68 miles of track built and operated by the city? That's right, in 1915, just three years after the opening of the Municipal Railway, San Francisco began construction on the Hetch Hetchy Railroad (HHRR), which was used to service the O'Shaughnessy Dam in the Sierra Nevada Mountains during and after construction.
This shot shows a modified White Motor Coach used for passengers on the HHRR. This coach, HHRR #19, is very similar to the ones that Muni used on its earliest bus lines. One can still see the coach at Railtown 1897 State Historic Park in Jamestown, CA.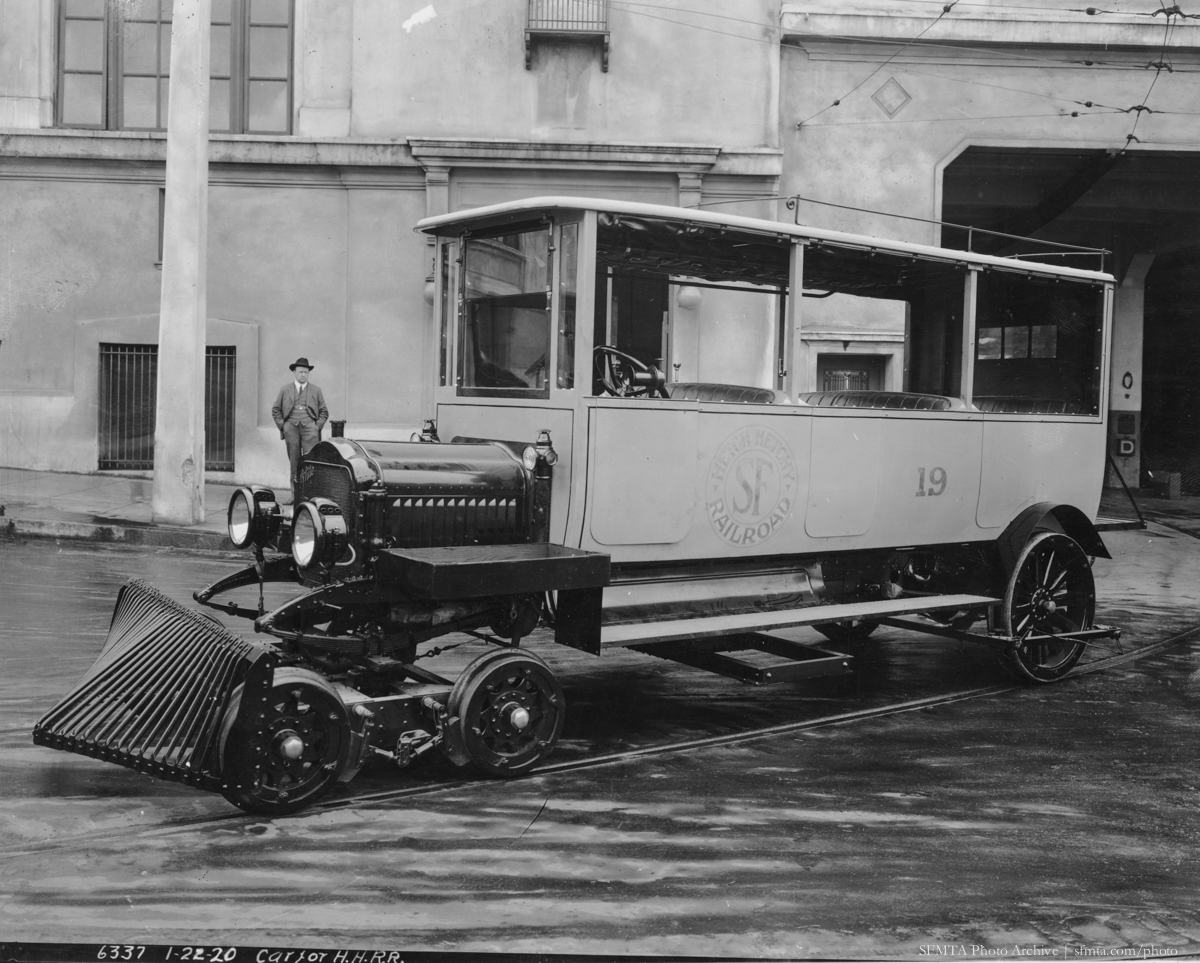 Motor Coach 19 Modified for Use as a Car for Hetch Hetchy Railroad Outside Geary Carhouse | January 22, 1920 | W6337
 
Between 1918 and 1925, the San Francisco Public Utilities Commission built O'Shaughnessy Dam to create the Hetch Hetchy Reservoir, which provides drinking water and hydroelectric power to San Francisco and other Bay Area municipalities. The construction of the dam was a massive undertaking and it necessitated a reliable means of transporting supplies, equipment and people to and from the site, a feat that was only possible with a railroad. The steep terrain and tight passes meant a very slow and difficult climb from one end of the line to the other, with the HHRR topping out at 5,064 feet over Poopenaut Pass.
In addition to hauling tons of materials during the construction, the HHRR ran excursion trips for San Franciscans to visit the work site and review the structure their money was paying to build. For about $30, passengers could leave the city Friday afternoon, travel overnight to the Central Valley, where they would transfer to the HHRR on Saturday morning for the climb into the mountains. After a visit to the dam and a stay in a nearby cabin camp (room and board included in the fare), visitors returned to San Francisco to arrive in time for work on Monday morning.
Read more about the incredible history of our water system and the Hetch Hetchy Railroad and remember to watch your water use as we navigate through this severe drought!
Be sure to check out more historic photos on the SFMTA Photo Archive website and follow us on Flickr, Twitter, Google+, and Instagram!