Say Hello to the New 55 16th Street!
Thursday, January 29, 2015
This Saturday, Muni customers will officially meet the newest addition to the Muni family—the 55 16th Street. This new bus route, part of the Muni Forward project to improve transportation for Mission Bay, will provide convenient connections from the 16th Street Mission BART Station to Mission Bay, including the new UCSF Medical Center at Mission Bay.
Today we were pleased to join Mayor Ed Lee and our partners at UCSF in Mission Bay to celebrate the new Medical Center, which will open on Feb. 1. We were honored to play a further role in the opening of their new Children's Hospital by donating a cable car bell. It will be the new therapy bell for the children to ring when they leave the hospital, following their treatment.
While we're excited to be launching this new route to serve the hospitals, The 55 is temporary. It will eventually be replaced by an extended 22 Fillmore electric trolley bus route. Since modifying the 22 can't happen overnight—it requires extending the overhead wires along 16th Street—the 55 16th Street was born to serve the growing Mission Bay neighborhood in the meantime. You can learn more about the 22 Fillmore Muni Forward project here.
The 55 Route will operate seven days a week from approximately 6 a.m. to midnight every 15 to 20 minutes, and make stops at all 22 Fillmore stops on 16th Street between Mission and Vermont Streets. New stops on 16th Street include Rhode Island, Wisconsin, Missouri Streets and 4th Streets, and on Mission Bay Blvd South at 4th Street.
Also occurring this Saturday is a round of Muni Forward service changes aimed at improving Muni reliability, which include a weekday frequency increase for the 44 O'Shaughnessy. Starting on Monday, the 44 service will operate every 7-8 minutes during AM peak, and every 8 minutes during PM peak, as opposed to the current 10 minute peak headways.
The other Muni routes that will see minor changes starting Saturday are:
9L San Bruno Limited
38 Geary Shortline (to 32nd Avenue)
44 O'Shaughnessy
54 Felton
91 Owl
Schedule adjustments on the 9 San Bruno, 9L San Bruno Limited, 14 Mission, 24 Divisadero, 33 Stanyan, 35 Eureka 49 Van Ness/Mission, 52 Excelsior and 56 Rutland are also planned to improve service reliability.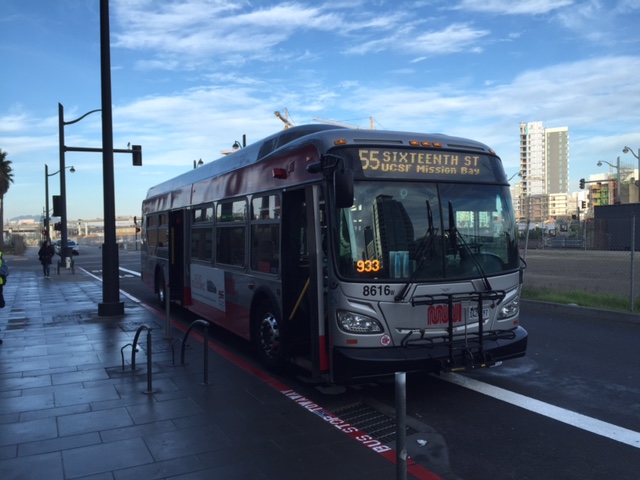 Riders, meet your new bus: the 55 16th Street!