Scooter Sidewalk Riding Detection Technology Demonstration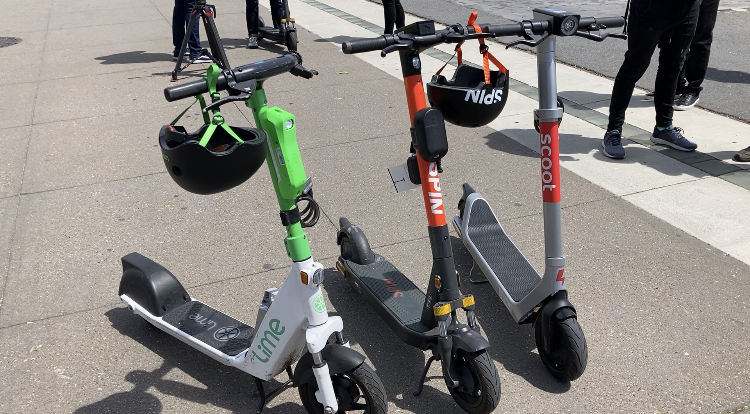 The SFMTA held a public demonstration of e-scooter sidewalk riding detection technology on Thursday, May 12, 2022 involving the three permittees: Lime, Scoot, and Spin. The demonstrations were required as part of the SFMTA's Powered Scooter Share Program, which ensures that shared scooter operations support the City's recovery from the pandemic in a safe, sustainable, and equitable way. This includes keeping our sidewalks safe, particularly for our most vulnerable pedestrians and road users.  
Scooter sidewalk riding is illegal pursuant to the California Vehicle Code Section §21235(g) and poses significant risk to pedestrian and scooter rider safety, particularly for older adults or persons with disabilities using the sidewalk. Sidewalk riding detection technology enables the device to detect sidewalk riding in real time. Once detected, the scooter automatically slows the rider to a safer speed. We believe that sidewalk riding technology has a strong potential to curb usage scooter riding in San Francisco and may be the most effective way to reduce scooter share sidewalk riding in the City.  
As part of the permitting process, the SFMTA required operators to first submit a plan for deploying sidewalk riding technology and then to begin implementation consistent with the plan. In recent months, each of the three permitted operators—Lime, Scoot, and Spin—have complied with our requirements and deployed scooters equipped with the new technology. 
Thursday's demonstration is the second demonstration to test this technology – the first was held in December 2021 – and we are pleased that the scooter companies are making progress with this important safety technology. Since the first demonstration, all permittees have started rolling out their sidewalk detection technology along The Embarcadero, which is a high-use area. Staff reported notable improvements during Thursday's demonstration. The ride felt safer, there was an audible signal that the device had mounted the sidewalk and the sidewalk was detected more accurately. There are still areas for improvement, and as the scooter companies roll out this technology to their full fleets over the coming months, SFMTA staff will provide additional guidance. For example, staff identified deceleration method and speed as areas for additional guidance based on the results of Thursday's demonstration. Because this technology is so new, these types of demonstrations help staff identify best safety practices and we will continue to work with the companies to continually improve. 
The Powered Scooter Shared permit program allows for innovation while also ensuring private mobility options are positioned to best contribute to the public welfare of the city. Requiring sidewalk riding detection is just one of SFMTA's initiatives to ensure that shared scooter usage follows safe riding measures and does not deteriorate the pedestrian environment and disability access.   
In addition to deterring improper riding through specific safety requirements, on-street enforcement and holding the scooter share permittees accountable for implementing their sidewalk riding detection technology, the SFMTA is also committed to: 
Actively maintaining an accessible path of travel along city sidewalks by requiring scooter permittees to have a locking mechanism and adhering to specific parking requirements to ensure that the scooters are not strewn about the sidewalk. If scooters are not parked properly, scooter companies may be cited. SFMTA has a public dashboard that shows citations and complaints.  
Requiring scooter permittees to provide adaptive scooter devices as part of their on-street fleet and complementary rental programs. All permittees must provide devices with adaptive features such as three wheels, a basket or seat, to expand the range of users who can participate.  
Scooters are a sustainable mode of travel and a complement to Muni and public transit service, and SFMTA looks forward to working with the Powered Scooter Shared Permittees to continue improving this important technology. For more information, please visit Powered Scooter Share Permit Program.