SF History Days Sneak Peek: 100 Years on the J Church

Join us at SF History Days to travel through the history of the J Church, one of Muni's oldest lines, from its opening in 1917 to today.
This weekend, we'll join over 70 other historical organizations and museums for San Francisco History Days 2017, a two-day exposition of San Francisco history from A to Z.
The event takes place Saturday and Sunday, March 4 and 5, at the Old Mint on 5th Street at Mission Street.
We'll put on a short slideshow exhibit exploring the 100-year history of Muni's J Church Line.  Here's a sneak peek of a few photos from the exhibit.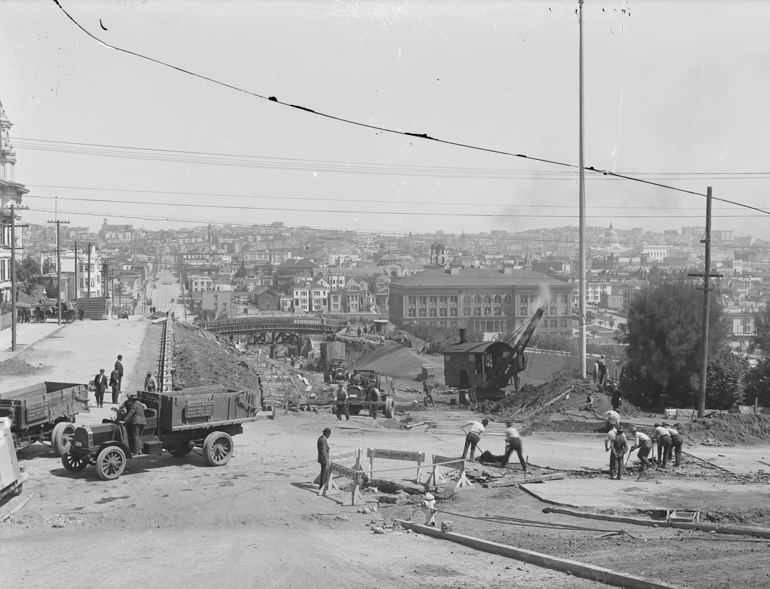 This shot looks north from 20th and Church Streets towards construction in Dolores Park in May, 1916.

Mission High School students may have changed styles since  the 1940s when this photo was taken, but they still wait for the J at this stop at Dolores Park today.
Be sure to join us for SF History Days this weekend at the Old Mint at 88 5th Street. The event is a rare chance to look back across our city's rich past through many different lenses, all in one amazing San Francisco historic landmark.
You can also get your history fix on our website and follow us on Twitter and Instagram.