SFMTA Helps Students Plan for Next Year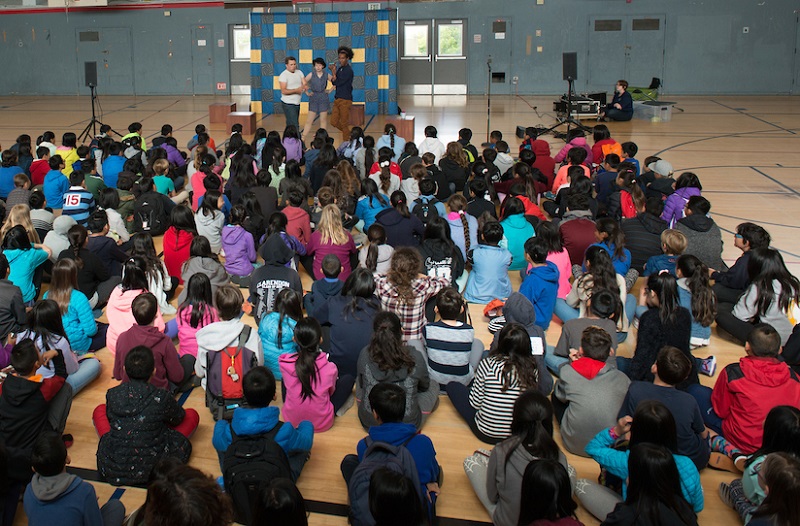 Last week San Francisco Unified School District's incoming sixth-graders at four middle schools went straight to their new campuses despite the summer break to learn the ropes for success beyond elementary school. The students who will step up to middle school this fall face new challenges such as taking public transportation to school independently, using lockers, managing relationships with new peers, and in new places, such as social media. For the past two years, the SFMTA has been pleased to participate in helping students better understand their transportation options.
The district's Step-Up program, a week long bridge program for rising 6th graders, is offered for middle school students to help them learn the ins and outs of middle school life. SFMTA staff filmed the presentation that took place at Hoover Middle School last Friday. Skits and a medley of songs covered using a Clipper Card, bus etiquette and traffic safety tips. 
Along with team building activities (that included free swag for the incoming middle schoolers), students were given a one-on-one demonstration on the basics of riding a bus and loading bikes on a Muni bus. Students also had the opportunity to meet members of the Muni Transit Assistance Program. Since the program's launch in 1996, transit assistance staff have worked with and trained members of the community in conflict resolution who then ride on specific routes with the purpose of diffusing and deterring any conflicts, acts of vandalism, and who assist the bus operators as needed.
Don't be late! If you're a student or a parent, now is the perfect time to plan routes to new schools. It's easy to ride transit to or from school, with every middle and high school in the San Francisco Unified School District served by at least one Muni route. 
Students can also apply for the Free Muni for Youth Program, which provides low and moderate income San Francisco youth ages 5 to 18 free access to Muni services when using a Clipper card.