Part Three of a Four-Part Series
SFMTA Plan to Improve Muni: Enhancing Service Reliability
Thursday, November 1, 2018
This summer, many Muni riders noticed a decline in service as we experienced a temporary shortage of bus operators. In August, Mayor London Breed called on the San Francisco Municipal Transportation Agency (SFMTA) to step up its efforts to provide the reliable and safe system that San Franciscans deserve. This blog is part three of a four-part series on our plan to set Muni on a sustainable path to providing excellent service and meet key performance targets within 90 days.
Over the past two months, the SFMTA has taken a series of actions to address riders' concerns and deliver on Muni performance goals as part of our SFMTA Plan to Improve Muni. In my response to the Mayor and to our SFMTA Board of Directors, I committed the agency to improve the reliability of Muni service by:
Reducing gaps on Rapid bus lines (5R, 9R, 14R 28R and 38R) by 5 percent and on Muni Metro rail by 3 percent to enhance service reliability

Improving on-time performance on routes with a frequency of 15 minutes or less (e.g. most Connector, Local, Express and Owl bus routes) by 5 percent
The Muni Rapid Network carries almost 70 percent of all passengers and forms the backbone of San Francisco's public transit system. For this high-frequency service, our goal is to keep buses and trains spaced evenly and reduce gaps (trips where the bus arrives more than five minutes later than the scheduled frequency). That is an important way in which we measure performance. As any Muni customer can attest, when there are long gaps between buses or trains, transit ceases to be a reliable option. On bus lines with less frequent service (those running less than every 15 minutes), customers often count on published schedules to their plan trips. For these less frequent lines, on-time performance is absolutely crucial for transit dependent riders as well as those who choose to ride Muni. 
To reduce gaps and increase on-time performance, Muni is making targeted technology and staffing upgrades to help avoid delays in the first place and respond more quickly when they do occur. This work includes a range of actions, such as:
Completing our state-of-the-art Transportation Management Center.

Analyzing data to prevent vehicle breakdowns and repair vehicles more quickly.

Replacing aging infrastructure, which is at the root of many recent service delays.

Expanding our use of agency resources, such as parking control officers, to help transit vehicles work around traffic congestion.
Since implementing these corrective measures, Muni has decreased gaps on Rapid bus lines from 16 percent to 12 percent or below for the past two weeks, meeting the 90-day goal. We are optimistic that this trend will continue. While just short of meeting the 20 percent goal for Muni Metro Rail gaps, performance has improved from 30 percent to 22 percent over the past two months and we expect to see more progress in the coming weeks.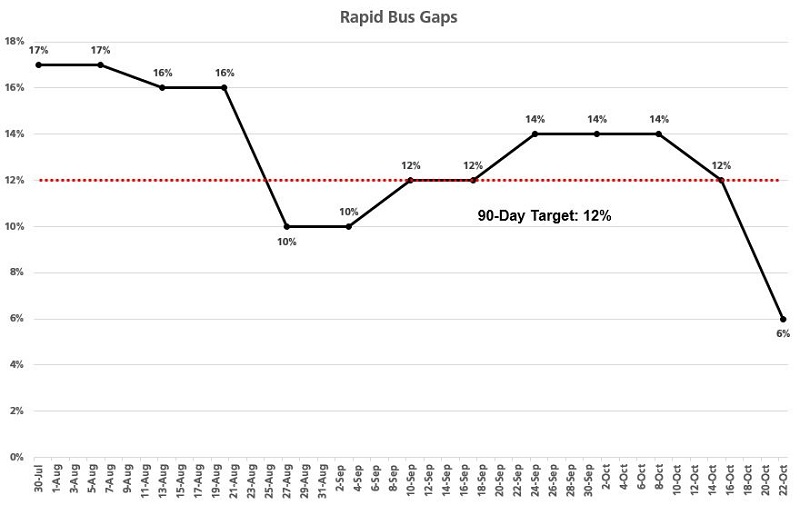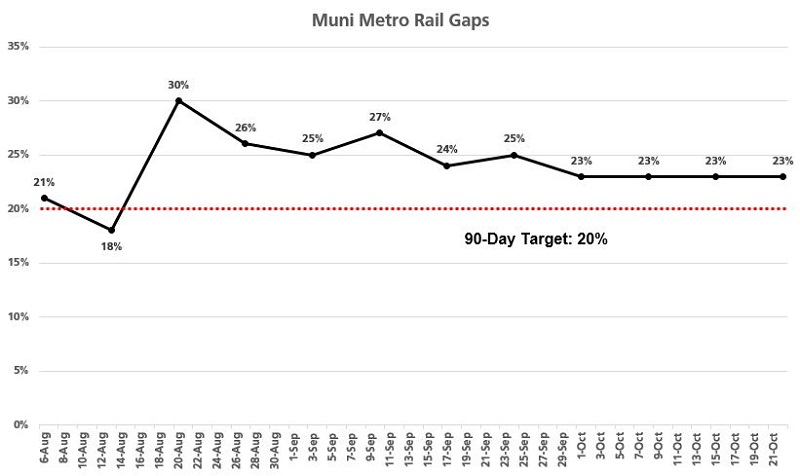 While we will continue to strive to improve on-time performance, the reality is that no transit agency in the United States comes close to achieving 85 percent on-time performance for buses and trains operating on the street. Portland, at 75 percent, is the highest performing system in the United States. Other cities with a comparable density to San Francisco, including Baltimore, New York and Boston range between 44 and 45 percent, while Chicago and Los Angeles are performing at 62 and 64 percent, respectively. Traffic delays are a part of life in large cities, but we can manage our most frequent service to ensure that buses and trains are evenly spaced, even after delays occur.
Over the past several months, on-time performance on less frequent Muni bus lines has ranged between 53 and 57 percent, and that is unacceptable. In response, we set a 90-day goal of 63 percent by the end of November. Meeting this near-term goal and continuing to improve Muni's on-time performance will take ongoing and concerted focus and our plan calls for continued investment in programs like Muni Forward and real-time transit line management tools to help protect transit riders from the impacts of traffic congestion.
San Francisco is a world-class city and deserves a world-class public transit system. The progress we have made to get more scheduled service on the street and reduce bunching and gapping will improve the overall reliability of the Muni system, including on-time performance.
Tomorrow, Part Four: Getting You There Safely