SFMTA Public Meetings, April 18 - May 2
Board of Directors Meeting: 1 p.m., Tuesday, April 19
City Hall, Room 400
Nearby Muni Routes: 5, 19, 21, 47, 49, F Market, Metro-Civic Center Station
Tomorrow's Board of Directors meeting will include presentations showcasing Muni Forward initiatives aimed at improving safety and performance across the city: new light rail trains that start arriving later this year and two new Owl routes starting this weekend (along with several other service improvements). The city garage modernization program and the agency's Disadvantaged Business Enterprise program will also be discussed.
Our Board of Directors meetings are usually held on the first and third Tuesdays of each month. The agendas are posted under "meetings" on the Board's web page 72 hours in advance of the meeting. All regular meetings can be viewed on The City channel 78 or online at the SFGovTV2.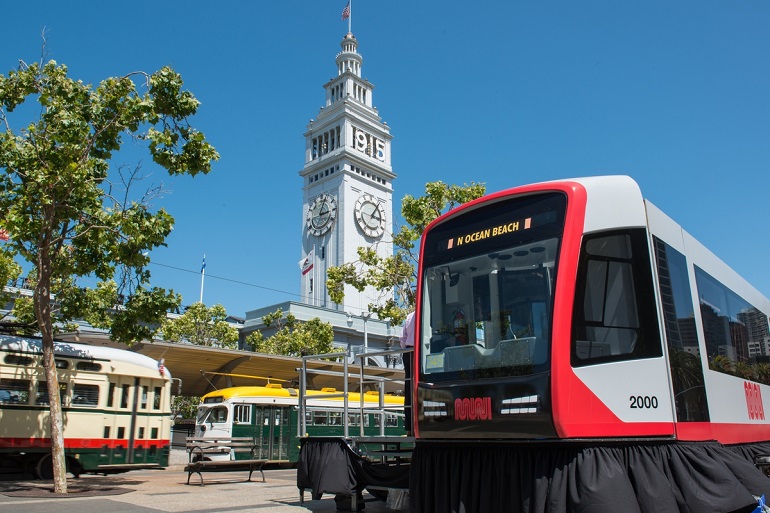 Last June a mock-up of Muni's new light rail vehicles was on display in Harry Bridges Plaza in front of the Ferry Building. 
Van Ness Business Advisory Committee Meeting: 3 p.m., Thursday, April 21
SFMTA Offices, Civic Center Conference Room 3074
1 South Van Ness at Market
Nearby Muni Route: 6, 7, 9, 9R, 47, 49, F Market, Metro- Van Ness Station
The Van Ness Corridor Project has its own Business Advisory Committee, made up of representatives from a cross-section of businesses along this major city thoroughfare. Join the committee and project staff this Thursday for a presentation from the Mayor's Office of Economic and Workforce Development's Invest in Neighborhoods program about business resources and technical assistance. Staff will also provide general project updates. The full agenda can be reviewed here.
Van Ness BRT Community Advisory Committee: 6 – 7:30 p.m., Thursday, April 28
SFMTA Offices, 7th Floor, Union Square Conference Room
1 South Van Ness at Market
Nearby Muni Routes: 9, 9R, 47, 49, F Market
The Van Ness Corridor Project's regular, non-business CAC provides feedback and guides decisions related to the design, construction and implementation of the Van Ness BRT. Join the committee and project staff this Thursday for general project updates. More information will be posted here. 
Our Meeting Round-up feature highlights different SFMTA public meetings that will be held within the coming two weeks. These meetings give you the chance to share your ideas and provide us with helpful feedback. Join us at our next meeting to learn more about SF's changing and complex transportation system.
Those listed above are just a few highlights. You can find a full list of upcoming meetings and keep up to date on your favorite SFMTA committees here.