The SFMTA's Twitter Account is Run By Humans, Podcast Confirms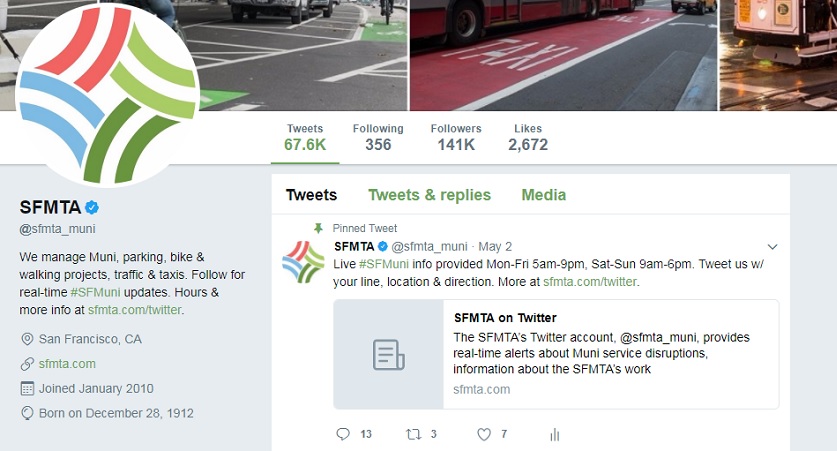 A screenshot of the SFMTA's Twitter account webpage as seen today.
Believe it or not, the SFMTA's Twitter account, "@sfmta_muni," is staffed by real people. That's right: for 96 regular hours and seven days a week, our team of customer information officers (CIOs) uses the Twitter account to provide real-time Muni alerts, respond to information requests and collect feedback.
Today, two of "the humans behind Muni's official Twitter account" were featured in a podcast by the blog Muni Diaries, which interviewed two of our three dedicated CIOs, Schad Dalton and Rick Banchero.
Here's Muni Diaries' description:
Say you're frustrated waiting for the bus and you fire off a tweet, "Where the hell is my bus?", there are three people at the SFMTA whose job is to respond to you to make sure you're ok. We found these very patient humans at the SFMTA whose jobs we never want to have, got them into our podcast studio, and asked them: what's it like to be on the receiving end of all our ire?
 

As it turns out, it's not all terrible. SFMTA's Schad and Rick tell us all about behind the scenes stories of responding to your Muni complaints and real life crisis – everything from violent crimes to a lost scarf.
Our CIOs serve a key communications role that involves more than tweeting with customers. They work with Muni service managers and other transportation operations staff to provide real-time digital alerts about Muni service disruptions, information about the SFMTA's work and notices about upcoming events that affect transportation in San Francisco.
The alert messages that CIOs provide are sent via several digital channels. In addition to the alerts posted on our Twitter account (which also go out to e-mail and text message subscribers), CIOs program NextMuni messages that display on the digital marquee signs at stop shelters, on the LCD screens in Muni subway stations and on NextMuni.com.
CIOs also look to Twitter users as additional eyes and ears on the streets by monitoring tweets for feedback and reports that may help inform our real-time transportation management.
When forwarding and responding to questions, complaints and commendations, they can most easily find answers when customers provide key details like their location, Muni line/route, direction and the four-digit number on their Muni vehicle. (Those kinds of details are also needed to investigate and follow-up on reports we receive via 311, our main channel for customer service.)
Check out our SFMTA on Twitter webpage for more information, including the regular staffed hours when our CIOs are available to respond to tweets. And of course, if you're a Twitter user, be sure to follow our account.
You can listen to Muni Diaries' 32-minute podcast on the Muni Diaries website, which has links to listen via iTunes, Google Play and an MP3 file download.