Shared Spaces Permits Extending to Next Summer
Thursday, October 22, 2020
More than 1,800 individual operators and counting are making the Shared Spaces Program a successful part of San Francisco's economic recovery. Permits originally set to expire at the end of December may now be extended through June 30 and new applications are welcome. Mayor Breed has called for this extension as well as for exploring ways to make the program permanent.
Shared Spaces allow merchants to use sidewalks, full or partial streets, and other nearby outdoor spaces like parks, parking lots and plazas for restaurant pick-up and other neighborhood retail activities allowed under San Francisco's Public Health Orders. The program is a multiagency collaboration born out of the city's Economic Recovery Task Force. 
White Cap's Shared Space in the Outer Sunset.
How to Renew Existing Permits:
The process for renewing permits to June 30, 2021  depends on the type of Shared Space. Merchants may use the following guide to understand how to renew a permit:
Sidewalk Permits –

Automatically renewed before December 31, 2020.  No action is needed from the permittee unless:




The permittee wants to modify the existing permit. To do so, the permittee must submit a new application for a Sidewalk Permit on the

Shared Spaces website

.  

The permittee wants to discontinue or withdraw the existing permit. To do so, email

SharedSpacesPermit@sfdpw.org

with "Withdraw




permit" in the subject line.

Curbside Lane Permits –

On Monday, October 26 curbside lane permit holders are scheduled to receive a personalized email from the SFMTA to renew, extend or change the existing permit. The email contains a personalized link to a permit renewal form. This webform must be completed by November 15, to be guaranteed a permit renewal by December 31.


If the curbside lane zone being permitted extends in front of a neighboring property, written consent for the permittee to occupy that area through June 30, 2021 from the affected neighboring property owner(s) must be provided.

If the curbside lane zone has a fixed structure or deck,

a signed form

and photos must be provided as described in the

Shared Spaces Design Guidelines

.

If you want to modify or change your permit, please do it through the renewal process.

Street Closure Permits –

To extend the Street Closure permit beyond December 31, the permittee must submit a new application for Street Closure Permit on the

Shared Spaces website

.

Private Property Permits –

Valid through the end of the State of Public Emergency. No action is needed from the permittee.

Port Property Permits –

To renew, email

SharedSpaces@sfport.com

requesting renewal.

Recreation and Parks Department Property Permits –

Permittees will be contacted by the Recreation and Parks Department in the coming weeks about extending Outdoor Dining and Outdoor Fitness Permits. The availability of facilities for outdoor fitness classes may change due to the change in seasons or the reopening of facilities previously closed by the health order.

Just Add Music (JAM) Permits –

If the JAM permit is associated with a Shared Space, the Shared Space permit must be renewed in order for the JAM permit to remain valid. JAM permits not associated with Shared Spaces do not need to be renewed at this time.
Small Business Impact Survey
During these difficult times, the city is working to help small businesses. If you are a business owner or operator, please take the short survey below to help evaluate the Shared Spaces Program. Please fill out a separate survey for each business that you operate.
Survey: English  /  Español  /  中文 / Pilipino  /  Tieng Viet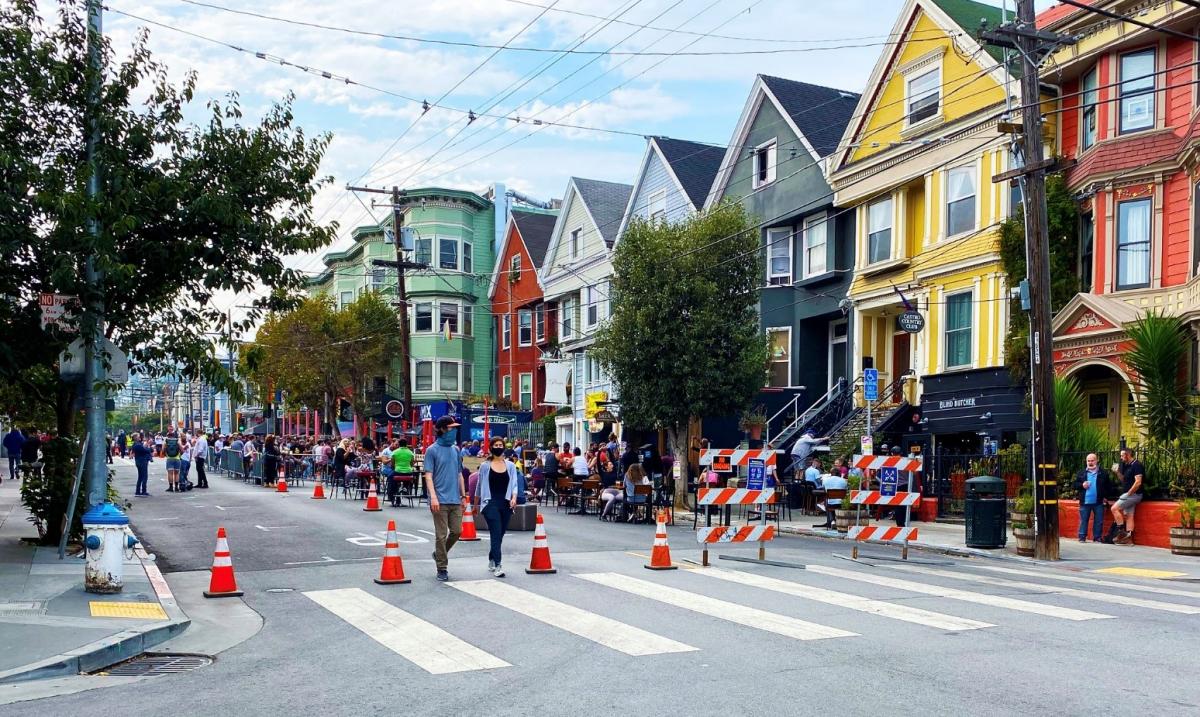 The Castro area on 18th Street is open for people each Sunday. Check out our website for a full list of Shared Space street closures.
More Information
To learn more about the program, track applications or apply, please visit our website or email SharedSpaces@sfgov.org